Self-Made 'Employee Millionaire', International Investor Presents...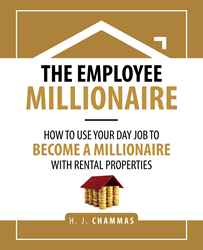 A self-made millionaire and international investor has released his clear and concise blueprint for investing in real estate that provides readers with the necessary tools to empower them to achieve financial freedom and, ultimately, a more fulfilling life.
In "The Employee Millionaire: How to Use Your Day Job to Become a Millionaire with Rental Properties," author H. J. Chammas reflects on his personal journey to financial success, which began in the devasting wake of the 2008 financial crisis. After spending years as a typical employee trapped in the rat race, Chammas chose to take charge of his money, break away from the societal norm of living paycheck to paycheck and live a life that was no longer dictated by his bank account.
"I have always worried that the majority of people throughout the world fall into the trap of working hard for money just to make ends meet," Chammas said. "After spending some time in the corporate world, I came to the realization that almost all my work colleagues, irrespective of where they fell on the corporate ladder, had accepted that very fate and were just trying to make the most of it. My hope is that this book can put a stop to that mentality."
"Readers who find it difficult to slog through financial discussions full of equations will get some relief in the author's conversational tone and informational anecdotes," a BlueInk reviewer wrote of the book. "… 'The Employee Millionaire' will appeal to a broad swath of readers who appreciate this intelligent message of hope couched in helpful advice that they can leverage - even if they never choose to make the leap to rental property investor."
With guidance from trusted mentors and a devotion to learning everything he could about the art of rental property investment, Chammas found great success in his real estate ventures, and through "The Employee Millionaire," he hopes to pass that success on to others who desperately want to turn their financial, professional and personal lives around for the better.
"The Employee Millionaire: How to Use Your Day Job to Become a Millionaire with Rental Properties"
By H. J. Chammas
ISBN: 978-1-5437-4494-1 (paperback); 978-1-5437-4493-4 (electronic)
Available through Barnes & Noble and Amazon
About the author
H. J. Chammas is a self-made Employee Millionaire who achieved financial freedom by investing in rental properties throughout Asia and Europe. Chammas has more than 10 years of industry and investing experience as well as 20 years of corporate world experience with multinationals across different countries and holds a master's degree from the American University of Beirut. He currently resides in Dubai, United Arab Emirates. To learn more, please visit http://www.employeemillionaire.com.
General Inquiries, Review Copies & Interview Requests:
LAVIDGE - Phoenix
480-648-7557
dgrobmeier(at)lavidge.com
Related Articles View More Books

Stories
More Hot Stories For You