SAE International Book Explores the Innovative Architectures and...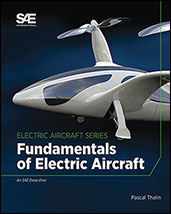 SAE International announces a new book that explains what electric aircraft stands for by offering an objective view of what can be expected from the giant strides in innovative architectures enabling aircraft electrification.
Fundamentals of Electric Aircraft addresses constraints and timelines foreseen to reach acceptable performance and maturity levels; and puts forward a general view of the progress made to date and what to expect in the years to come.
Through tangible case studies, a deep insight is provided into this paradigm shift cutting across various aircraft segments – from general aviation to large aircraft.
Drawing from the expertise of four industry veterans, Pascal Thalin (editor/contributor), Ravi Rajamani, Jean-Charles Maré, and Sven Taubert (contributors); Fundamentals of Electric Aircraft addresses futuristic approaches but does not depart too far from the operational down-to-earth realities of everyday business.
Fundamentals of Electric Aircraft also offers analyses on how performance enhancements and fuel burn savings may bring more value for money as long as new electric technologies deliver on their promises.

Published by: SAE International
Product Code: R-462
ISBN: 978-0-7680-9322-3
ePub ISBN: 978-0-7680-9324-7
For more information about Fundamentals of Electric Aircraft visit https://www.sae.org/publications/books/content/r-462/.
Review copies are available to credentialed media. To request a review copy, call 1-724-772-87522 or email pr(at)sae(dot)org.
SAE International is a global body of scientists, engineers, and practitioners that advances self-propelled vehicle and system knowledge in a neutral forum for the benefit of society. SAE International is a global association of more than 127,000 engineers and related technical experts in the aerospace, automotive and commercial-vehicle industries. Our core competencies are life-long learning and voluntary consensus standards development. SAE International's charitable arm is the SAE Foundation, which supports many programs, including A World In Motion® and the Collegiate Design Series.
Related Articles View More Books

Stories
More Hot Stories For You