Fathom Events, Giving Films and The WTA Group Announce AN INTERVIEW...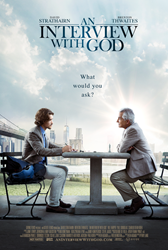 This fall, Giving Films' and Astute Films' AN INTERVIEW WITH GOD set a record as Fathom's most successful faith-based feature film to date.
The feature event, held on three consecutive August nights in theaters nationwide, indulged viewers' natural curiosity while engaging their hearts and stirring their faith.The thought-provoking film delving into essential questions around life and faith was followed by an engaging panel discussion featuring nationally syndicated radio host Eric Metaxas, faith & culture writer Jonathan Merritt and Inside Edition correspondent Megan Alexander.
"Fathom is extremely pleased with the results from AN INTERVIEW WITH GOD and our partnership with Giving Films and The WTA Group to bring this content to cinemas. This successful three night event was the most attended faith-based feature film to date," Fathom Events CEO Ray Nutt said. "Ticket sales grew consistently week over week thanks to our integrated marketing, digital and social campaign and in-theatre promotions that only Fathom can bring to the table to support our content partners."
Directed by Perry Lang and written by Ken Aguado, cast for AN INTERVIEW WITH GOD includes Academy Award® nominee David Strathairn (Good Night, and Good Luck) and Brenton Thwaites (Pirates of The Caribbean: Dead Men Tell No Tales), along with Yael Grobglas (Jane the Virgin), Hill Harper (Concussion), and Charlbi Dean Kriek (The Other). The film is produced by Fred Bernstein of Astute Films and Aguado, and co-produced by Dominique Telson, Harrison Powell, Lisa M. Jean and Claudine Marrotte. Executive producers are Rick Jackson and Paul Kurta.
Thwaites portrays Paul Asher, a journalist fresh from a stint in Afghanistan. Upon returning home, Paul struggles to deal with the after-effects of his experiences, a failing marriage, and his dying faith. Not knowing where to turn, Paul dives deeply into the story of a lifetime—an interview with a mysterious man claiming to be God.
What does an inquisitive reporter ask God? What would you ask?
Sitting down with this mysterious man, played by David Strathairn, over the course of three fateful days, Paul finds himself answering as many questions as he asks. While wrestling with what he knows and what he's unsure of, Paul finds himself at the crossroads we all come to in our lives: Who do we say God is?
"We are pleased with the results of the Fathom feature and the feedback the film has been receiving, along with the many positive reviews of the film," said Brian Mitchell, COO of The WTA Group. "We believe the positive word-of-mouth will carry over into the project's home entertainment window in November."
"Our goal is to create entertaining films that spark conversations around faith. Based on the positive reaction from audiences, it is clear that AN INTERVIEW WITH GOD furthered that goal," said Harrison Powell, co-producer and vice president of Giving Films.
About Giving Films:
Giving Films is a non-profit label committed to films that entertain and spark conversations around life, faith, and relationships. One hundred percent of Giving Films' profits from AN INTERVIEW WITH GOD will be donated to charities, particularly those serving foster care. The company's first film, the 2015 release 90 Minutes in Heaven, starred Kate Bosworth and Hayden Christensen. In 2018 Giving Films partnered with AFFIRM Films on Paul, Apostle of Christ starring Jim Caviezel and James Faulkner. For more information, visit http://www.givingfilms.com.
About Fathom Events:
Fathom Events is the leading event cinema distributor with theater locations in all top 100 DMAs® (Designated Market Areas) and ranks as one of the largest overall theater content distributors. Owned by AMC Entertainment Inc., Cinemark Holdings, Inc. and Regal Entertainment Group, Fathom Events offers a variety of unique entertainment events in movie theaters such as live performances of the Metropolitan Opera, top Broadway stage productions, major sporting events, epic concerts, the yearlong TCM Big Screen Classics series, inspirational events and popular anime franchises. Fathom Events takes audiences behind the scenes for unique extras including audience Q&As, backstage footage and interviews with cast and crew, creating the ultimate VIP experience. Fathom Events' live Digital Broadcast Network ("DBN") is the largest cinema broadcast network in North America, bringing live and pre-recorded events to 941 locations and 1,496 screens in 181 DMAs. The company also provides corporations a compelling national footprint for hosting employee meetings, customer rewards events and new product launches. For more information, visit http://www.FathomEvents.com.
Related Articles View More Books

Stories
More Hot Stories For You