Comfortable in Her Own Skin: Remarkably Intact: A Burn and Abuse...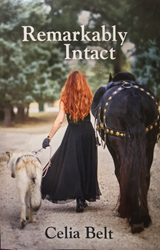 Each year in the United States nearly half a million people suffer burns so severe that they require hospitalization and extensive medical treatment. Thousands will die from their wounds. Those who survive can usually expect endless gruesome surgeries, isolating social stigma, and emotional scars that never seem to heal. Celia LaVon Belt knows all about it. A burn and abuse survivor herself, Belt lays out the seemingly insuperable challenges and what it takes to overcome them in her inspirational new book, Remarkably Intact: Angels Are No Strangers to Chains (Broer Books, paper, $18.95), a guide for anyone—burned or not—interested in taking on life and beating the odds.
Belt was twenty-one months of age when a large pot of boiling water ended up scalding her over 32% of her body. Hearing the screams, her mother rushed to her side and quickly removed her clothing. The skin on her torso and back came off along with it. She was rushed to the hospital with third-degree burns on her face, arms, torso, and sides.
"I developed all sorts of complications," says the author who underwent thirty-one surgeries before the age of nine and would be subjected to dozens more later on. "They brought in a priest to read me last rites." Fortunately, she's still here and able to share what she's learned over a lifetime that almost never was. Belt, a successful entrepreneur and founder of an award-winning non-profit organization for burn survivors and their families, has never shied away from challenges. "The Moonlight Fund"—that's our non-profit. In its twenty years we've touched the lives of 10,000 burn survivors and their families. And we're not slowing down." A portion of proceeds from the sale of Remarkably Intact will benefit burn survivors, their families, and those who have lost a loved one to a burn injury.
Ms. Belt is especially powerful in chapters detailing the stigma and social isolation survivors of traumatic burns experience on a daily basis. "The sight of scarred, burned human skin is deeply upsetting to people at a very primal level. From the time I can remember, people would shun me, afraid to make even make contact. Every morning my mother would apply heavy makeup to cover my scars. It still didn't protect me from feeling like an utter outcast. It's no exaggeration when I say I didn't have my first friend until the age of fourteen."
That she left school later that year for good—to help support her mother and brother—didn't make it any easier. Nor did the shocking revelation that it was her father who was responsible for her scalding. An abusive alcoholic prone to flying his airplane drunk and dive-bombing the family house, barely missing the power lines, he'd eventually end up abandoning the family. But not before starting to sexually abuse the author from the age of four. There's plenty in Remarkably Intact that's just as bad and even worse. Which, indeed, is where this emotionally moving manuscript's title comes from. "Most people who have suffered even a fraction of the abuse you've endured are either dead, abusing substances, or in jail," a therapist once told her. "You are remarkably intact for someone with your history."
The stigma faced by burn victims is more than just aesthetic. Worldwide, including the United States, injuries from severe burns occur disproportionately in areas of high poverty. While workplace hazards, home living conditions, abuse and neglect all contribute to the frequency of severe burns, the sense of shame associated with surviving horrific burns extends to people's expectations about economic social status—especially in the kind of reasonably comfortable neighborhood where Ms. Belt spent the early years of her life. "It was a carefully curated environment," she writes, "where everything was devoted to beauty and good taste. There was certainly a sense that 'burns don't affect our sort of people, the pretty and affluent. Only 'they' get burned.'"
America's involvement in Iraq and Afghanistan has sharpened the focus on the needs of soldiers returning home scarred for life from horrific, life-changing burns. The Moonlight Fund has helped lead the way and by 2012 was recognized as the top non-profit in the nation for its unique program of healing retreats for wounded military members and their families. Belt, herself, has received the Distinguished Citizen Medal from the Daughters of the American Revolution for the work she's done with wounded vets. "Burns are so terrifying that people recoil and reject, even if that's not their initial intention," Belt explains. "Burn survivors tend to isolate and often move invisibly past us, shopping or running errands only at night, hiding from the harmful rays of the sunlight and the curious stares of others. It's in the moonlight that we're most comfortable leaving the quiet and safety of our homes. That's why we named it The Moonlight Fund." Simply put, we find safety in the moonlight.
Today, in addition to ministering to the emotional, financial, and physical needs of burn survivors, Belt's organization is busy addressing systemic issues as well, lobbying state and federal lawmakers to increase benefits for burn survivors.
"I'm sharing my story in hopes that it provides inspiration to anyone who is struggling with their own difficult path," says the woman who has brilliantly overcome the odds. "Whether you are a burn survivor, abuse survivor, or someone who's simply been thrown a tough curveball in life, there is a future. I urge you to find your stepping stones and follow your path."
Celia Belt is the founder of the award-winning Moonlight Fund Inc., a 501(c)(3) non-profit organization that provides financial and emotional assistance to burn survivors and their families. A burn survivor herself, Celia recognized the need for survivor care. Along with Henry Coffeen III, she started the Texas-based charity in 1998. Since then, the organization has helped nearly 10,000 burn survivors across the United States.
Celia oversees grant writing, program development, event planning, and fundraising for The Moonlight Fund. She provides support to burn survivors and their families by visiting them at the hospital and hosting support groups. She also organizes and executes award-winning healing retreats for burn survivors and their families. Most weekends, you'll find burn survivors and their families at Celia's ranch, enjoying the animals and one another; they have become much like family.
Before starting The Moonlight Fund, Celia had a successful career in commercial and residential real estate. She also spent seven years as a national sales manager for food manufacturer VanHolten's, where she was instrumental in product development and marketing.
For more information, please visit http://www.remarkablyintact.com.
Media contact: Victor Gulotta
Gulotta Communications, Inc.
617-630-9286
http://www.booktours.com
victor(at)booktours(dot)com
Related Articles View More Books

Stories
More Hot Stories For You