BWW Previews: Trailer drops for SACRED LIES, based on the novel THE SACRED LIES OF MINNOW BLY by Stephanie Oakes
This week, Facebook rolled out the trailer for Sacred Lies, an upcoming 10-episode series on their new Facebook Watch platform. Watch is a new Video-on-Demand service just launched by Facebook. It has partnered with BuzzFeed, CNN, Fox News, and Vox to create six programs launching in 2018. From gameshows to news to mini-series and movies, Facebook tends to branch out and bring great new content to its members.
Sacred Lies is based on the award-winning novel THE SACRED LIES OF MINNOW BLY by Stephanie Oakes. The novel has roots in the Brothers Grimm tale The Handless Maiden, which is a darker tale. The book, too, is dark and twisted, about a handless girl named Minnow Bly who grew up in a dangerous cult. It is a murder mystery, as the cult leader is now missing, and Minnow Bly, now in a juvenile detention center, may just know more than she's saying.
The series stars Elena Kampouris (Before I Fall, My Big Fat Greek Wedding 2) and Kevin Carroll (The Leftovers, Paid in Full, Being John Malkovich), with Toby Huss (Halt and Catch Fire, King of the Hill) as the Prophet. Raelle Tucker (True Blood, Jessica Jones) is the show's executive producer and showrunner.
Sacred Lies hits Facebook Watch on July 27, 2018.
Check it out:
ABOUT THE SACRED LIES OF MINNOW BLY: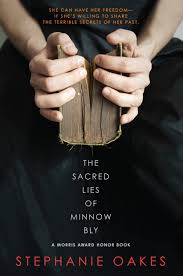 With a harrowing poetic voice, this contemporary page-turner is perfect for fans of Laurie Halse Anderson's Speak, Julie Berry's All The Truth That's in Me, and the works of Ellen Hopkins.
The Kevinian cult has taken everything from seventeen-year-old Minnow: twelve years of her life, her family, her ability to trust. And when she rebelled, they took away her hands, too. Now their Prophet has been murdered and their camp set aflame, and it's clear that Minnow knows something-but she's not talking. As she languishes in juvenile detention, she struggles to un-learn everything she has been taught to believe, adjusting to a life behind bars and recounting the events that led up to her incarceration. But when an FBI detective approaches her about making a deal, Minnow sees she can have the freedom she always dreamed of-if she's willing to part with the terrible secrets of her past.
The Sacred Lies of Minnow Bly
is a hard-hitting and hopeful story about the dangers of blind faith-and the power of having faith in oneself.