BWW Interview: James Clements and WWTNS? Examine the Life of Leni Riefenstahl in BEAUTY FREAK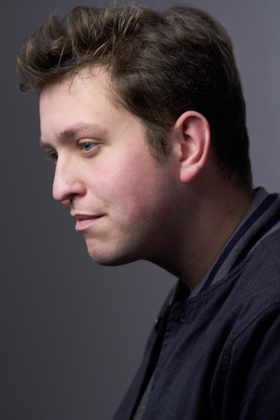 James Clements is an actor, writer, producer and director splitting his time between Scotland, London and New York. His New York based theatre company What Would the Neighbors Say? is currently workshopping a new play exploring the career of Leni Riefenstahl, a filmmaker who got her start working during the Nazi regime.
Beauty Freak is holding a workshop this weekend on November 10th and 11th prior to a run in New York in the spring. The play explores the creation of art as propaganda, questions the culpability of the artist in how their work is consumed and used by others, considers the responsibility of the media to communicate unbiased facts, and examines in-depth Riefenstahl's own astonishing, ingenious and dreadful life.
Clements took a moment to chat with BroadwayWorld about the challenging project and the development process.
How did you come around to this topic, and what made you interested in telling this story?
Along with my theatre major at NYU I studied history. We did a course called "American History Through 20th Century Cinema," which was kind of looking at major films and periods in Hollywood as representative of whatever was going on in the zeitgeist at the time. That's when I first came across Leni Riefenstahl's work it was referenced in passing as a comparison to the propaganda films of that time in America. I did more research on her and I became totally fascinated with her and with her work. That was probably about five years ago. Then we did a number of other projects and other things along the way and other things came together and when it came time to plan the season, I was like, just trap the beast and do the play.
We called the play Beauty Freak because to me the theme in all of her work is this obsession with physical beauty and physical perfection and that is a whole question in itself and begs the question is that comparatively a fascistic thing? Is the quest for beauty in itself a very dangerous quest? Even if we do give her the benefit of the doubt and said she didn't know anything about the politics of World War II Germany, we have to ask is searching for beauty an excuse?
What has the development process been like?
When I was in London this summer, the staff at the British Film Institute Library were incredibly helpful with providing research materials. They had a lot of great news clippings and other things from the time that gave more color to the ideas I had about things. The Imperial War Museum in London also has a bunch of Riefenstahl's archive content, which was seized from Germany and is still classified as enemy property, which is pretty insane. It doesn't have any copyright, and they were very generous with letting me view that and be in their archives.
After I'd done that research, I shut myself away for a couple of weeks in Scotland and hammered out a first draft. From there I went to Berlin and did a workshop with a dear friend of mine who's worked with our company before and lives in Berlin now. We assembled a team of German to read the script and then we did a development of that and I got a lot of amazing insight from them, even things like linguistically and in terms of honorifics. Very quickly I was corrected in the mistakes I made, which was great, just in a practical sense.
The workshop was great too, because just hearing German people read it, I got a sense for where the language felt inauthentic to them. That was really helpful linguistically, and then we did a little bit of work on our feet, but on the whole it was hearing from them what their relationship to Leni Riefenstahl is and to that era in German history, which is all just super important as a non-German person writing about this, making sure that I'm sticking to the experience of the people whose story I'm telling and on all sides of the spectrum of Leni Riefenstahl's life.
I then went away and did a second draft, landed back in New York, and we're finalizing the casting and things for this workshop. I'm very excited to move on to the next phrase, to have a real, good chunk of time with great actors and a great director, to see what the piece wants to be.
What kind of structure does it take?
I was really interested in the question of how you tell the story of a filmmaker because there's so many artistic, Wonderful Productions in the last few years that use projections so effectively and so evocatively, but I've also seen a lot of productions where I've felt like they are thrown there because it's cool. I've thought a lot about how to really make projection feel integral to the piece. It's a traditional structure insofar that it's two acts, but there's a number of video interludes and use of supertitles and moments where the actors on stage are saying something different to the video versus when they're sort of saying the same thing.
We have a wonderful older actress in her eighties who was one of our teachers at NYU who's going to play Leni Riefenstahl in her nineties. The framing of the script is chunks of her autobiography and then we use text from the autobiography and we explore what we feel is maybe a more accurate version of events. The first act is set in Berlin while she's preparing for and filming the Olympic Games themselves. And the second act is set in American two year later when she came here to try and sell the film to American distributors.
There's a lot of really unfortunate, or, depending on the whole kind of range of opinions, best-case-scenario it's unfortunate, worst-case-scenario it's consciously evil, but there's so many terrible things about Leni Riefenstahl's story and the one thing that sometimes gets lost is giving her the credit as an artist, as a female filmmaker at that time. I hope the play is a very honest, non-beautified version of her life. I want to give her films space on stage to show what she achieved as well as the less positive impact that she had.
Does the play take any kind of side in the whole issue of her work? Does it focus more on the woman and what she contributed to the world of arts versus the political implications?
I felt like the core question of the piece is can art ever function separately from politics. It's a scary idea to me that if something is beautiful, you don't have to question it's morality and it can just exist as a piece of art in a vacuum. Personally, I don't think that they can be separated, and I think that Leni Riefenstahl's biggest defense after the end of the Second World War was, 'I was just an artist, I didn't get political, I didn't know what was going on'. That was the initial question I was asking is what is the artist's obligation and what is their responsibility within their work?
As for what our play says, I don't think that our company can just put on a play without a consideration for the sort of religious, racial, or sexual zeitgeist of the time, or we can, but then later we have to be held accountable for it. I don't think that saying, "it was a piece of art," or "it was beautiful," is sufficient. But in terms of passing judgement on her as a person, it's why I did such stringent research before. I really try to work out something to try and back up my thesis of a character and then I try and present it and leave the audience to make their own choice. The writing doesn't suggest the idea that art just exists in a vacuum. It does, I hope, convey that she should have taken responsibility for the choices that she made as an artist and a citizen.
It's also complicated because as a woman in the 1930's in the film industry, she was very much working in a boy's club industry, it was very closed off and obviously the Nazi party is very, like, uber-patriarchal, sexist organization, you know, in addition to all of it's other heinous attributes. It wasn't a pro-women organization, either. So the kind of grit that she required to become a leading director and the ambition and the talent and the self-belief are all undeniable things that shouldn't be erased, but then the question of when ambition blinds you to any other consequence apart from your own ambition, this sort of romantic idea that the auteur is married to their art and it makes them scream at people they work with that used to be a glamorous idea. But now in this moment in time how people behave in the workplace and that question of is unbridled ambition a valid use of your life is so relevant and also really fascinates me.
So, let's talk about the future of this play. It's currently headed for a workshop, then there are plans for a run in Manhattan and then a run in Germany. Can you tell me about those?
Yes, so the first workshop in November at the Plaxall Gallery will, I think, give us a good sense of the extent of what the play needs and how the video language exists with the bodies onstage and the text and I'll go away and re-work on the script, probably over the winter. Then we're looking at a couple of theaters we're in discussion with in Manhattan to do an initial run production here in the spring. When I was in Germany, I met with a couple folks and talked tentatively about 2020 and I think we're gonna put together a pitch pack to send out to theaters in Germany and I think that would be something. I would take the WWTNS? team to Germany and work with German artists on it. I would love to try Germany because there's a very different way to telling a story that is so intwined with the country's history when you're there. I think that would be really interesting - for me as a writer, for us as a company - going through those different productions and then being in Germany and working with German artists and bringing all the things that we had had in our experience and our perceptions and see how it translated there.
What kind of reaction are you hoping to get from the audience? What do you hope comes across most strongly?
I hope that it is some kind of a wake-up moment. Just like a thing of watching it or of hearing the words I hope will allow the audience to see parallels to situations that we're in right now. I think that would be the best use of this play. Hopefully people are moved and affected emotionally by it. Hopefully just as a good play, but also that they finish and without us slapping them over the head with it, they realize that this stuff is happening now. I think as a writer that would be the thing that I would be most proud of, if that was an impact, if even one member of the audience leaves and like on the L train home that night thinks about their own world around them and their own relationship to their society. And again, definitely not claiming to have any answer to it, but just that it triggers a consideration of how we're all going to engage with the world right now. I think that would be a strong legacy for the piece.
I'm nervous about the response to it. I think we're really putting ourselves out there in terms of the actual structure of the piece, it's very ambitious tech-wise, it's very ambitious structurally, and we're also dealing with very contentious material and using offensive and horrible language. There's a lot of stuff in there that we are taking risks with, but it feels like things are urgent enough right now that it's better to take a risk than not to do anything.
Our company is still young and as we've grown we've become a lot more aware of the need for pre-workshop time. The need to say to people this is a free event, it's not a show, it's not finished, please give us feedback, tell us what you needed as an audience. Spending time developing a piece, that's our favorite part of the process, and I think we've all just really realized the importance of not being pretentious about it. Everyone wants the big opening night eventually, but initially we're saying, "this is about the work, this is about the content," and letting ourselves make mistakes I think people would rather see it be tackled and us come up short than us write something really simple and easy to watch that ends up meaning nothing.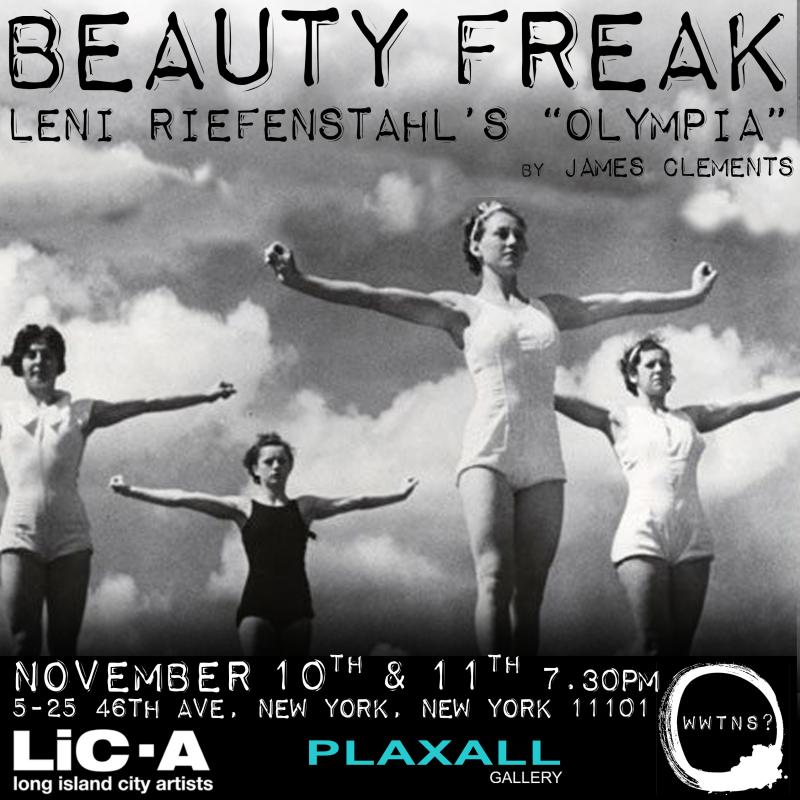 Beauty Freak will hold a workshop on November 10th and 11th at The Plaxall Gallery. For more information and tickets, visit What Will the Neighbor's Say here!