Encore Performance For THE MILE-LONG OPERA Added 10/8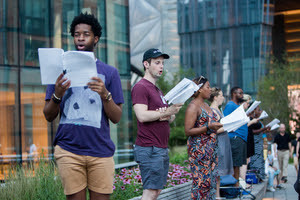 This October, 1,000 singers from across New York City's five boroughs will come together on the High Line for the premiere performances of The Mile-Long Opera: a biography of 7 o'clock. Due to overwhelming demand for tickets to the previously announced performances (October 3-7), an encore performance will be added on October 8.Tickets for this additional night will be made available first to members of the public currently on the waitlist, on a first come, first served basis, beginning Thursday, September 27, at noon. Those interested in accessing these tickets may join the waitlist at milelongopera.com. Tickets for The Mile-Long Opera are free, but advance registration is required. A standby line will open 30 minutes prior to the 7:00pm time slot on all performance dates.
At the heart of The Mile-Long Opera is an extensive community engagement that activates non-profit cultural organizations across all five boroughs. To extend the reach to a broader audience, Target, the presenting sponsor, will create an interactive 360° experience that anyone can view digitally at milelongopera.com. Beginning on October 3, 2018, audiences can immerse themselves in the performances from their own digital device. Segments of the digital experience will be unveiled over the course of several days, from October 3-6, with new blocks of performance footage added every evening. The full performance will be available on October 6, providing audiences with a full interactive experience that allows them to go in-depth and discover sights, sounds, and stories straight from the High Line at milelongopera.com.
The Mile-Long Opera was conceived by Pulitzer Prize-winning composer David Lang and architects Diller Scofidio + Renfro. Acclaimed poets Anne Carson and Claudia Rankine wrote the text, inspired by real-life stories. These conversations reveal a vast spectrum of feelings and perspectives about life in our rapidly changing city. The work focuses on the changing meaning of 7:00 pm, the time the performance begins each evening, and a time that represents a transition from day to night, when people shift from one activity to the next. It is also a time traditionally associated with family, stability and home, yet today, those associations are less predictable. The diverse stories told in The Mile-Long Opera are inspired by first-hand interviews with New Yorkers from all walks of life. Their individual experiences reflect unique ways of coping with the contemporary condition-anxiety, humor, nostalgia, vulnerability, joy, and outrage-that together form a biography of 7 o'clock.
Lang sets Carson and Rankine's text to dynamic new music led by Music Director Donald Nally and performed by the immense chorus. Elizabeth Diller and Co-director Lynsey Peisinger will stage the performance along the entire length of the elevated park.
The Mile-Long Opera is produced by Diller Scofidio + Renfro, the High Line, and The OFFICE performing arts + film. This project would not be possible without the generous support of Target, the presenting sponsor, or the partnership of the NYC Department of Parks & Recreation.
Anne Carson (Librettist) is a Toronto-born poet, translator, essayist, and professor, whose work has been described as "unclassifiable, even by today's motley, genre-bending standards" (Daphne Merkin in the New York Times). After studying ancient Greek in high school, her interest in classical and Hellenic literature grew through her scholarship at the University of Toronto and University of St. Andrews, and she has since taught classics at Princeton University, McGill University, and the University of Michigan. Carson's original works, hybridizing poetry, prose, essay, and harnessing references ancient and contemporary in restrained language include Autobiography of Red (1998), The Beauty of the Husband: A Fictional Essay in 29 Tangos (2001), Red Doc> (2013), and Float (2016). Carson's published translations of the classics include Electra (2001), If Not, Winter: Fragments of Sappho (2002), An Oresteia (2009), Antigonick (2012), and Bakkhai (2017). She is the recipient of the Lannan Literary Award, the Guggenheim Fellowship, the MacArthur Fellowship, the T.S. Eliot Prize, the PEN Award for Poetry in Translation, and the Griffin Poetry Prize. Carson frequently collaborates with her husband, artist and "randomizer" Robert Currie, on interdisciplinary performance works derived from her texts.
Elizabeth Diller (Director) is a founding partner of Diller Scofidio + Renfro (DS+R), a New York-based design studio whose practice spans the fields of architecture, urban design, installation art, multi-media performance, digital media, and print. Liz's cross-genre work has been distinguished with Time Magazine's "100 Most Influential People" list and the first MacArthur Foundation fellowship awarded in the field of architecture. In addition to directing The Mile-Long Opera, she is currently leading two cultural works significant to New York: The Shed-the first multi-arts center designed to commission, produce, and present all types of performing arts, visual arts, and popular culture-and the expansion of the Museum of Modern Art (both opening in 2019). Liz has designed three art installations that are currently on view: the Costume Institute's "Heavenly Bodies: Fashion and the Catholic Imagination" exhibition at the Metropolitan Museum of Art in New York, and two installations at the 2018 Venice Biennale. Liz is a fellow of the American Academy of Arts and Letters, the American Academy of Arts and Sciences, and an International Fellow of the Royal Institute of British Architects. She is a Professor of Architecture at Princeton University.
When, in 2008, David Lang (Composer) received the Pulitzer Prize for music for the little match girl passion, the New Yorker deemed that the former "post-minimalist enfant terrible" had "solidified his standing as an American master." His recent work includes his Academy Award and Golden Globe nominated score for Paolo Sorrentino's Youth; man made, a concerto for S? Percussion and the BBC Symphony Orchestra, co-commissioned by the Los Angeles Philharmonic and the BBC Symphony; his opera anatomy theater, written in collaboration with visual artist Mark Dion, at LA Opera; the public domain, a commission from Lincoln Center for 1,000 amateur singers; and his opera the loser, based on the novel by Thomas Bernhard, which opened the 2016 Next Wave Festival at the Brooklyn Academy Of Music. His opera prisoner of the state will premiere June 6-8, 2019 in New York, conducted by Jaap van Zweden. Lang is a Professor of Music Composition at the Yale School of Music and is Artist- in-Residence at the Institute for Advanced Study, Princeton. He is co-founder and co-artistic director of New York's legendary music festival Bang on a Can.
Donald Nally (Music Director) is responsible for imagining, programming, commissioning, and conducting at The Crossing, the Grammy-winning, internationally recognized new-music choir in Philadelphia. He is also the John W. Beattie Chair in Music and Director of choral organizations at Northwestern University. Nally has held distinguished tenures as chorus master for Lyric Opera of Chicago, Welsh National Opera, Opera Philadelphia, Spoleto Festival USA, The Chicago Bach Project, and for many seasons at the Spoleto Festival in Italy, and has served as artistic director of the Vocal Arts Ensemble of Cincinnati and the Choral Arts Society of Philadelphia. Among the many ensembles Nally has guest conducted are the Latvian State Choir in Riga, the Grant Park Chorus in Chicago, the Philharmonic Chorus of London, and the Santa Fe Desert Chorale. His ensembles have sung with the Philadelphia Orchestra, the Pennsylvania Ballet, Spoleto USA, the BBC Symphony Orchestra, Sinfonia Cymru, RAI National Symphony Orchestra, and ICE. He is the only conductor to have two ensembles receive the Margaret Hillis Award for Excellence in Choral Music-in 2002 with The Choral Arts Society of Philadelphia, and in 2015 with The Crossing. His book, Conversations with Joseph Flummerfelt: Thoughts on Conducting, Music, and Musicians, was published in 2011.
Lynsey Peisinger (Director) is a performer and choreographer interested in constructing communities and shared experiences through the artistic process. In 2017, she collaborated with Marina Abramovi? on The Cleaner, a collective performance at Eric Ericssonhallen, presented by Moderna Museet. In 2014, she collaborated with Abramovi? at the Serpentine Gallery in London for the show 512 Hours. She has cast and trained performers for Abramovi? on more than 15 projects. The Abramovi? Method, a large-scale public participatory work, has been created in collaboration with Peisinger, who has developed each iteration. Recent theatre works include the research performance Rochambeau at Uferstudios Berlin and MIDNIGHT, at Radialsystem V Berlin, Mannheimer Mozartsommer, Alexandrinsky Theatre St. Petersburg and Auezov Theatre, Almaty, both collaborations with director Tilman Hecker. She was assistant director on Zinnias: The Life of Clementine Hunter and The Old Woman, both directed by Robert Wilson. She has presented performative works at the Fondation Beyeler in Basel, Switzerland, Performa Paço at Paço das Artes in São Paulo, Brazil, Robert Wilson's 2nd Annual Berlin Benefit, Hyères International Festival of Fashion and Photography, Kunstfest Weimar, SESC Pompeia, Eric Ericssonhallen/Moderna Museet. She received her MFA in choreography from the Conservatory of Dance at Purchase College, SUNY.
Claudia Rankine (Essayist) was born in Jamaica and is the author of five books of poetry, including the bestseller Citizen: An American Lyric, (Graywolf, 2014) which won the National Book Critics Circle Award; was a finalist for the National Book Award; and which the New York Times praised for "brilliantly pushing poetry's forms to disarm readers and circumvent our carefully constructed defense mechanisms." Her four earlier collections include: Don't Let Me Be Lonely (Graywolf, 2004); PLOT (Grove, 2001); The End of the Alphabet (Grove, 1998); and Nothing in Nature is Private (Cleveland State University Poetry Center, 1995). Her new play, The White Card, directed by Diane Paulus, opened at ArtsEmerson in Boston on February 24th 2018. She is a recipient of fellowships from the Academy of American Poetry, the National Endowment for the Arts, the Lannan Foundation, and a 2016 MacArthur Fellowship. She is the Frederick Iseman Professor of Poetry at Yale.
Additional Creative Credits
The Mile-Long Opera's creative team also includes Matthew Johnson (Assistant Director), Jody Elff (Sound Designer), Carlos J. Soto (Costume Designer), John Torres (Lighting Designer), Katarina Henryson (Choir Engagement Associate), Robert Currie (Collaborator), and Ragnar Kjartansson (Creative Advisor).
About the Producers
Diller Scofidio + Renfro is an interdisciplinary design studio with a focus on cultural and civic projects that addresses the changing role of institutions and the future of cities. The studio is responsible for two of the largest recent architecture and planning initiatives in New York City: the High Line and the transformation of Lincoln Center's half-century-old performing arts campus. Other notable completed projects include the Roy and Diana Vagelos Education Center at Columbia University; The Broad, a contemporary art museum in Los Angeles; the Berkeley Art Museum and Pacific Film Archive at UC Berkeley; The Granoff Center at Brown University; and the Institute of Contemporary Art in Boston. The studio's international work includes the 34-acre Zaryadye Park adjacent to the Kremlin in Moscow and the Museum of Image and Sound currently in construction in Rio de Janeiro. DS+R was recently selected to design the Centre for Music in London, which will be a new permanent home for the London Symphony Orchestra.
The High Line works to build and maintain an extraordinary public space on the High Line. It seeks to protect the entire historic structure, transforming an essential piece of New York's industrial past and inspiring new ways of thinking about the city, public space, preservation, and community. Through excellence in operations, stewardship, innovative programming, and world-class design, the High Line seeks to engage the vibrant and diverse community on and around the park. The High Line has garnered acclaim for its arts-driven public and community engagement programming. It hosts more than 450 public programs and activities aimed at supporting the diverse communities that surround the High Line and facilitating inclusive gatherings for all visitors.
THE OFFICE performing arts + film is an independent curator and Production Company based in New York and London working in ongoing partnerships with festivals, venues, and institutions to create cultural programming that is unique and mission specific. THE OFFICE produces events and performances in New York and around the world, notably with the music producer Hal Willner, with the photographer and video artist Carrie Mae Weems, and with the South African composer Philip Miller and his frequent collaborator William Kentridge, the Johannesburg-based visual and theater artist and filmmaker.
About Peoplmovr
Peoplmovr is a creative studio specializing in engagement and communications. Peoplemovr partners with artists, organizations, and communities on the development and delivery of strategies designed to bring arts and culture closer to people and people closer to arts and culture. The principles of equity and inclusion are present in all areas of Peoplemovr's work as part of its commitment to undoing racism. This commitment is grounded in the belief that a more just, equitable, and inclusive world is possible. Everyone benefits when oppression is recognized and eliminated. For more information, visit http://www.peoplmovr.com.
About the Anchor Partners
Abrons Arts Center is a home for contemporary interdisciplinary arts in Manhattan's Lower East Side. A core program of the Henry Street Settlement, Abrons believes that access to the arts is essential to a free and healthy society. Through performance presentations, exhibitions, education programs, and residencies, Abrons mobilizes communities with the transformative power of art.
ARTs East NY is committed to presenting, promoting, and preserving multicultural arts to address socio-economic issues that hinder the growth of the community we serve. The organization mission is rooted in the idea that inspiring a community through arts & culture sets a sustainable pattern of resident-led development. Through community beautification, youth programs, public art installations, and economic development initiatives, AENY has a proven track record of bringing out the best in East New York.
The mission of the Greater Harlem Chamber of Commerce is to improve the quality of life for all of Harlem's residents, as well as to develop and attract quality business and professional services. Its members consist of those who wish to contribute to and thrive from Harlem's world-renowned vitality and recognition as a worldwide tourist, entertainment, sports, arts, cultural, educational, historic, religious, and health services destination of international diversity.
Jacob A. Riis Neighborhood Settlement is a community-based, non-profit organization providing comprehensive services and programs to youth, families, immigrants and seniors in the western Queens community. Founded in 1889, Riis Settlement is named in honor of Danish-American social reformer Jacob Riis. Today, Riis Settlement provides integrated social, cultural, educational and health programs to more than 1,800 individuals annually. Our programs and staff support community members of all ages and backgrounds as they strive to achieve their goals and become self- sufficient.
The POINT Community Development Corporation is dedicated to youth development and the cultural and economic revitalization of the Hunts Point section of the South Bronx. Celebrating over 20 years of service, the POINT offers a multi-faceted approach to asset-based community development. Its programming falls within three main headings all aimed at the comprehensive revitalization of the Hunts Point community: Youth Development, Arts and Culture, and Community Development.
Snug Harbor Cultural Center & Botanical Garden provides a vibrant, regional cultural destination that offers dynamic programming in arts, education, horticulture, agriculture, and recreation for diverse cultures and all ages while ensuring a well-managed campus for all residents of Staten Island and surrounding communities.
More Hot Stories For You