BRIC House Sessions Presents Orlando Julius, March 19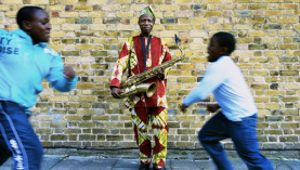 BRIC, the pioneering Brooklyn arts and media institution, continues the 2020 season of BRIC House Sessions on March 19 with Nigerian music icon Orlando Julius. One of the founders and leading musicians of Afropop, Julius comes to BRIC to give a rare U.S. performance. The evening starts at 7pm in the BRIC House Ballroom - one of the best spaces for live music in Brooklyn - with DJ Nenim. Live performances kick off at 8pm with Brooklyn afro-funksters Kaleta & Super Yamba Band.
With a career spanning more than five decades and several continents, Orlando Julius has become an indelible figure in African music and global music alike. Beginning in the 1960s, Julius' revolutionary blend of traditional Nigerian sounds with those of American pop, R&B, and soul is often cited as pivotal to the invention, development, and popularization of Afropop. At the time, the debut of his seminal work in 1966, Super Afro Soul, garnered Julius national acclaim. But it wasn't until its re-release on Strut in 2000 that the body work was recognized globally.
Brooklyn afro-funksters Kaleta & Super Yamba Band are fronted by Afrobeat and Juju veteran Leon Ligan-Majek, aka Kaleta. The singer, guitarist, and percussionist from the West African country of Benin Republic lived his adolescent life in Lagos, Nigeria, where Afrobeat was born. Now based in New York City, Kaleta was overjoyed to find Super Yamba Band and hear their take on the vintage, psychedelic sounds of his native country, and has been the lead singer since 2017. Ubiquity Records released Kaleta & Super Yamba Band's debut LP Mèdaho in September 2019.
Born in Nigeria and now based in Brooklyn, DJ Nemin will share his extensive collection of highlife and afrofunk throughout the evening.
The series continues later this spring with concerts from: Maimouna Youssef (AKA Mumu Fresh), whom NPR calls an "abundantly gifted singer and emcee with multi-octave range and ferocious rap delivery," in concert with D.C.-born, New York-based MC and poet KAMAUU (April 2); and Black Belt Eagle Scout, the project of indigenous multi-instrumentalist and songwriter Katherine Paul, whom Pitchfork calls "the heiress of Geneviève Castrée and Courtney Love and Carrie Brownstein," joined this evening by singer-songwriter, producer and multi-instrumentalist Denitia (April 16). The series closes with Tribu Baharú, one of the leading Champeta groups from Colombia, with Brooklyn's newest Congolese guitar band, Loboko, opening (April 23).
The exhilarating concert series, held annually, brings the spirit of the BRIC Celebrate Brooklyn! Festival into the organization's Fort Greene headquarters through world-class performances on Thursday evenings. BRIC House Sessions draws its talent from a bold and eclectic array of musical genres, featuring both local treasures and internationally-renowned artists. The Ashland is a season Co-Sponsor.
Tickets may be purchased online at BRICartsmedia.org or via Eventbrite.com. The Box Office at BRIC House is open on performance days, one hour prior to the event. BRIC House is located at 647 Fulton Street in Downtown Brooklyn.
Related Articles View More Brooklyn

Stories

Shows
More Hot Stories For You