'Tremont Takeover' to Launch Local Music Series at Boch Center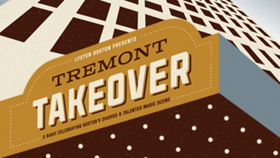 Lysten Boston and the Boch Center announced today a new partnership to present local music in the iconic Wang Theatre Grand Lobby.
Lysten Boston, local music Booking and Promotions agency, has organized the event to celebrate Boston's diverse and talented musicians. The first of its kind event, titled "Tremont Takeover", will be held in the Grand Lobby of the Wang Theatre on Saturday, September 16, 2017 at 6:00PM.
Tickets go on sale on Friday, August 18, 2017 at 10:00AM. Tickets are $10 in advance and $12 on the day of the event. Limited tickets available.
"Tremont Takeover" is an all-inclusive, all-ages event, curated by Boston's top music supporters. Each organization has chosen one performer that they consider to be a strong representation of Boston music in regards to their respective genre.
Performers are as follows (in no particular order):
Everything and Everyone, indie-rock band, selected by Lysten Boston
Dutch ReBelle, hip-hop artist, selected by The Record Co.
Marcela Cruz, R&B singer, selected by Xperience Creative
TRIM, hypnotic noise duo, selected by Boston Hassle
Oompa, poet & rapper, selected by Allston Pudding
GOZU, rock band, selected by Grayskull Booking
Coralcola, DJ, selected by Mmmmaven
Alyssa Spector, owner of Lysten Boston, describes her inspiration behind the event: "As an advocate of local music, I discovered that there are many groups that are major supporters of the Boston music scene, but not many of them work together. There even tends to be overlap in the artists that we all book, but multi-genre and multi-organizational collaboration is rarely represented. In addition, Boston is often overlooked as having a music scene. I'm confident that the most effective way to reach our community and show our support for Boston music is to create an event that depicts what Boston music is: a diverse and all-inclusive city of immensely talented artists. I've selected the most prominent local music organizations that are in my opinion, the best at what they do, and asked them to each select a performer. The combination of this diverse lineup and the incredible lobby of the Wang Theatre, will make this event the first of its kind."
The event will also include a free photo booth, provided by The Secret Bureau of Art & Design, as well as other free giveaways from each of the partners.
Tickets go on sale on Friday, August 18, 2017 at 10:00AM and can be purchased at the Boch Center Box Office, bochcenter.org, by calling 800-982-2787 and via Ticketmaster.com. Tickets are $10 in advance and $12 on the day of the event. Tickets for children under 12 are free. Limited tickets available.
Major sponsor for "Tremont Takeover" is the Boch Center and official media partner is Vanyaland.
"As our cultural economy continues to evolve, we are looking at how we can open the doors of our theatres for new, unique events and form new partnerships with artists and arts and cultural organizations," said Josiah A. Spaulding, President & CEO of the Boch Center. "Partnering with Lysten Boston to present a local music showcase in one of the country's most iconic theatres is something we are really excited about! We look forward to welcoming many new artists and patrons to the Wang Theatre on September 16."
Additional info can be found here: www.bochcenter.org/tremonttakeover / www.facebook.com/events/1942154436000715
*Acts subject to change
The Boch Center is one of the nation's leading nonprofit performing arts institutions and a guardian of the historic Wang and Shubert Theatres. As New England's largest cultural venue, the Boch Center is home to theater, classical and popular music, dance, comedy, opera, Broadway musicals, family entertainment, and more. Located in Boston's historic Theater District, the Boch Center also offers a diverse mix of educational and community outreach initiatives, including the City Spotlights Leadership Program and ArtWeek; collaborates with artists and local nonprofit arts organizations; preserves historic venues; and acts as a champion for Greater Boston's arts and cultural community. Learn more at bochcenter.org.
Lysten Boston was created in 2014, initially functioning as a resource for booking and promoting Boston area shows. While the process of booking and promoting is just a small component of brand and artist development, there are many other important aspects - all of which have a home here in Boston. The Boston area is a thriving music and arts community, packed with venues, recording studios, designers, photographers, and media outlets. In addition to booking and promoting, Lysten Boston also offers resources for musicians, local and beyond, to familiarize themselves with the services provided by the local talent here in Boston. Furthermore, Lysten Boston provides Artist Development consultations, assisting musicians with one-on-one sessions, designed to develop their brand. Learn more at lystenboston.com.
Related Articles View More Boston

Stories

Shows
More Hot Stories For You