Click Here to Visit the College Center

Blogs are the opinions of the authors and do not necessarily reflect the opinions of BroadwayWorld. BroadwayWorld believes in providing a platform for open and constructive conversation.

Student Blog: Gotta Get Back to Set Life
(Please read the title in the tune of the first song from A Very Potter Musical... it'll make the experience so much better)
In my last blog, "When Does an Artist's Story Begin; Rediscovering (What Could Be Considered) My 'Artistic Roots' Eleven Years Later," (December 2021), I reached into the bottomless pit of my life in the arts in a continuation of my endless effort to grasp onto where I (possibly) got my 'start in the arts.' Was it my first dance class as a toddler, a preschooler's first short story, my first paid gig for a kiddie carlot commercial at age seven...?
If we're going by paying standards, I got my start in the arts in film. Five years later at age twelve, my professional pathway quickly moved from on camera to on stage with an emphasis in musical theatre. This was followed by Wait Until Dark, my first professional straight play at the age of 16. There, all my training in on-camera acting that had been ingrained in me flew back to me in a rush. A full circle moment nearly a decade later. During this time of personal and professional growth, I came to the realization that there are no bounds as to what we, as artists, can do. We have ample opportunity and medium to tell the stories we want to tell in whatever way the story calls upon us to do so and we can use this to our advantage. For me, this realization was imminently followed by (and possibly even a prelude of) a longing to be back on set; I yearned to return to what might be considered a segment of my artistic roots. I wanted to get back on set and collaborate on films again.
Where my last blog ended is where this current blog begins. In December 2021 (between the end of my first semester at Boston University and returning home for the holiday break), I made a film... I mean, I was part of the making of a film. After all, the arts are utterly collaborative and there is no such thing as making art by oneself. I had known about the project for half a year at this point, and I couldn't have been more in love with it, the story, and the people I made it with. Honeybee is an indie feature film written/directed by Mira Steuer and written/produced by Melissa Levine. They are freshman BFA film and acting majors (respectively) at Ohio University. Honeybee was filmed on a closed set on a lovely estate in the beautiful Hamptons within an estate adequately anointed with the name of "Sandacres." All cast and crew were fully vaccinated and tested negative for COVID prior to arrival in order to live together on Sandacres during the 10 days of filming. In the film, I play fifteen year-old Alice "Honeybee" Lynnwood, stuck in her family house with her older brothers as they're struck with the decision of who will receive custody of her in the wake of their father's death.
Before I arrived on location, I had a whole half a year to get acquainted with Alice and prepare for what my experience with her would be like. In theory. I knew my time with Alice would be daunting, exciting, scary, and lovely. However, preparation doesn't always reflect in practice. The full cognitive reality that I was going to actually be making this film didn't hit me until four days beforehand. In those 96 hours leading up to filming, I couldn't escape my wandering thoughts of what set-life would feel like. Mind you, despite my work beginning on sets when I was seven, I had not stepped foot on one since I was twelve. It had been six years (filled mostly with staged musical productions) and my memory of how the processes on set go was foggy. I forgot how sets literally work; I was horrendously overthinking character work and my relationship with Alice and all that actor stuff-as you do-but also how off time, cast and crew relations, eating, and even how and when to memorize lines worked. It was to the point where I became half tempted to email my director to ask how memorized she expected actors to be upon arrival to location-something I've complained about when past directors have unnecessarily micromanaged it. Suffice to say I was overwhelmingly worried I didn't know how to do a job I had grown up honing.
My first day on location arrived way before I could fully comprehend it. The moment I stepped through the front door to the estate I'd be living in for the next ten days, all those worries and woes that had been weighing me down the previous few days fell to the floor in a heap of fermented, forgotten frets. I felt so at ease, as if everything was right in the world, despite the stewing spread of negativity and the impending threat of omicron that existed beyond the layout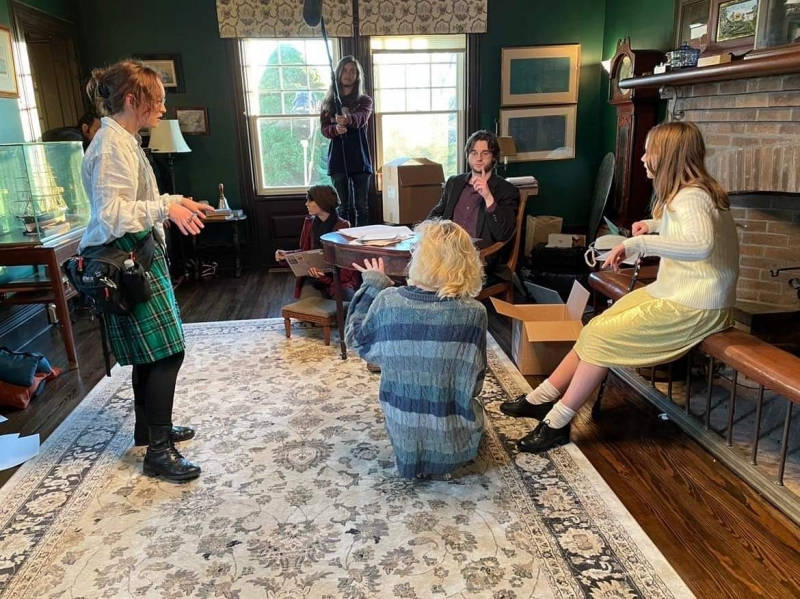 of the protected bubble we had created on set. I tip-toed right on over the dwindling droplets of despair I had dropped on the hard-wood floor with an anticipatory ease as my director threw me a bright yellow dress and cream-colored sweater. Before I could even think of the days of distress I had left behind me on the floor-surprise!-I was jumping right into filming my third to last scene within 15 minutes of my arrival on set.
The entire week was a suspended blur, running on two and a half to four and a half hours of sleep every night-sometimes because of late night shoots... sometimes because of five hour conversations sitting on the island in the kitchen with my film family-lunches at 5pm, dinners at 10pm, a notebook filled with colorful cursive displaying my upcoming lines that I'd write for two
hours straight every morning, endless snacks, falling in goose poop (worth it for the scene), family cat naps... all the things I had longed for. Why did I long for these things? I don't even know the answer to that question. All I know is that this film and this crew were the best way to come back to my roots of my art. It was so easy. Not just being on set, but it was easy to act. I don't know if acting has ever felt so easy for me-likely a testament to my childhood roots in the art and the training I've been doing with my BFA in Acting program at Boston University. More so a testament to my film family, my director, and the crew Mira brought together. What a lovely way to get back to set.