Pittsfield CityJazz Festival with The Dizzy Gillespie Afro-Cuban Experience to Play the Colonial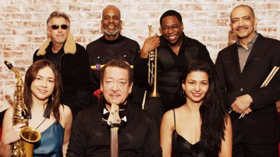 Berkshire Theatre Group welcomes Pittsfield CityJazz Festival, featuring The Dizzy Gillespie Afro-Cuban Experience, to The Colonial Theatre on Saturday, October 14 at 7:30pm.
The Dizzy Gillespie Afro-Cuban Experience, led by the late trumpeter's bassist John Lee, showcases the unique rhythms and well-loved melodies (such as "Manteca" and "Tin Tin Deo") of Gillespie's library of Cu-Bop, which he developed with Chano Pozo in the '40s and '50s. Their repertoire also explores the broader world of Latin-American music.
The musicians are drawn from the high-calibre talent that frequent the Dizzy Gillespie Big Band and All Star groups, such as trumpeter Freddie Hendrix, saxophonist Sharel Cassity, Brazilian pianist/vocalist Abelita Mateus, drummer Tommy Campbell and percussionist Roger Squitero.
Tickets are $23 and $38. Contact the Colonial Ticket Office at 111 South Street, Pittsfield by calling 413-997-4444, or online at www.berkshiretheatregroup.org. Ticket Offices are open Monday-Saturday 10am-5pm, Sundays 10am-2pm or on any performance day from 10am until curtain.
The Colonial Theatre, founded in 1903, and Berkshire Theatre Festival, founded in 1928, are two of the oldest cultural organizations in the Berkshires. In 2010, under the leadership of Artistic Director and CEO Kate Maguire, the two organizations merged to form Berkshire Theatre Group (BTG). Berkshire Theatre Group's mission is to support wide ranging artistic exploration and acclaimed performances in theatre, dance, music and entertainment. Every year, BTG produces and presents performances to over 68,000 attendees and, through our Educational Program, serves over 13,000 Berkshire County schoolchildren annually. BTG's celebrated stages reflect the history of the American theatre; they represent a priceless cultural resource for the community.