Click Here for More Articles on CHEYENNE JACKSON
Photo Coverage: Jackson & Stanley in O'Neill's 'Eye of Love'
The Eugene O'Neill Theater Center's National Music Theater Conference recently presented a performance of one of its final projects this summer - the new musical Red Eye of Love.  A performance of the musical took place on Tuesday, July 24th, with more to follow on Wednesday, July 25th and Friday, July 27th.
Red Eye of Love features book and lyrics by Arnold Weinstein and John Wulp and music by Jan Warner; it is based on a play by Weinstein.  Ted Sperling (The Light in the Piazza orchestrations, See What I Wanna See director) helms the performances, which feature music direction by Rob Berman.
Red Eye of Love is "a zany musical comedy about America.  Set against a background of war, depression and economic boom times, it follows the wacky adventures of Wilmer Flange, a young idealist; O.O. Martinas, owner of the world's largest meat department store; and Selma Chargesse, the woman they both love.  In doing so, it takes a hard look at the effects of love and money upon our lives," state press notes.  It stars Cheyenne Jackson (Xanadu, All Shook Up) and Elizabeth Stanley (Company), with Cole Burden, Kimberly Chesser, Harris Doran, Joe Grifasi, Ann Kittredge, Jason Ma, Monique Midgette, and Paul Stovall.
"The Eugene O'Neill Theater Center, founded in 1964, is the pre-eminent center for the development of new works and new voices for the American theater.  It has been home to more than 1,000 new works for the stage and 2,500 emerging artists," state press notes.
Tickets are $20 and all proceeds go towards the Conferences at the O'Neill.  For more information regarding the Center and upcoming performances, please visit the O'Neill website at www.TheONeill.org or call 860-443-5378. 
Photos by A. Vincent Scarano

Back Row, starting left: Monique Midgette, Cole Burden, Kimberly Chesser, Paul Oakley Stovall, Cheyenne Jackson, Ted Sperling (Director), Ann Kittredge, Joe Grifasi, Quin Gordon (Assistant Director); Bottom Row, starting left: Jason Ma, Elizabeth Stanley, Harris Doran, Richard Costabile (Stage Manager)

Elizabeth Stanley, Cheyenne Jackson and Rob Berman

Elizabeth Stanley and Cheyenne Jackson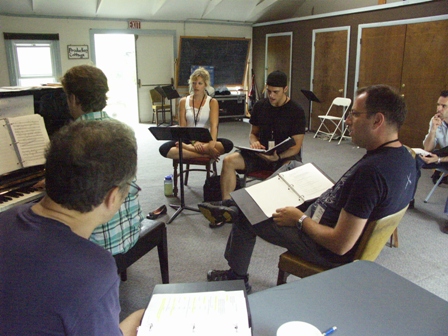 Joe Grifasi (back to photo), Rob Berman, Elizabeth Stanley, Cheyenne Jackson, Ted Sperling, Quin Gordon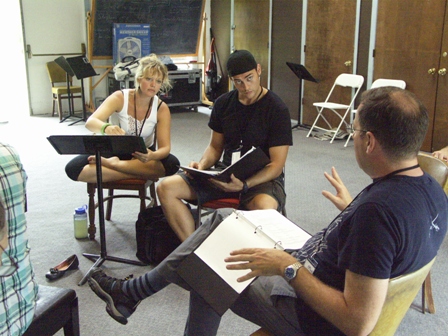 Elizabeth Stanley, Cheyenne Jackson and Ted Sperling

Monique Midgette, Kimberly Chesser and Ann Kittredge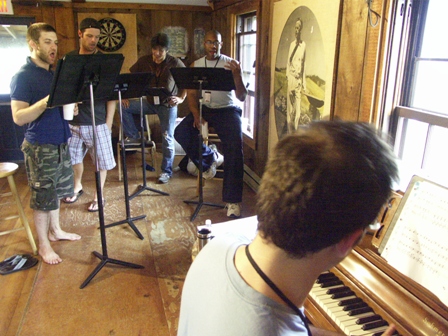 Harris Doran, Cole Burden, Jason Ma, Paul Oakley Stovall and Jonathan Rose (Assistant Music Director on Piano)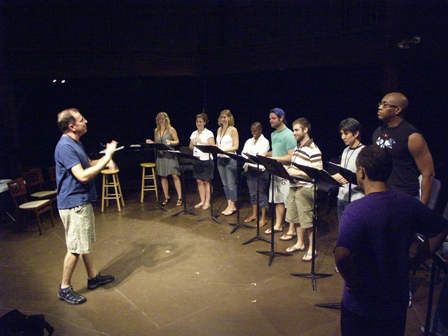 Ted Sperling directs cast, from left, Elizabeth Stanley, Kimberly Chesser, Ann Kittredge, Monique Midgette, Cole Burden, Harris Doran, Jason Ma, Paul Oakley Stovall and Joe Grifasi

Elizabeth Stanley and Cheyenne Jackson

Elizabeth Stanley and Cheyenne Jackson