Dark Psychological Thriller IDEATION Coming to New Repertory Theatre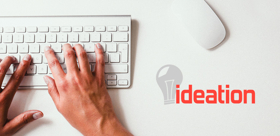 New Repertory Theatre presents Ideation, September 2-24, 2017 in the MainStage Theater at the Mosesian Center for the Arts, 321 Arsenal Street, Watertown, MA. The press opening will be on Wednesday, September 6 at 7:30pm.
Tickets are $35-$65 and may be purchased by calling the New Rep Box Office at 617-923-8487 or visiting newrep.org. Student, senior, and group discounts are available. Subscription packages that include Ideation are also available.
A Spotlight Symposium will be held on Sunday, September 10 following the 2pm matinee. Creating Realities: The Shifting Culture of Understanding What is True will feature WGBH contributor and media specialist Dan Kennedy. Go to newrep.org/symposium for more.
"This season we felt compelled to look at the resilience of the human spirit," says Artistic Director Jim Petosa. "At a time when it is increasingly difficult to decipher truth from fallacy in politics and the news, Ideation allows us to explore actions of thought in the creation of realties. In this thrilling, and darkly comic mystery, the truth becomes so twisted that we begin to question everything. We're asking those who see the show to please spread the word, but don't give away the ending!"
"After the tremendous success of last year, we're thrilled to present another remarkable season at New Rep," says Managing Director Harriet Sheets. "Our first production of the season takes us deep into the inner-workings of a fast-paced consulting firm and their a-list team. Joining us on that team are a number of New Rep regulars: Christine Hamel, Lewis D. Wheeler, and Ed Hoopman, along with Jake Murphy, who made his New Rep debut last season, and newcomer Matt Ketai. We welcome them all for what is sure to be one of our most talked about productions of the season!"
In Aaron Loeb's darkly comic psychological thriller, a group of top-tier consultants are tasked with a mysterious project for an unnamed client. The team must come up with a solution to a morally and ethically ambiguous hypothetical-one that threatens to tear the team apart. Ideation is a captivating new work that will leave you on the edge of your seat.
New Repertory Theatre is the award-winning, professional theatre company in residence at the Mosesian Center for the Arts in Watertown, MA. For over 30 years, New Rep has been a leader of self-produced theatre in greater Boston, producing contemporary and classic dramas, comedies, and musicals in both the 340-seat MainStage Theater and the 90-seat BlackBox Theater. Annually, New Rep serves over 40,000 patrons, including 2,000 season subscribers. In addition to its mainstage productions, New Rep produces Next Voices, a program dedicated to developing new plays with playwrights through staged readings and world premiere production. Under its Lifelong Enrichment Arts Programs (LEAP), New Rep also produces its Classic Repertory Company, Page To Stage, Insider Experiences, and Spotlight Symposium Series.
New Repertory Theatre produces plays that speak powerfully to the vital ideas of our time.
What we do:
Through the passion and electricity of live theater performed to the highest standards of excellence, New Rep seeks to spark community conversations on crucial contemporary issues.
Our work expands and challenges the human spirit of both artists and audiences. We present world premieres, contemporary plays and classic works in several intimate settings. Our productions are designed to be accessible to all. We are committed to education and enrichment for learners of all ages, with a special dedication to the creation of innovative in-school programming and outreach to underserved audiences. We embrace theater as the basis for enduring connections with our community and as a springboard for meaningful civic engagement.
New Rep is an active advocate for the arts and a major voice in the national dialogue defining the role of theater in our culture.
ABOUT THE ARTISTS:
CHRISTINE HAMEL* (Hannah) returns to New Repertory Theatre after performing in Brecht on Brecht, Broken Glass, On the Verge, Ragtime, and Sweeney Todd, directing God Box, and dialect/voice coaching many productions, including Golda's Balcony, Tongue of a Bird, Camelot, The Elephant Man, Amadeus, Holiday Memories, and The Kite Runner. Recent area credits include The Women Who Mapped The Stars (Poets' Theatre); Tongue Tied Tight And Delivered (Huntington Theatre Company); A Disappearing Number (Underground Railway Theater); The Penelopiad (Boston University School of Theatre); Season's Greetings and Our Town (Wellesley Repertory Theatre); and The Glass Menagerie (Boston Center for American Performance). Regionally, she performed the role of Emma Darwin in Trumpery (Olney Theatre Center). Ms. Hamel is an Assistant Professor of Voice/Speech and Acting at Boston University. She is a Designated Linklater Voice teacher, and holds a Teaching Certificate in the Michael Chekhov acting technique. She currently resides in Arlington.
Ed Hoopman* (Ted) returns to New Repertory Theatre after performing in Mister Roberts, Indulgences and touring productions of Macbeth and Hamlet. Recent credits include Camelot (Lyric Stage Company); and Finish Line (Boston Theater Company/Boch Center). Other regional credits include Peter and the Starcatcher, City of Angels, Dear Elizabeth, The Importance of Being Earnest, and Animal Crackers (Lyric Stage Company); Dog Paddle (Bridge Rep); King Lear, A Midsummer Night's Dream, and Taming of the Shrew (Commonwealth Shakespeare); A Civil War Christmas (Huntington Theatre Company); Assassins, After Ashley, and A Clockwork Orange (Company One); and Shear Madness (Charles Playhouse). New York credits include Interior: Panic and World's Fastest Hamlet (Hedgepig Ensemble Theatre); Jester's Dead (The Outfit); and Foreign Wars (Random Access Theater). Television credits include See Kate Run (ABC); and Aftershock (History Channel). Mr. Hoopman is also an accomplished voiceover actor whose work can be heard both locally and nationally. Born and raised in Northern California, Ed now calls Cambridge home after 13 years in the Boston area. edhoopman.com
Matt Ketai* (Sandeep) makes his New Repertory Theatre debut. Regional credits include Dracula, Or The Undead (Williamstown Theatre Festival); A Christmas Carol (Trinity Repertory Company); Othello (Actors' Shakespeare Project); and Fallujah (Kennedy Center ACTF/InCite Arts Festival). New York acting credits include Xander Xist... (Samuel French Off-Off Broadway Short Play Festival); Oedipus (La MaMa); La Ruta (Working Theatre); Mom Play (TinyRhino). Matt is a member of the Flea Theater's resident acting company and The Bats from 2014-2015. Matt received his BFA in Acting from Boston University and his MFA in Acting from Brown University/Trinity Repertory Company. Brown/Trinity credits include Side Show (BroadwayWorld and RI Critics Pick, Best Supporting Actor in a Musical); A Midsummer Night's Dream, and Romeo and Juliet.
JAKE MURPHY* (Scooter) returns to New Repertory Theatre after performing in Brecht on Brecht. Boston credits include Mamihlapinatapai (Boston Playwrights' Theatre) and The Human Comedy (Boston University). Off Broadway credits include Dead End (Axis Theatre Company); and a staged reading of The Crowded Hour (Manhattan Theater Club). Regional credits include Noises Off and Sherlock Holmes (Sacramento Theatre Company); Boner Problem and Missed Connections (Brunch Theatre); and Romeo and Juliet (Marin Shakespeare). Film credits include We Can Do It, Can Hitler Happen Here?, Prom King 2010, and Ghost Light. Television credits include A Crime to Remember and The Defectives. Jake received a BFA in Theatre Arts from Boston University. jake-murphy.com
LEWIS D. WHEELER* (Brock) returns to New Repertory Theatre after performing in The Gift Horse, Muckrakers, Pattern of Life, Rancho Mirage, Long Day's Journey into Night, Silence, and a touring production of Cyrano. Recent credits include Finish Line (Boston Theater Company); Hand to God (SpeakEasy Stage Company); and Uncanny Valley (Stoneham Theatre). Regional credits include No Man's Land (IRNE Nomination Best Supporting Actor, American Repertory Theater); Richard II (Actors' Shakespeare Project); Blood on the Snow (Bostonian Society); The Importance of Being Earnest, A Number, and The Glass Menagerie (Lyric Stage Company); Doubt, An Ideal Husband, and The Totalitarians (Gloucester Stage Company); and five seasons with Wellfleet Harbor Actors Theatre. Also American Stage (St. Pete), Commonwealth Shakespeare Company, Nora Theatre Company, Underground Railway Theater, Boston Playwrights' Theatre, Huntington Theatre Company, Vineyard Playhouse, Publick Theatre, Cape Rep, Shakespeare Now, Wellesley Repertory Theatre, Wheelock Family Theatre. Lewis was a founding member of Harbor Stage in Wellfleet, where he performed in The Seagull and Hedda Gabler and directed David Rabe's Sticks and Bones. Film and television credits include Manchester by the Sea, Live by Night, Black Mass, The Company Men, Pink Panther 2, Louisa May Alcott (PBS), Brotherhood, and Hatfields & McCoys. Lewis earned his BA in Theatre and Film Studies at Cornell University and his MFA from the American Film Institute. He resides in Boston and is a proud member of Actors' Equity since 2004.
Aaron Loeb (Playwright) is a San Francisco Bay Area playwright whose work has been performed around the country. His full-length plays include The Proud, Alcestis (Doesn't Live Here Anymore), Brown, First Person Shooter, Blastosphere (with Geetha Reddy), and Abraham Lincoln's Big, Gay Dance Party, which had its Off-Broadway premiere in 2010. Among the honors Loeb has received are two Bay Area Theater Critic Circle Awards for Best New Play (First Person Shooter in '07, ALBGDP in '08), Outstanding Play from The New York International Fringe Festival (Abraham Lincoln's Big, Gay Dance Party '09), GLAAD Media Award Nominee (Abraham Lincoln's Big, Gay Dance Party '09), and seven Emerging Playwright Awards from PlayGround. He is a member of the Dramatists Guild, Inc. and a Playwrights Foundation resident playwright.
Jim Petosa (Director/Artistic Director) joined New Repertory Theatre as an award-winning theatre artist, educator, and leader in 2012. He has served as Director of the School of Theatre, College of Fine Arts, at Boston University since 2002, and Artistic Director of Maryland's Olney Theatre Center for the Arts and its National Players educational touring company (1994-2012). While at Boston University, he established the Boston Center for American Performance (BCAP), the professional production extension of the Boston University School of Theatre, in 2008. Throughout the Northeast, Mr. Petosa has directed for numerous institutions, including The Gift Horse, Brecht on Brecht, Good, Freud's Last Session, The Testament of Mary, Broken Glass, Assassins, On the Verge, The Elephant Man (IRNE Nomination), Amadeus, Three Viewings, The Last Five Years, and Opus at New Rep. In Boston, his work was nominated for two IRNE awards for A Question of Mercy (BCAP). He has served as one of three artistic leaders for the Potomac Theatre Project (PTP/NYC) since 1987. In Maryland, his work earned over 25 Helen Hayes Award nominations as well as the award for outstanding direction of a musical for Jacques Brel is Alive and Well... His production of Look! We Have Come Through! was nominated for the Charles MacArthur Award for outstanding new play, and he earned the Montgomery County Executive's Excellence in the Arts and Humanities Award for Outstanding Artist/Scholar. A member of Actors' Equity Association, Mr. Petosa has served on the executive board of the Stage Directors and Choreographers Society, and currently serves on the Board of Directors for StageSource. Originally from New Jersey, he was educated at The Catholic University of America and resides in Quincy.
More Hot Stories For You