Composer, Conductor & Educator Tania Leon Elected Member Of American Academy Of Arts And Sciences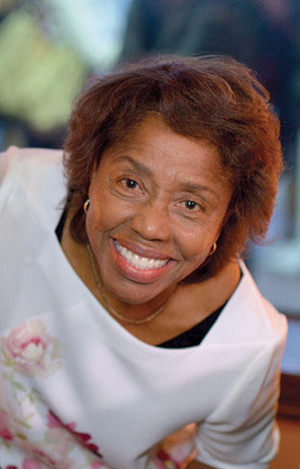 Composer, Conductor and Educator Tania León has been elected as a new member of the American Academy of Arts and Sciences in the category of Visual Arts and Performing Arts - Criticism and Practice along with other noted and distinguished artists. (See list below). Ms. León will be inducted in to the Academy this weekend, October 5th in Cambridge, Massachusetts.
SECTION 5 - Visual Arts and Performing Arts - Criticism and Practice (12)
Carla Bley.New York, NY
David C. Driskell, University of Maryland
Tom Hanks,Pacific Palisades, CA
Robert L. Kendrick,University of Chicago
Tania León, Brooklyn College CUNY
Richard J. Powell,Duke University
Richard Shiff,University of Texas at Austin
Jacqueline Stewart,University of Chicago
Jessica Stockholder,University of Chicago
Damian Woetzel,Aspen Institute Arts Program
Francesca Zambello,Glimmerglass Festival/ Washington National Opera
International Honorary Member - Visual Arts and Performing Arts - Criticism and Practice
Erika Fischer-Lichte
Frei Universität, Berlin
The Humanities, Arts & Culture
The American Academy was founded to promote the pursuit of knowledge and the education of citizens in all fields of knowledge. Since 1780, the Academy has advocated for the importance of the humanities, arts, and culture in American society, and has called on both private citizens and the nation's government to help foster advances in these areas.
Today, the Academy conducts research and develops policy recommendations to advance the humanities in academic scholarship and in the public sector, to display the importance of the arts in society, and to enrich the nation's cultural life. By bringing together scholars, artists, and leaders from both the public and private sectors, Academy programs in the Humanities, Arts, and Culture put practitioners and scholars in conversation with individuals from other disciplines, ensuring that the arts and humanities are valued in all areas of civic life. Projects in this area demonstrate the value of the arts, humanities, and culture to the nation's security and prosperity, and call attention to the role played by work in these fields to enriching the health of communities and the daily lives of its citizens. For more information: https://amacad.org/Default.aspx
Professor Tania León
Brooklyn College and The Graduate Center, City University of New York
Composer; Claire and Leonard Tow Distinguished Professor of Music
As a distinguished American composer, conductor, and educator, León's composition style is influenced by such American idioms as gospel and jazz. African and Cuban elements are incorporated alongside contemporary techniques. She has played active role to introduce Latin American music works to American audiences.
In 1969, León became a founding member and the first musical director of Arthur Mitchell's Dance Theatre of Harlem, establishing its music department, music school, and orchestra. She instituted the Brooklyn Philharmonic Community Concert Series in 1978, and in 1994 co-founded the American Composers Orchestra Sonidos de las Americas Festivals as Latin American Music Advisor. From 1993 to 1997 she was the New Music Advisor to Kurt Masur and the New York Philharmonic. She also served as Latin American Music Advisor to the American Composers Orchestra until 2001. Her compositions include "Dougla" (1974), "Scourge of Hyacinths" (1994), "Horizons" (1999), "Inura" (2009), "Rimas Tropicales" (2011), "Ethos" (2014) and "Ser" (2017).
She is on the executive board of important new music organizations such as In The States and the Fromm Music Foundation in Harvard. She is the founder and director of Composers Now in New York, whose mission is to promote new music and composers of our time, which benefits our culture and society immeasurably. She received the Mad Women Festival Award in Music, in Madrid, Spain in 2017 and most recently the 2018 USA Artist Fellowship. For more information please visit: http://www.tanialeon.com
She has played active role to introduce Latin American music works to American audiences. She is on the executive board of important new music organizations such as In The States, and the Fromm Music Foundation in Harvard. She is the founder and director of Composers Now in New York, designed to promote new music and composers of our time, which benefits our culture and society immeasurably. For more information please visit: www.tanialeon.com and www.composersnow.org
Related Articles View More Boston

Stories

Shows
More Hot Stories For You