Chester Theatre Company Brings Mark Leiren-Young's BAR MITZVAH BOY To Life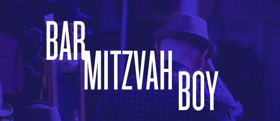 Chester Theatre Company (CTC) presents the American Premiere of Mark Leiren-Young's Bar Mitzvah Boy in Town Hall Theatre, 15 Middlefield Road in Chester, MA from June 21 through July 1, 2018.
Joey is in a hurry to "become a man," but he'd prefer not to skip his weekly poker game for Friday night services to do it. While this late-in-life Bar Mitzvah boy (and successful divorce attorney) is finding his spiritual way, the rabbi who is guiding him is losing hers. Guy Ben-Aharon, director of 2016's hit production Oh God, is directing the 2017 Jewish Playwriting Prize winner. Berkshire favorite Tara Franklin (Sister Play) returns to play Rabbi Michael, and Boston veteran actor Will LeBow will make his CTC debut as Joey.
The artistic team of Bar Mitzvah Boy includes: Guy Ben-Aharon (Director) Born in Israel, Guy is the Producing Artistic Director and Founder of Israeli Stage. Following the success of Israeli Stage, Guy was asked by the Goethe-Institut Boston to develop German Stage, by swissnexBoston to develop Swiss Stage, and by the Austrian Cultural Forum to develop Austrian Stage. A proud Emerson College alum, Guy is a former Theatertreffen Fellow, ROI Community Fellow, and was profiled in The Boston Globe, Ha'aretz/International Herald Tribune, The Improper Bostonian, and The Washington Post for his work to promote international theatre.
Tara Franklin (Michael Levitz-Sharon) has had numerous regional appearances include roles in The Homecoming, The Lion In Winter, Birthday Boy, The Guardsman, Ghosts, A Man For All Seasons, Educating Rita, Amadeus, Equus, and The Misanthrope at Berkshire Theatre Group. She appeared Off-Broadway in Sleep No More at Punchdrunk @ The McKittrick Hotel, and at the Nebraska Shakespeare Festival in Henry V, Love's Labors Lost, King Lear, Much Ado About Nothing, Hamlet, and A Midsummer Night's Dream. Other credits include Translations, The Trojan Women, Red Noses, and Misalliance at Connecticut Repertory Theatre; Manuscript Found in Saragossa with the Lookingglass Theatre Company; and Gravid Water at Chicago's Improv Olympic. Tara can also be seen in the film Labor Day. She also appeared at CTC in Sister Play in 2016. Will LeBow (Joey "Yosef" Brant) BROADWAY: Act One, OFF-BROADWAY: Nocturne (NYTW Drama Desk Nomination.) REGIONAL: Ma Rainey's Black Bottom, Sonia Flew, The Rivals, The Cherry Orchard, The Corn is Green, Love's Labour's Lost (Huntington); The Merchant of Venice, The Birthday Party, Full Circle, We Won't Pay We Won't Pay, Picasso At The Lapin Agile, Ubu Rock, The Tempest, Romeo and Juliet, Uncle Vanya, Animals and Plants, Romance, Duck Variations, Marvelous Party (ART); Once in a Lifetime (ACT); Glengarry Glen Ross, Twelfth Night (MRT); Abduction From the Seraglio, Ariadne Aux Naxos (Boston Lyric Opera); Porgy and Bess (BSO); Polar Express, How the Grinch Stole Christmas (Boston Pops); Film/TV: What Doesn't Kill You, Next Stop Wonderland, Home Movies, Dr. Katz: Professional Therapist.
Mark Leiren-Young (Playwright) Mark has written comedy, drama, plays for young audiences, musicals, revues and, in 2012, he debuted his first piece as a solo performer, Greener Than Thou, an autobiographical comic monologue about the challenges of going green. His plays have been produced throughout North America and also staged in Europe and Australia. His new book about a whale named Moby Doll, The Killer Whale Who Changed the World, has been released by Greystone in partnership with the David Suzuki Foundation. Mark is the author of two comic memoirs, Free Magic Secrets Revealed and Never Shoot a Stampede Queen - A Rookie Reporter in the Cariboo. He is adapting both books for film. Mark has received three Writers Guild of Canada nominations for his work. The most recent was for the script for his award-winning debut feature film, The Green Chain, which he directed and produced. He wrote and co-starred in the EarthVision award-winning TV special Greenpieces: The World's First Eco-Comedy, featuring his comedy duo Local Anxiety. As a journalist Mark has written for TIME, Maclean's, The Hollywood Reporter, The Walrus, and most of Canada's daily newspapers.
The creative team also includes David Towlun (Set Designer), Lara Dubin (Lighting Designer), Charles Schoonmaker (Costume Designer), David Reiffel (Sound Designer), and Laura Kathryne Gomez (Stage Manager.)
Individual ticket prices are $42.50. Chester residents, members of the military and their families, and those holding EBT/SNAP cards may purchase $10 tickets at the door or by calling the box office. (Call box office for details.) Student Rush $10 tickets are available day of show. Single tickets, season subscriptions, and flex passes may be purchased online at chestertheatre.org, or by phone at 413.354.7771. Special rates for groups of 10 or more are available.
Chester Theatre Company, a professional theatre company located between the Berkshires and the Pioneer Valley, and convenient to both, is known for presenting high-quality productions with top-notch actors, directors, and designers from across the country since 1990. Founded by former Artistic Director of Dublin's Abbey Theatre, Vincent Dowling, CTC is now in its 29th season, and produces four thought-provoking plays each summer in the intimate setting of the Town Hall Theatre at 15 Middlefield Road in Chester, MA.
For further information, please call CTC at 413.354.7770, or visit www.chestertheatre.org.
More Hot Stories For You