BWW Review: TRUE WEST: Sam Shepard's Classic Tale of Sibling Rivalry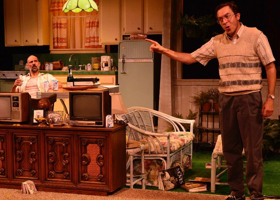 True West
Written by Sam Shepard, Directed by Joe Short; Scenic Design, Jon Savage; Lighting Design, Marcella Barbeau; Costume Design, Miranda Kau Giurleo; Properties Design, Emily Hartig; Sound Design, David Reiffel; Fight Director, Robert Walsh; Stage Manager, Julia Fioravanti
CAST: Nael Nacer, Alexander Platt, Mark Cohen, Marya Lowry
Performances through September 8 at Gloucester Stage Company, 267 East Main Street, Gloucester, MA; Box Office 978-281-4433 or www.gloucesterstage.com
There are countless stories about brothers which lend themselves to dramatic treatment, notably in the Bible and throughout the Shakespeare canon, and the late Sam Shepard, one of America's foremost playwrights, mined the subject matter to create True West, a modern classic set in a Southern California suburb about 40 miles outside of Los Angeles. Informed by the diverse worlds of nearby Hollywood, a playground of fantasy and wealth, and the Mojave Desert, an unforgiving landscape that presents the ultimate survival challenge, two brothers butt heads when they attempt to find common ground to co-exist in their mother's house and collaborate on a screenplay.
True West is a dark, yet humorous play, a winning combination in the hands of Director Joe Short and his stellar cast led by Nael Nacer (Lee) and Alexander Platt (Austin), whose distinctive acting styles mirror the differentiation between their characters. Making his Gloucester Stage Company debut, Platt's performance commences with small, tidy tics and gestures, conveying the impression of someone in control of his emotions, but not given to extreme highs or lows. Austin has an understated personality and a need to keep things on an even keel. Enter his loose cannon older brother, a redneck to his sibling's man of letters, emitting vibes of danger, and the setup for dramatic conflict is immediate. As an actor, Nacer is a chameleon, changing his voice and his appearance to fit any role. In this case, he adopts a hint of a twang that contrasts with Austin's academic tone, and sports a shaved head under his well-worn baseball cap. Lee moves around the set like he owns it, forcing Austin to retreat to his little corner of space.
In brief, the story, which matters less than the relationship, finds Austin house-sitting for their mother who is on a trip to Alaska. Taking advantage of the solitude away from his wife and children, he is working on a screenplay that he has been trying to sell for months. Expecting a visit from a producer (Mark Cohen, a convincing Hollywood type) to finalize the deal, Austin is visibly disturbed by the unexpected arrival of his ne'er-do-well brother. In order to get him out of the house, Austin grudgingly lends Lee his car, but the latter comes home early and intrudes on the meeting with Saul. To Austin's dismay, Lee ingratiates himself with Saul and bulls his way into a golf game with him for the next day. When Lee returns from the match, he informs Austin that Saul gave him an advance for a story he pitched, and, worse yet, Austin has to write the screenplay, perhaps sacrificing his own work.
Shepard uses this bizarre turn of events to spin the dynamic between the brothers into a dizzying role reversal, and Short and his actors make the seamless transition on a dime. It happens so fast that we hardly see it coming before it registers, but suddenly Lee is the type A guy with a mission and Austin is trouble with a capital T. Even as the story turns darker, it is such fun to watch the characters swap traits, realizing that perhaps the brothers were never as different as they (or we) thought they were. Marya Lowry's (Mom) entrance comes late in the play, but her character provides some needed background for the family dysfunction, and she balances the mother's fatigue and resolution with an unrealistic outlook on life. She is only on stage for a few minutes, but Lowry makes an impact, as much by how she stands and what she doesn't say, as by the few lines she speaks.
The design team greatly contributes to the ambience and authenticity of the production. Jon Savage's scenic design features a kitchen which flows into a living room adorned with hanging plants, given a tired glow by lighting designer Marcella Barbeau. Properties designer Emily Hartig doesn't miss a detail, including a well-stocked refrigerator, and Miranda Kau Giurleo helps to distinguish the brothers with her costume design, while making Saul look the part of the Hollywood producer, sunglasses and all. One of the most vital features is David Reiffel's sound design, filling in the intense yapping of coyotes and the constant drone of crickets. Fight director Robert Walsh has choreographed a realistic battle between the brothers.
True West had its world premiere on July 10, 1980, at the Magic Theatre in San Francisco. On December 23,1980, it opened at Joseph Papp's Public Theater in New York City, was revived at the Steppenwolf Theatre Company in Chicago in 1982, and later transferred for a run of 762 performances at the Cherry Lane Theatre in New York. More recently, a Broadway revival in 2000 at the Circle in the Square Theatre garnered Tony Award nominations for best actor for the late Philip Seymour Hoffman and John C. Reilly, who alternated playing the lead roles. Nearly forty years after its premiere, the Gloucester Stage Company production is a testament to the timeless validity of Shepherd's play, especially when staged with four Equity actors and solid direction.
Photo credit: Gary Ng (Nael Nacer, Alexander Platt)