BWW Review: Sherlock With a Twist: MISS HOLMES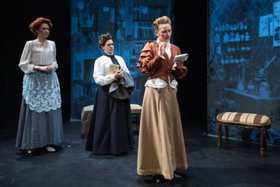 Written by Christopher M. Walsh, Based on characters created by Arthur Conan Doyle; Directed by Weylin Symes; Scenic Design, Katheryn Monthei; Costume Design, Deirdre McCabe Gerrard; Lighting Design, Chris Fournier; Sound Design, Nathan Leigh; Props Master, Emme Shaw; Production Stage Manager, Rachel Sturm
CAST (in alphabetical order): Daniel Berger-Jones, Shelley Bolman, Marge Dunn, Monica Giordano, Cheryl McMahon, Alexander Platt, Brittany Rolfs, Damon Singletary, Patrick Varner
Performances through April 22 at Greater Boston Stage Company, 395 Main Street, Stoneham, MA; Box Office 781-279-2200 or www.greaterbostonstage.org
British author Sir Arthur Conan Doyle introduced his fictional detective Sherlock Holmes to the world in 1887, and the storied investigator has arguably been the best-known gumshoe in literature or on stage and screen ever since. How could one possibly increase the character's renown and reach, you might ask? Chicago actor/writer Christopher M. Walsh has crafted an homage to Conan Doyle's creation with a feminine twist in his 2016 play Miss Holmes, featuring a female Sherlock Holmes and her estimable companion, Dr. Dorothy Watson. Holmes' vaunted powers of observation and reasoning are fully on display, as is the unemotional quality of the detective's personality. The combination of these characteristics in a woman is unusual and adds a delightful element to Walsh's story.
Under the direction of Producing Artistic Director Weylin Symes, the Greater Boston Stage Company production of Miss Holmes is chock full of delightful elements. With a minimalist set (Katheryn Monthei), the use of projections, lighting (Chris Fournier), stage fog, and sound effects (Nathan Leigh) create an aura of mystery and danger to surround the players and captivate the audience. Costume designer Deirdre McCabe Gerrard successfully evokes the styles of 19th-century London, and Dialect Coach Christine Hamel's effectiveness cannot be overstated as each character's portrayal is enhanced by their distinctive speech. For the cast, Symes has rounded up some of the usual suspects from previous GBSC shows, and completed the line-up with a few who are making their debuts on the Stoneham stage.
It is no mystery as to why Marge Dunn is cast in the title role. She is totally convincing as a woman who makes no apology for her gender or her passion for her work, and she subtly lets you see how Holmes' brain works as she pieces together bits of information to solve the case. Although Sherlock is unsentimental, Dunn telegraphs feelings of respect and warmth toward Watson (Brittany Rolfs) and the pair overcome their contrasting natures to forge a working relationship. Rolfs also grabs the feminist mantle of her character with gusto, eschewing a lukewarm marriage proposal to pursue her medical practice, and channeling her inner Annie Oakley when she wields a pistol a couple of times in the course of the investigation. Both Dunn and Rolfs are authentic in their portrayals of two formidable women who would be leading the charge in the #MeToo or #TimesUp movements of today.
In addition to the protagonist, Walsh writes a couple of other strong female characters. Cheryl McMahon plays a trio of women, starting with Watson's superior and friend, Dr. Anderson, who has broken the glass ceiling and heads up a hospital for women. McMahon distinguishes herself as Holmes' housekeeper, Mrs. Hudson, and as Endora Featherstone, the grieving mother of a murder victim. Monica Giordano also plays three women, but shines as Lizzie Chapman, the nervous wife of the suspected murderer. Thomas Chapman, the bad guy, is slickly played by Daniel Berger-Jones, alternately charming and alarming with his knack for showing up unexpectedly.
The other bad guy, who may also be a good guy, is Sherlock's brother Mycroft Holmes (Alexander Platt). As her only family member and means of support, he holds the purse strings, as well as many other strings that he uses to try to control her. He has a powerful government position, but operates with secrecy so it isn't really clear whether or not he can be trusted, and Platt's portrayal is appropriately both close to the vest and stiff upper lip. Patrick Varner comes through with another fine performance in two roles. He is a hoot as Watson's wimpy suitor who must rise to the occasion when she needs an impostor to impersonate a German doctor, and suitably fey and greedy as the heir apparent to Featherstone's estate. Rounding out the ensemble are Shelley Bolman's sympathetic Scotland Yard Inspector Lestrade and Damon Singletary as Chapman's unwilling henchman.
Walsh has written a great detective story in the style of Conan Doyle, adding interest and enjoyment by changing the gender of the main characters. The social and political realities of the time and place allow him to double down on the feminist themes that he incorporates, giving the play more relevance in the present. Symes' direction is well-paced, building suspense as he metes out details of the case in real time. We never know anything before Sherlock figures it out, and, like her, we are left hanging at the end. Exiting the theatre, I heard mumbled conversations about the potential for a sequel. As Holmes would say, "The game is afoot!"
Photo credit: Nile Scott Shots (Monica Giordano, Brittany Rolfs, Marge Dunn)