Student Blogger: Breanna Ebisch
MOST POPULAR ARTICLES
LAST 30 DAYS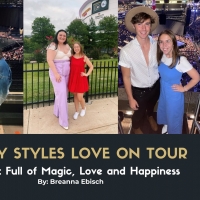 Student Blog: Harry Styles Love On Tour
Posted: Oct. 12, 2021


LAST 365 DAYS
BWW Blog: 20 Things I Learned in 2020 - The Good, Bad and Everything In-Between
Posted: Dec. 21, 2020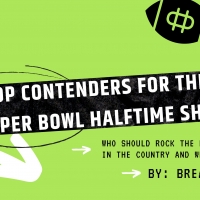 BWW Blog: The Top Contenders For the Next Super Bowl Halftime Show
Posted: Feb. 8, 2021


BWW Blog: Broadway Wishlist - Shows That Should Return to the Stage
Posted: Dec. 9, 2020


Student Blog: The Necessary Songs For Your Travel Playlist
Posted: Mar. 2, 2021


Student Blog: Harry Styles Love On Tour

October 12, 2021

Because of the variety of music choice, the show was both a giant dance party and extremely emotional. While a majority of the concert was full of dancing, screaming out the lyrics and having the best time, there were also moments where tears were shed or the crowd grew quiet just to enjoy the heart wrenching ballads that were being sung. These few minutes were so powerful and only added to the overall experience of seeing Styles live. For many, these songs have been a saving grace throughout such an unprecedented time and to finally hear them live made it very hard not to get teary eyed.
---
Student Blog: Get Comfortable With Being Uncomfortable

September 17, 2021

I'm not one to go to events or trips by myself mostly because that's out of my comfort zone and I've gotten used to doing things with my friends or family. So when the opportunity came up to go to a minor league baseball game, but no one I knew could go, I was faced with the question of do I miss out on something I want to do because of my comfort level or do I step out of where I feel 'safe' and go?
---
Student Blog: Live on the Today Show: The Experience of a Lifetime

September 7, 2021

For anyone who knows me, two of my favorite things are live music and spontaneous plans. Whenever there is a chance to see an artist I like, I'll somehow find a way to be there even if it's a plan that's pulled together in the matter of minutes. In my experience, the spontaneous concerts are some of the very best and there are never any regrets for going because it's worth all the craziness.
---
Student Blog: The (Not So) Most Wonderful Time of the Year

August 25, 2021

This year, I'm a senior which means it's my last year in college. That fact is both equally thrilling and terrifying. In less than twelve months, I'll be a college graduate with a degree that will be with me as I'm out in the world working and taking on life without any fear. All of my hard work over the past four years will finally amount to something great. But this is my last first day of school, opening the door for all the big moments that will also be my last. My last move in day, last homecoming, last finals week (which I won't miss), last time spending everyday with the people who mean everything to me.
---
Student Blog: A Letter to Summer in the City

July 27, 2021

There are so many irreplaceable things to be done during the warmer months that can't be missed. Whether you're walking the High Line, visiting Little Island, getting a view of the city from one of the many observation decks or exploring independently and locally owned stores, life in New York during the summer is something that everyone needs to experience. There is something for everyone to enjoy and creating memories is exceptionally easy on the days spent in the Big Apple.
---
Student Blog: Not Being Okay is Okay

July 12, 2021

In the grand scheme of things, you are the most important. Taking care of yourself should always be the top priority, no matter what. Whether it's going to therapy, setting aside time to do things that make you feel good or even journaling, doing what's best for you is only going to make you feel better going forward.
---
Student Blog: Best Summer Podcast Recommendations

July 1, 2021

The possibility of entertainment is endless, but in case you are looking for podcasts to listen to during the warm months, I have plenty of amazing recommendations for you! From everything to true crime to romance stories, these podcasts are some of my favorites and are guaranteed to become some of your best listens this summer.
---
Student Blog: The Fight to Balance Feeling "Good Enough" Without Falling Behind

June 2, 2021

It's important to remember that you are NOT behind in the imaginary timeline of life and no matter what you are doing, it IS enough despite what social media or others may say. You are on the right track, exactly where you need to be at this moment. I promise.
---
Student Blog: The Movie Adaptation Debate Continues

May 25, 2021

As for expectations, the movie is set to wow everyone who watches. Like the Broadway show, the emotions attached to the storyline and characters are sure to be overwhelming and will draw anyone right in. And because the wait for this film has been so long, the excitement and love is already heightened than if the timeline was any quicker.
---
Student Blog: Here We Go Again... Broadway is Back!

May 25, 2021

The good news is, Broadway is back! It's been a very long year and a half, but theaters will be full of crowds, applause and happy smiles before we know it. There's no doubt that thousands are excited to see some of the most well known shows again along with the opening of others throughout the fall season. Get your tickets ready and best outfits out because as any avid lover of Mamma Mia! would say, here we go again!
---
Student Blog: The Pure Magic of "Fearless (Taylor's Version)"

April 26, 2021

A few weeks ago, singer/songwriter Taylor Swift released the first of her re-recorded albums and millions were stunned to say the least. Thirteen years after the initial release of Swift's second album, 'Fearless (Taylor's Version)' not only brought back countless memories and strong nostalgia for many, but the tracklist also included a large selection of songs that were brand new.
---
Student Blog: Books That Should Be Adapted For The Stage

April 26, 2021

In recent years, several Broadway shows have opened that are interesting adaptations of well known books and pieces of literature. Some of the most popular are Wicked, To Kill A Mockingbird and Harry Potter and the Cursed Child which have each amazed thousands of audience members in their own ways. But while looking ahead to the return of Broadway, it's fun to wonder about the other potential adaptations of books that could take the stage.
---
Student Blog: A Letter to the Stage I Love

March 29, 2021

At the end of the day, the moral of the story is that stage in Wallkill's auditorium gave me more than I never realized. And now, when I find myself missing the time I spent performing, I look back with fondness.
---
Student Blog: A Year and Counting

March 29, 2021

It has been over 365 days since COVID-19 turned our lives and the whole world upside down. 365 days of protecting ourselves and others. 365 days of adjusting to this new version of life that is missing a lot of components we are used to.
---
Student Blog: The Necessary Songs For Your Travel Playlist

March 2, 2021

No matter where you're headed, the perfect music makes any trip that much better and memorable. Adding these five songs to your playlist will turn the long ride or flight into something fun and will define your trip for years to come. ​​​​​​​
---
BWW Blog: The Top Contenders For the Next Super Bowl Halftime Show

February 8, 2021

While millions of sports fans tune in across the country to watch the big game, many are more interested in the halftime show that always showcases an astonishing musical artist who brings a stunning performance to be remembered.
---
BWW Blog: New Semester, Same Challenges

February 2, 2021

Life as a college student is not easy. And although many will discredit the stress, anxiety, hard work and obstacles that earning a higher education comes with, the current global pandemic multiplies those aspects significantly.
---
BWW Blog: A Letter to 2021

January 14, 2021

Dear 2021...
---
BWW Blog: 20 Things I Learned in 2020 - The Good, Bad and Everything In-Between

December 21, 2020

It's no surprise that the last 366 days have been anything but normal.
---
BWW Blog: Broadway Wishlist - Shows That Should Return to the Stage

December 9, 2020

I created a list of musicals that have closed but should return to the Broadway stage in the future. 
---