Click Here to Visit the College Center

Blogs are the opinions of the authors and do not necessarily reflect the opinions of BroadwayWorld. BroadwayWorld believes in providing a platform for open and constructive conversation.

Student Blog: My Thoughts on Red (Taylor's Version)
A Stunning Album of Heartbreak and Love Like No Other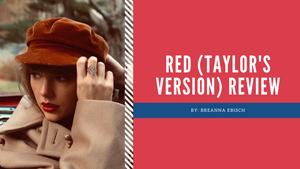 The day has finally arrived. Red (Taylor's Version) is in the hands of avid music listeners around the world, but most importantly, Swifties who have been awaiting the re-release could not be any happier. The album is the second Taylor Swift has re-recorded and released again to own her music after the sale of her masters to Scooter Braun a few years ago. And there's no denying that the anticipation for Red (Taylor's Version) was well worth it.
As a big fan of Swift myself, my excitement for the new album is on a whole other level. Red, which was released in 2012, has been arguably my very favorite record of Swift's. Many of the songs, whether it be singles or just under recognized songs on the tracklist, became the soundtrack to many important moments of my life as I went through middle school and high school. Over time, the album has remained close to my heart and has been played on repeat more often than not.
And now, almost ten years later, Swift has gifted us (although under unfortunate circumstances) with a re-recorded version of the original album and several brand new songs from the vault. Red (Taylor's Version) is an absolute masterpiece in every sense of the word. Each song, new and old, contains the same amount of genius and magic that has become Swift's trademark throughout her career and music. The heartbreak, variety of emotions and collection of the melodies that are intertwined with Swift's lyrics make this album one of the very best in existence.
If you have never listened to anything from Swift, I highly suggest starting with her most recent release. The tracklist has both upbeat songs that make you want to dance and heart wrenching ballads that might bring on waves of tears. There's something for everyone to love. And I can't say that enough. It's also unbelievable how the songs mean so much more to listeners now than when Swift first released them. Her fans have grown up and gone through experiences to relate to the lyrics like never before plus hearing the singer recreate the songs in the most beautiful way now that she's in a totally different time of her life is significant too.
My personal favorites from the original tracklist haven't changed much and still are "State of Grace (Taylor's Version)", "Holy Ground (Taylor's Version)" and "The Lucky One (Taylor's Version)". These three were my top favorites from the original record as well, so it's no surprise to know that I love them even more now with the re-recordings.
But it's incredibly tough to pick even my top three from the vault songs. Each one is stunning in its own way, a collection of art of their own. My favorites, at the moment, of the vault songs are "The Very First Night (Taylor's Version) (From The Vault)", "Message In A Bottle (Taylor's Version) (From The Vault)" and "Girl At Home (Taylor's Version) (From The Vault)". The 10 minute version of "All Too Well" is another fantastic addition like no other and can't go unmentioned when reviewing the record.
There aren't enough words to describe how much I love this album. Red (Taylor's Version) is truly a masterpiece of artistry and has revived the adoration that many have for the original tracklist. I have always argued this has been one of Swift's best albums which can be proven further with the success and incredible music contained on this record. From a Swiftie and avid music lover, I highly recommend listening to Red (Taylor's Version). You will not regret it one bit.