Michael Quintos - Page 4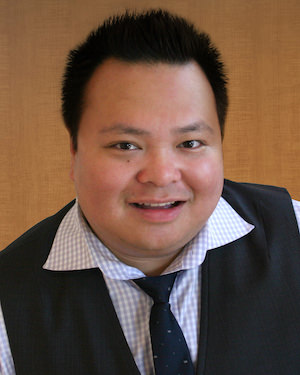 A So. Cal. Contributing Editor since 2009, Michael Lawrence Quintos is a talented, mild-mannered Designer by day. But as night falls, he regularly performs on various stages everywhere as a Countertenor soloist, actor, and dancer for MenAlive since 2002. He sings everything from Broadway, Jazz, R&B, Classical, Gospel and Pop, and has shared the stage with Bernadette Peters, Debbie Reynolds, Michael Feinstein, and Liza Minnelli. In June 2019, he made his soloist debut at the Hollywood Bowl in front of 17,000 concertgoers. His musical theater roots started early, performing in various stage productions and a couple of nationally-televised programs. The performing bug eventually brought him a brief championship run in the Philippines' version of "Star Search" before moving to Las Vegas at age 11. College brought him out to Orange County, California, where he earned a BFA in Graphic Design and a BA in Film Screenwriting. He has spent several years as a designer and art director for various media companies, while spending his free time going to Disneyland, binge-watching shows, or performing in or critiquing shows. Follow Michael on Twitter or Instagram @cre8iveMLQ.
MOST POPULAR ARTICLES
LAST 365 DAYS
BWW Review: 10 Reasons Why THE BOOK OF MORMON Tour at Segerstrom Arts Is Still a Hella Funny, Hella Good Show

March 28, 2018

One thing is for certain about THE BOOK OF MORMON: this memorable, whip-smart, and downright gut-busting Broadway musical is still one of the funniest---if not the funniest---musical ever to exist in the 21st Century. The tour's return trip to Orange County's Segerstrom Center for the Arts in Costa Mesa continues through April 1, 2018.
---
BWW Review: Powerful New Play CAMBODIAN ROCK BAND Makes World Premiere at South Coast Repertory

March 19, 2018

The tragic events surrounding the rise of the Khmer Rouge regime in mid-70's Cambodia serves as the overarching backdrop that links the past and the (near) present in Lauren Yee's stunning new play CAMBODIAN ROCK BAND---which continues its World Premiere production at Orange County's Tony Award-winning regional theatre South Coast Repertory in Costa Mesa through March 25, 2018. Commissioned by SCR as part of its CrossRoads Initiative, this powerful and searing new drama---sprinkled with welcome bits of comedy and, yes, rock concert music interludes---had its initial staged reading at last year's Pacific Playwright's Festival and is now an absorbing, full-fledged production under the admirable direction of Chay Yew.
---
BWW Review: Melanie Griffith Headlines Stage Adaptation of THE GRADUATE at the Laguna Playhouse

March 6, 2018

Golden Globe winner Melanie Griffith can now be seen on stage playing pop culture's most famous cougar, Mrs. Robinson---the infamous 'mom of a certain age' who uses her predatory sexuality to seduce a recent college graduate into entering a torrid affair---in a new production of THE GRADUATE, which continues its just-extended engagement at the Laguna Playhouse through March 25, 2018 in Laguna Beach, CA. On paper, the role seems like a perfect fit for the now 60-year-old star who has demonstrated prior success in playing sultry, seductive women. But in this production, the results---like the dysfunctional relationships that criss-cross in this play---aren't as well-matched as you'd hope it would be.
---
BWW Review: Segerstrom Center Welcomes the Gorgeous Lincoln Center Theater Production of THE KING AND I

March 1, 2018

Featuring outstanding performances from a cast led by Laura Michelle Kelly and Jose Llana, the beautiful and exquisite national tour production of Lincoln Center Theater's Tony Award-winning revival of the 1951 Rodgers and Hammerstein classic THE KING AND I leaves audiences utterly spellbound by its sweeping opulence and gorgeous, reverent staging-which notably combines the elegance and grace of the classic musical many of us have known and loved for decades with a knowing sensitivity to modern times that we exist in today. The national tour production continues its two-week run of performances at Orange County's Segerstrom Center for the Arts in Costa Mesa that continues through March 11, 2018.
---
BWW Review: OC's Chance Theater presents Touching Musical VIOLET

February 15, 2018

A quieter, more down-to-earth musical-but done so with a bellowing musical prowess thanks to book writer and lyricist Brian Crawley and composer Jeanine Tesori-VIOLET explores the multiple layers of feelings associated with being and living life as an 'other' within an environment that promotes (and unfairly rewards) societal normalcy and uniformity-and all the baggage that comes with it. The delicate yet still poignantly powerful 1997 award-winning off-Broadway musical continues its regional premiere production (based on the 2014 Broadway revival) at Orange County's Chance Theater in Anaheim through March 4, 2018.
---
BWW Review: KINKY BOOTS Tour Struts Into Segerstrom Center for the Arts

February 9, 2018

For the most part, the brief Orange County return of the Tony Award-winning musical smash KINKY BOOTS---which continues its quick week-long stop at Segerstrom Center for the Arts in Costa Mesa through February 11---pretty much preserves its hard-to-escape fabulousness. Its current incarnation as a non-Equity bus-and-truck tour---now presented by Troika Entertainment, but retains many of the original's main elements---only feels slightly different from previous productions you've likely seen. The musical's endearing narrative, its vibrant main characters, and the ear-candy confections concocted by pop superstar Cyndi Lauper all combine to showcase a fun and genuinely lovable musical that celebrates living one's authentic self… triumphantly.
---
BWW Review: Tony-winning Superstar Kristin Chenoweth Triumphantly Returns to OC's Segerstrom Center

February 6, 2018

Luckily for some of us who don't have the luxury or the time to simply catch every show that Tony Award-winning musical superstar Kristin Chenoweth does in New York City, she is a prolific touring artist, opting often to bring her sweet and sassy singing self to audiences around the world via enjoyable solo concerts that beautifully showcase her vocal chops and her charming persona. Playing to a packed house this past Saturday, February 3, 2018 at Segerstrom Center for the Arts in Costa Mesa, it is no wonder that her new-to-Orange-County show, simply titled AN INTIMATE EVENING WITH KRISTIN CHENOWETH was met with expected enthusiasm. Mixing material old and new from her diverse and personally-curated repertoire of Broadway, classic standards, hilarious cabaret, and Christian gospel music, Chenoweth once again delivered. Armed with effortless comic timing, superb musical acting, and a voice that can make grown men cry, Chenoweth is a treasure and remains to be so in these 'intimate' concerts.
---
BWW Review: SHAKESPEARE IN LOVE Stage Adaptation Romances at South Coast Repertory

February 1, 2018

Witty, enchanting, and joyously self-referential, the original film version of SHAKESPEARE IN LOVE fantasizes a story involving a young, virile William Shakespeare in his prime, who quells a bout of writer's block by secretly romancing an engaged lady named Viola---which apparently becomes the inspiration for the Bard's infamous star-crossed tragedy 'Romeo and Juliet.' The plot of the film remains fairly intact in Lee Hall's mostly delightful if slightly diluted stage adaptation, now continuing performances in a gorgeous-looking new regional production at Orange County's Tony Award-winning theater South Coast Repertory in Costa Mesa through February 10, 2018. This spunky love letter to the theater is chockfull of stagecraft-insider amusements and fun-to-find Shakespearean Easter Eggs that both aficionados and casual fans will appreciate. But, shockingly, despite the spectacular production values and the beguiling, gusto-bathed performances of its large ensemble cast, this stage adaptation somehow loses some of the inescapable romanticism that is so much more prevalent in the original film.
---
BWW Review: THE CAR PLAYS Makes Its Highly-Anticipated Return Trip to Segerstrom Center

January 26, 2018

Still one of the most the most unique and thrilling live theatrical offerings you will ever experience, THE CAR PLAYS has once again parked themselves at the Julianne and George Argyros Plaza at Segerstrom Center for the Arts for another highly-anticipated round of claustrophobic, stopped-in-traffic high drama or amusing hilarity. Produced by Moving Arts under Creator/Artistic Producer Paul Stein, THE CAR PLAYS is again presented as part of Segerstrom Center's annual popular 'Off Center Festival,' its celebration of unique and avant-garde musical and theatrical acts. Because 'seating' is literally limited, there are only so many spots available to take in this incredible site-specific theater experience, which explains why it has been extended an additional weekend---through February 3, 2018---to meet the high demand.
---
BWW Review: Flashy New Production of CABARET High-Kicks Into La Mirada Theatre

January 23, 2018

Despite my well-earned affection for the Tony-winning 1998 Roundabout Theatre Company production of the classic Kander and Ebb Broadway classic CABARET, I still found myself vigorously entertained by McCoy Rigby Entertainment's flashy and buoyant new 2018 regional production of this theatrical staple, under the solid direction of Larry Carpenter and featuring spectacular musical performances from its lead cast. This deliciously bawdy but at times sneakily ominous musical continues performances at the La Mirada Theatre for the Performing Arts through February 11, 2018.
---
BWW Review: Powerhouse Vocals Celebrate 100 Years of Leonard Bernstein at Segerstrom Center

January 19, 2018

Filled with one amazing powerhouse vocal performance after another, ONE HAND, ONE HEART: ONE HUNDRED YEARS OF BERNSTEIN is a musical theater lover's treat of a concert, celebrating the legacy of one of music's most influential musicians and composers of the last century, Leonard Bernstein. Featuring unforgettable classics from WEST SIDE STORY, ON THE TOWN and WONDERFUL TOWN plus lesser-known gems from CANDIDE and 1600 PENNSYLVANIA AVENUE performed by a non-stop barrage of very, very talented people, the celebratory concert continues performances at Orange County's Segerstrom Center for the Arts' intimate cabaret space, the Samueli Theatre in Costa Mesa through January 20.
---
BWW Review: Laguna Playhouse Stages Gripping Pulitzer Prize winning I AM MY OWN WIFE

January 16, 2018

Featuring a remarkable, awards-worthy, tour-de-force performance by actor John Tufts that will easily win you over no matter what your personal tastes or beliefs or politics may be, this admirable new regional production of Doug Wright's Tony and Pulitzer Prize-winning play I AM MY OWN WIFE---beautifully directed by Jenny Sullivan---continues performances at the Laguna Playhouse through January 28. Emotional, spiritual, and impressively staged, the play is one of these unique theatrical experiences that genuinely deserves your attention.
---
BWW Review: ALADDIN AND HIS WINTER WISH Panto Makes Laguna Playhouse Merry

December 12, 2017

The silly, family-friendly fun of those British-borne Pantos are back for a third holiday season in row at Orange County's Laguna Playhouse, this time with a story wrapped around the infamous tale of a smart-aleck street urchin (Jason Gotay) who discovers a magic lamp hiding a genie that grants wishes. Filled with slapstick humor, cleverly repurposed pop songs, and a seemingly endless parade of dad jokes, Lythgoe Family Panto's amusing new production ALADDIN AND HIS WINTER WISH continues its playfully droll run through December 31. Campy and whimsical in the most G-rated way possible, this playfully safe yet still irresistibly entertaining musical comedy is all just silly, mirthful fun designed to keep kids enthralled and their parents snickering.
---
BWW Review: McClure & Pascal Bring the Hilarious High-Jinks of SOMETHING ROTTEN! to OC

November 14, 2017

In a rarity that doesn't happen too often here in Southern California, a brand new national tour of a recent hit Broadway musical has arrived first in Orange County in advance of a much longer sit-down engagement in Los Angeles. And, boy, is this one a marvelous gift from the comedy gods! Behold, ladies and gentlemen, the merry awesomeness that is SOMETHING ROTTEN!, the multi-Tony Award nominated musical comedy that kicks off Segerstrom Center for the Arts' 2017-2018 Broadway series! A delightful, seemingly non-stop conveyor belt of wit, hilarity, and outrageous high-jinks, this extremely funny 2015 original musical comedy will continue to slay audiences (in a good way) through November 19, 2017 in Costa Mesa.
---
BWW Review: August Wilson's GEM OF THE OCEAN Gets Exquisite New Staging at South Coast Repertory

November 6, 2017

Riding the wave of renewed interest in August Wilson's 10 play, American Century Cycle, South Coast Repertory has one particular Wilson drama on their sonar at the moment: GEM OF THE OCEAN, the riveting, epic-sized 2003 drama now continuing at the Costa Mesa theater through November 11. An exquisitely rendered, mesmerizing production superbly directed by Kent Gash and featuring a truly impressive, excellent ensemble cast, SCR's new regional production of GEM OF THE OCEAN combines a bountiful interweaving of historical references, personal and emotionally-tinged character confessionals, and mystical, magical elements to fashion one of the most fascinating and engaging works of drama I have experienced in this Tony Award-winning regional theater.
---
BWW Review: Powerful Lead Performance Elevates END OF THE RAINBOW at La Mirada Theatre

November 2, 2017

Peter Quilter's unfiltered, devastatingly intense play, END OF THE RAINBOW, recounts the final months leading up to the death of one of the world's most iconic, treasured stars, Judy Garland, in her lowest depths of despair as she attempts a 'comeback' on the London stage. Now back in Southern California in a thrilling new regional production at the La Mirada Theatre for the Performing Arts through November 12, this 'play with music' under the excellent direction of Michael Matthews and featuring a powerful, breathtaking performance from Angela Ingersoll showcases a can't-look-away implosion of a beloved icon whose battles with her personal demons make her a relatable human being with real, tangible problems.
---
BWW Review: Musical Theatre West Presents Vibrant New Production of IN THE HEIGHTS

October 30, 2017

Lin-Manuel Miranda's first Tony and Grammy Award-winning musical, IN THE HEIGHTS is now on stage in a brand new Broadway-caliber regional production presented by Musical Theatre West at the Carpenter Center for the Performing Arts in Long Beach through November 5. Told as a series of interweaving vignettes about the highs and lows---and the dreams and realities---of life in the Washington Height neighborhood of New York City, IN THE HEIGHTS offers audiences a very likable glimpse into a specific multi-generational Latinx experience that not only feels fresh and new but also feels remarkably relatable no matter what background you come from. Miranda---armed with first-hand knowledge of living in such an enclave and with the obvious imbedded DNA of a musical theatre aficionado---easily made the material both universally appealing and yet refreshingly unique. In its own way, seeing IN THE HEIGHTS now feels very much like looking back at an earlier piece of work from a now more evolved artist and seeing signs of the burgeoning genius still to come---and just how far that genius really grew.
---
BWW Review: South Coast Repertory Presents Engaging World Premiere Play CURVE OF DEPARTURE

October 16, 2017

In Rachel Bonds' beautifully-acted and cleverly written new play CURVE OF DEPARTURE---now finishing up its too-brief World Premiere run at Orange County's South Coast Repertory in Costa Mesa through October 15---characters are confronted with unexpected events that forces them to make such choices for themselves that affect not only their own lives but the lives of those intimately tethered to theirs. As they each grapple with potentially life-altering decisions, we as audience members---in the span of 80 mesmerizing, uninterrupted minutes---grow to care about these fictional (but wonderfully realistic) people and, therefore, empathize and feel their struggle alongside them as they try to make reasonable pro-and-con arguments. We become so invested in what each person is dealing with that we're all hoping that ultimately every single one of them will end up satisfied and, at least, a little bit content with their respective decisions no matter which path(s) they choose to follow.
---
BWW Review: OC's Chance Theater presents Thought-Provoking Play TRIBES

October 9, 2017

In its admirable Orange County premiere production directed by Marya Mazor, Chance Theater presents an intimately-staged version of Nina Raine's thoughtful, award-winning 2010 play TRIBES, now playing through October 22, 2017. This comedic drama which centers around a young deaf man caught between his hearing family and a new hearing impaired girlfriend asks: is it possible to choose one tribe over another, knowing what each brings to the table?
---
BWW Review: Rousing Revival of AIN'T MISBEHAVIN' Roars at La Mirada

September 25, 2017

In a new, incredibly enjoyable regional revival of the Tony Award-winning AIN'T MISBEHAVIN' - THE FATS WALLER MUSICAL SHOW, La Mirada Theatre for the Performing Arts is presenting one of the most rousing, rip-roaring iterations of this musical treat, under the informed direction of one of the show's original cast members, Ken Page. In his hands, this McCoy-Rigby Entertainment production is energized by a consistent barrage of spectacular musical performances that are exuberantly performed and are wonderfully appealing. If you're looking for pure, buoyant, musically-thrilling entertainment in its most delightful form, then look no farther than this excellent production which continues performances in La Mirada, CA through October 8.
---
« prev  1  2  3  4  5  6  7 … 37  next »