Michael Quintos - Page 5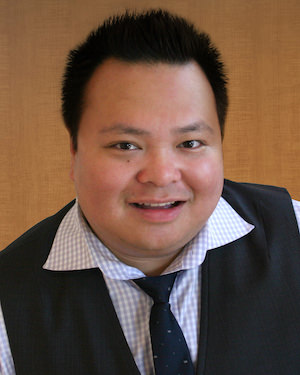 A So. Cal. Contributing Editor since 2009, Michael Lawrence Quintos is a talented, mild-mannered Designer by day. But as night falls, he regularly performs on various stages everywhere as a Countertenor soloist, actor, and dancer for MenAlive since 2002. He sings everything from Broadway, Jazz, R&B, Classical, Gospel and Pop, and has shared the stage with Bernadette Peters, Debbie Reynolds, Michael Feinstein, and Liza Minnelli. In June 2019, he made his soloist debut at the Hollywood Bowl in front of 17,000 concertgoers. His musical theater roots started early, performing in various stage productions and a couple of nationally-televised programs. The performing bug eventually brought him a brief championship run in the Philippines' version of "Star Search" before moving to Las Vegas at age 11. College brought him out to Orange County, California, where he earned a BFA in Graphic Design and a BA in Film Screenwriting. He has spent several years as a designer and art director for various media companies, while spending his free time going to Disneyland, binge-watching shows, or performing in or critiquing shows. Follow Michael on Twitter or Instagram @cre8iveMLQ.
BWW Review: Rousing Revival of AIN'T MISBEHAVIN' Roars at La Mirada

September 25, 2017

In a new, incredibly enjoyable regional revival of the Tony Award-winning AIN'T MISBEHAVIN' - THE FATS WALLER MUSICAL SHOW, La Mirada Theatre for the Performing Arts is presenting one of the most rousing, rip-roaring iterations of this musical treat, under the informed direction of one of the show's original cast members, Ken Page. In his hands, this McCoy-Rigby Entertainment production is energized by a consistent barrage of spectacular musical performances that are exuberantly performed and are wonderfully appealing. If you're looking for pure, buoyant, musically-thrilling entertainment in its most delightful form, then look no farther than this excellent production which continues performances in La Mirada, CA through October 8.
---
BWW Review: South Coast Repertory Raises Hopeful, Exquisite New Production of ONCE

September 21, 2017

Though the Tony Award-winning musical adaptation of writer/director John Carney's well-liked indie film ONCE is a musical that this reviewer has liked quite a bit from past productions, it took seeing South Coast Repertory's brand new regional production---now on stage in Costa Mesa through September 30---for this reviewer to not only like it, but to truly adore it. From casting to staging and everything in between, SCR's enjoyable new mounting, under the astute direction of Kent Nicholson, is somehow much more emotional, thoughtful, and remarkably riveting than past touring productions. And though, yes, it is essentially the same source material, SCR's exquisite new iteration of this small, but genuinely endearing musical is by far the gold standard of how this show should look and feel in any and all future productions.
---
BWW Review: Theatrically Inventive CURIOUS INCIDENT Tour Captivates at OC's Segerstrom Center

September 15, 2017

A cross between a murder mystery and a psychological drama told with a high-tech showmanship flair, the intriguing touring production of Simon Stephen's Tony Award-winning play THE CURIOUS INCIDENT OF THE DOG IN THE NIGHT-TIME now in Costa Mesa at Orange County's Segerstrom Center for the Arts through September 17 is a quirky, captivating exercise in theatrical inventiveness. Uniquely structured, visually stunning, and yet remarkably approachable, this play is a prime example of what a great live theater experience can bring to an audience willing to jump in for a different kind of ride.
---
BWW Review: Soulful, Nostalgic A NIGHT WITH JANIS JOPLIN Rocks Laguna Playhouse

August 25, 2017

If you're looking to get a definitive Janis Joplin biography/musical (in the vein of the Carole King musical BEAUTIFUL), then you may be disappointed with A NIGHT WITH JANIS JOPLIN, the short-lived 2013 Broadway musical. More akin to a tribute concert rather than actual musical theater, a new regional production of the show continues at the Laguna Playhouse through September 10. But wait… don't dismiss the show quite so fast. Despite a lack of a real narrative, the production boasts some incredible, standing ovation-worthy musical performances, particularly from Kelly McIntyre who plays the title role and her four 'muses' played by the ultra-talented foursome of Sharon Catherine Brown, Tawny Dolley, Carol Hatchett, and Amma Osei. These ladies alone are reason enough to go see this production!
---
BWW Review: Beautifully Poignant FUN HOME Tour Moves Into OC's Segerstrom Center

August 4, 2017

Riveting, powerful and beautifully poignant at every step, FUN HOME—the Tony Award-winning musical based on Alison Bechdel's 2006 autobiographical graphic memoir—is one of those rare, great stage musicals that represents an astonishingly unique point-of-view that is somehow miraculously universal and inclusive at the same time. Armed with a moving, deeply personal story that's filled with heartache and heartbreak, yet with still plenty of room to be profoundly heartwarming, the musical's truly excellent national tour production continues performances at Orange County's Segerstrom Center for the Arts in Costa Mesa through August 6.
---
BWW Interview: Kate Shindle Talks Tour Life with FUN HOME The Musical

August 1, 2017

Broadway's Kate Shindle---currently traveling the country playing Allison Bechdel in the first national tour of the Tony Award-winning musical FUN HOME---is not only an accomplished singer, actor and dancer, she is also a published author and an outspoken activist. In 2015, Shindle was also elected president of Actors' Equity Association. But before FUN HOME makes its OC debut August 1 - 6 at Costa Mesa's Segerstrom Center for the Arts, Shindle chatted with BroadwayWorld's Michael L. Quintos about her role in this groundbreaking musical, being AEA President, and what her life has been like on the road!
---
BWW Review: Nettles and Cameron Lead an Exuberant MAMMA MIA! at the Hollywood Bowl

July 29, 2017

Arguably one of musical theater's more enjoyable jukebox musicals, the crowd-pleasing, ABBA-centric musical MAMMA MIA! aims to entertain its audience, all while trying to provide a much more interesting way to experience the ubiquitous pop catalog of one of the most successful pop music groups of the previous century. That is certainly the feeling you get from the brand new, all-star concert iteration now at the Hollywood Bowl through Sunday, July 30. Directed and choreographed by Kathleen Marshall, this year's annual celebrity stunt-casted summer musical is a joyfully bubbly production, bursting with silliness, sass, and even a little heart. And most significant of all, the production's assembled big-name cast are all pretty terrific in their respective roles, and a select few even stepped up with some amazing vocal performances throughout that will keep you enchanted from song to song.
---
BWW Review: Laguna Playhouse Welcomes Adorably Plucky HAIRSPRAY

July 28, 2017

To open its historic 97th season, Orange County's Laguna Playhouse is presenting an admirable new production of the Tony Award-winning 2002 hit musical comedy HAIRSPRAY, which via popular demand has now been extended through August 5. Filled with spirited performances, memorably cheeky songs, and an undeniably infectious story, this stage musical adaptation of John Waters' 1988 cult movie classic---even here in Laguna Beach's scaled-down regional production---still manages to be just as likable as it would be seeing it in a larger theater.
---
BWW Review: Chance Theater presents Emotional, Intimate Staging of PARADE

July 24, 2017

It is nearly impossible not to be emotionally affected by the events depicted in PARADE, the stirring, Tony Award-winning 1998 musical inspired by shocking actual events surrounding the trial of a man accused of raping and murdering a 13-year-old girl. It's certainly a heavy, morose subject to wrap an entire musical around, which is probably why PARADE is so rarely produced, despite its high-caliber book by Alfred Uhry and gorgeous music by Jason Robert Brown. But when the material is executed with emotional heft and interesting staging---as it mostly is in Chance Theater's latest production---the results can be powerful, gut-wrenching, and, most importantly, thought-provoking.
---
BWW Review: Jolly Good MARY POPPINS Flies Into Musical Theatre West

July 18, 2017

Disney/Cameron Mackintosh's stage adaptation of MARY POPPINS, the closing production of Musical Theatre West's 64th season is mostly jolly good fun. Full of palpable joy, wonderfully-performed songs, and smile-inducing moments, MTW's buoyant, crowd-pleasing production of the London-set musical continues performances at the Carpenter Performing Arts Center in Long Beach through July 23.
---
BWW Review: Superb Performances Mark Beautifully Poetic THE PRIDE at The Wallis

June 26, 2017

Fittingly, as most of the world celebrates Gay Pride month, the Wallis Annenberg Center for the Performing Arts in Beverly Hills is presenting an absorbing, beautifully-poetic production of playwright Alexi Kaye Campbell's drama THE PRIDE, which continues its Los Angeles-area premiere through July 9, 2017. Highly-stylized yet riveting and universally approachable, this new production of the play that originated in the UK features a superb cast smartly directed by the Wallis' Artist-in-Residence Michael Arden.
---
FREE MOVIE MONDAYS Return to Segerstrom Center for the Arts

June 12, 2017

Summer has once again returned to Orange County, California and with it, Segerstrom Center for the Arts' annual outdoor free-for-all movie screenings! The Center's popular FREE MOVIE MONDAYS---back for its 11th consecutive year in Costa Mesa---includes 'Breakfast at Tiffany's' on July 10, 'The Wiz' on July 17, 'Stand and Deliver' on July 24, 'Edward Scissorhands' on July 31 and, finally, 'School of Rock' on August 7.
---
BWW Review: UPSTAIRS - A MUSICAL TRAGEDY Debuts at Hollywood Fringe Festival

June 8, 2017

Up until the 2016 Pulse nightclub shooting in Orlando, Florida a year ago, the deadliest known attack on a gay club in U.S. history happened more than 40 years before at the Up Stairs Lounge in New Orleans, Louisiana. The events prior to and following that deadly, still unsolved 1973 blaze make up the fact-based narrative of UPSTAIRS - A MUSICAL TRAGEDY, now having its Southern California debut at the Los Angeles LGBT Center through June 11. Featuring book, music and lyrics by Wayne Self, the new musical tries to piece together a timeline that led up to the tragic fire using both real and fantasy/speculative elements while shining a light on some of the real-life human inspirations that were lost or have been directly affected by what happened on that fateful day.
---
BWW Review: Stage Adaptation of THE BODYGUARD Makes OC Debut at Segerstrom Center

June 6, 2017

First, let's get this out of the way: while sitting through the national tour production of THE BODYGUARD---the stage adaptation of the late Whitney Houston's 1992 film that boasts the best-selling soundtrack of all time---one thing is absolutely for certain: chart-topping recording artist Deborah Cox is unquestionably a spectacular singer. But sadly, it pains me to say, that Cox's musical contributions---and Houston's musical gems themselves---are pretty much where THE BODYGUARD itself excels. When Cox and company aren't singing or dancing up a storm, the audience is left with mostly cheesy, overly-exaggerated melodrama, flat, one-dimensional characters, and even at times over-done 'thrills' that make you laugh instead of feel any suspense.
---
BWW Review: East West Players presents Emotional NEXT TO NORMAL

May 30, 2017

To close out its historic 51st season, East West Players is presenting a bold and emotionally-packed production of the Pulitzer Prize and Tony Award-winning Broadway musical NEXT TO NORMAL, which continues performances at the David Henry Hwang Theater at the Union Center for the Arts through June 11, 2017. Featuring a deeply connected, all-Asian-American cast led by a stirring, awards-worthy performance by Deedee Magno Hall, EWP's top-notch production of NEXT TO NORMAL is one of the most impressive and important regional productions of this notable musical you will ever experience. No matter what your racial or ethnic background, this production will sear its way into you.
---
BWW Review: 'S Wonderful AN AMERICAN IN PARIS Tour Enchants O.C.

May 1, 2017

Strikingly refined yet pleasingly grounded and altogether delightful, the gorgeous 2015 Broadway musical stage adaptation of AN AMERICAN IN PARIS---inspired by the Academy Award-winning 1951 movie musical of the same name---is a sweepingly lush, dance-centric production that combines the high-brow sophistication of classical ballet with the pure exuberance and emotional highs and lows of musical theater. The resulting hybrid? Absolutely beguiling. The national tour production continues its 'S'wonderful' Orange County debut through May 7, 2017.
---
BWW Review: La Mirada Theatre Revisits Classic Musical WEST SIDE STORY

April 30, 2017

Because it is arguably one the most beloved and critically-acclaimed musicals of all time, WEST SIDE STORY is revisited often by regional theaters across the country (and, frankly, the world). So it is no surprise that yet another large regional theater in Southern California is reviving this nostalgia-baiting, reliably-entertaining, and thematically-resonant show, this time by the talented folks over at McCoy Rigby Entertainment at their home base at the La Mirada Theater for the Performing Arts, where performances continue through May 14, 2017. The resulting show---while mostly and genuinely enjoyable---presented a few jarringly curious presentation choices that didn't quite sit well. Unfortunately, in its admirable quest to inject some 'new-ness' into the well-known retro musical, some of the slight staging reinventions did enough to really lessen the impact of certain scenes that have previously been significant highlights.
---
BWW Review: Curiosity-Baiting New Play THE SIEGEL Brings Fresh Comedy to South Coast Repertory

April 17, 2017

Utilizing a sort of amusing, somewhat wacky plot that somehow works in a sustainably fresh, surprisingly plausible, and audaciously charming way, the world premiere production of playwright Michael Mitnick's thoroughly engaging new play THE SIEGEL---continuing at SCR in Costa Mesa through April 23---proves itself quickly to be one of this season's must-see new plays. Of course, when you see the cast list before even knowing anything about the play, THE SIEGEL is already proving to be quite a curiosity-baiting production. But if you look past the familiar star-wattage and observe the interesting characters and the absorbing story, you'll discover a witty, entertaining, and even thought-provoking comedy that will have you asking... 'are we in a relationship with the right person?'
---
BWW Review: Charming but Flawed FINDING NEVERLAND Searches for Magic

March 27, 2017

A charming though perplexing adaptation of the 2004 film, FINDING NEVERLAND jets into too many erratic directions at any given moment and doesn't gel completely as a whole. And for all its gorgeous, visual splendor, it is surprisingly lacking in honest-to-goodness stage magic. The touring version of the 2015 Broadway stage musical adaptation continues at OC's Segerstrom Center for the Arts in Costa Mesa through April 2, 2017.
---
BWW Interview: OC's Segerstrom Center Welcomes Charles Busch in THE LADY AT THE MIC

March 6, 2017

Making his Segerstrom Center for the Arts debut, Tony Award® nominee Charles Busch is bringing his unique and critically-acclaimed talents to the Samueli Theater March 9-11, 2017 as part of Segerstrom Center's Cabaret Series. Entitled THE LADY AT THE MIC, Busch will enchant audiences in this intimate evening of songs and stories which he originally created for Lincoln Center's American Songbook series. Busch will be accompanied by longtime musical director Tom Judson where the artists will be paying tribute to extraordinary and much-missed women. Before Busch sashays into Costa Mesa, he agreed to answer a few questions from BroadwayWorld's Michael L. Quintos about the upcoming OC cabaret concert.
---
« prev 1  2  3  4  5  6  7  8 … 37  next »