Jessica Crowe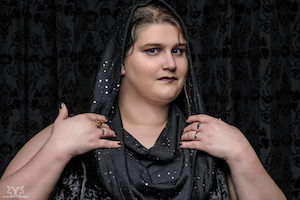 Jessica Crowe wears many hats and has more passions than she can shake a stick at! As an entrepreneur and small business owner, she runs the Alba Rosa Cat Parlour at her home base in York, Pennsylvania. Eleven years of experience as a performance artist have taken her across the country to perform and teach, her dance training even winning her an award along the way. Her work has been featured both online and on television. Jessica's theatrical expertise includes character acting, stage management, directing, producing, and playwriting. She also loves to dive into costuming and prop creation when she has the time. Recently, Jessica and one of her business partners started a new professional performance troupe, The Trick 'R Treaters, and received wonderful reviews on their first two projects. When not hard at work on her latest creative endeavors, Jessica loves to spend time with her amazing husband and five gorgeous cats.
Review: ANNE OF GREEN GABLES at The St. James Players

June 20, 2022

See what our critic thought, 'Anne has been brought to life by The St. James Players in a stage musical with delightful results.'
---
BWW Review: HALFWAY TO HALLOWEEN at Kim's Krypt Haunted Mill

May 2, 2022

When somebody says that they want to go to the theatre, your mind most likely conjures up images of a raised stage with a velvet curtain and a room full of seats. There are, however, unique theatrical options available that more fully immerse you in the stories being told. One of the most well-known variations of interactive theatre is horror attractions that traditionally pop up during the Halloween season...
---
BWW Feature: CALLING ALL KATES at Prima Theatre

February 7, 2020

Who doesn't love a good romantic comedy? I know I do, and that's exactly what you can expect if you go to see Calling All Kates, a new musical being featured at Prima. This quirky new show follows Mark...
---
BWW Review: JEKYLL & HYDE at Prima Theatre

October 8, 2019

Within every human, there lies the potential for both good and evil. What if we could split those two sides of ourselves into their own distinct personalities? This is the question that Doctor Henry Jekyll strives to answer in this powerful pop-rock musical...
---
BWW Review: FINDING NEVERLAND at Dutch Apple Dinner Theatre

August 21, 2019

Most everybody is familiar with the famous story of the boy who wouldn't grow up. Peter Pan's mischievous innocence is embedded into all of our hearts. But how exactly did Peter and his world of Neverland come to be...
---
BWW Review: OLIVER! at Gretna Theatre

July 19, 2019

In 1837, Charles Dickens began releasing a serial known as Oliver Twist. Over 100 years later, Lionel Bart would write a musical about this famous London orphan. The highlight of Gretna Theatre's 2019 summer season, Oliver! is a classic musical sure to delight theatre-goers of all ages...
---
BWW Review: BRIGHTON BEACH MEMOIRS at Oyster Mill Playhouse

July 17, 2019

Family dynamics never really change, and Brighton Beach Memoirs is a wonderfully classic example of this. The play, written by Neil Simon, is the first of a semi-autobiographical trilogy written about Eugene Morris Jerome and his family. In this particular story, Eugene is almost 15 years old and has just reached puberty...
---
BWW Review: MAGIC & WONDER: IMAGINE at Bird-in-Hand Stage

July 1, 2019

According to Albert Einstein, one of the world's most famous theoretical physicists, the true sign of intelligence is not knowledge but imagination. One's ability to solve the world's problems and make the world a better place through creative means is truly the highest form of human intelligence. This brilliant theory is brought to life in a very colorful way through Brett Myers' newest production, Magic & Wonder: Imagine, playing now at the Bird-in-Hand Stage in Bird-in-Hand, Pennsylvania...
---
BWW Review: IRVING BERLIN'S I LOVE A PIANO at Gretna Theatre

June 14, 2019

If an old, dusty piano could talk, what would it say? What stories would it tell you? In Irving Berlin's I Love A Piano at Gretna Theatre, you get to find out for yourself...
---
BWW Review: STOLEN THE MUSICAL at Bird-in-Hand Stage

June 10, 2019

When you think of Lancaster County, things like whoopie pies and farmers markets probably come to mind. Visions of a horse-and-buggy carrying an Amish family through the lush countryside may fill your mind's eye. What you most likely don't think of is a crime like a kidnapping happening...
---
BWW Review: TUESDAYS WITH MORRIE at DreamWrights Center For Community Arts

June 1, 2019

'Devote yourself to loving others, devote yourself to your community around you, and devote yourself to creating something that gives you purpose and meaning.' This is just one of many life lessons that Morrie Schwartz teaches to Mitch Albom throughout Tuesdays With Morrie, a thought-provoking play about how to live a truly rich life. This production is based on a true story and is a powerful performance to behold...
---
BWW Interview: Aliza Bardfield And Michael Hosler of THE LAST NIGHT OF BALLYHOO at Oyster Mill Playhouse

April 18, 2019

Oyster Mill Playhouse is working diligently to bring you their next production, The Last Night Of Ballyhoo. Set to debut on April 26th, this play transports us back to December of 1939 in Atlanta, Georgia, where the Freitag family is preparing for the annual Ballyhoo ball. As if the excitement surrounding the ball isn't enough, this year's celebration happens to coincide with the premiere of Gone with the Wind...
---
BWW Review: GODSPELL at Prima Theatre

April 8, 2019

As I sit down to write this review, I still have tears swelling in my eyes just thinking about my experience with this show. No matter how you cut it, Godspell is an incredibly powerful and moving piece of theatre. Based primarily on the Christian mythology of the Gospel according to St. Matthew, this story follows a group of lively characters as they act out the many parables that Jesus teaches them throughout their time together...
---
BWW Feature: MASTER CLASSES WITH GARY MAUER at Gettysburg Community Theatre

March 17, 2019

This weekend, the Gettysburg Community Theatre gave local performers an opportunity to sharpen their acting skills by taking classes with renowned Broadway star Gary Mauer. Mauer also made a special guest appearance at the theatre's 11th Annual Gala, held after Saturday's master classes. I was honored to have a chance to observe and participate in Mauer's teachings...
---
BWW Review: ROMANCE, ROMANCE at Oyster Mill Playhouse

March 10, 2019

The universal language of love and its many complex facets are the central theme of 'Romance, Romance'. This musical is actually two miniature musicals linked together by romance and a song full of longing called 'It's Not Too Late'...
---
BWW Feature: ROMANCE, ROMANCE at Oyster Mill Playhouse

March 7, 2019

The title of Oyster Mill Playhouse's next production, Romance/Romance, is reflected in one of its two featured couples, real-life spouses Alexis and Paul Neel. In the musical's second act, the two portray Monica and Sam, long-time best friends who discover a growing romantic attraction, despite each being married to another...
---
BWW Review: A MIDSUMMER NIGHT'S DREAM at Gettysburg Community Theatre

February 16, 2019

Easily regarded as the greatest playwright to ever live, William Shakespeare wrote 39 plays during the span of his life. A Midsummer Night's Dream is one of his most famous comedies and includes an array of delightful characters that audiences simply adore. This play allows the viewer to escape into a glorious fantasy world filled with tricky fairies, troubled young lovers, and a colorful group of actors...
---
BWW Review: DISENCHANTED at Prima Theatre

February 4, 2019

Take ten beloved heroines from some of the world's most well known fairy tales. Instead of giving you the fluffy storybook myths that we are used to, these princesses rip those facades apart to show you what life is REALLY like after 'the end'.
---