Harmony Wheeler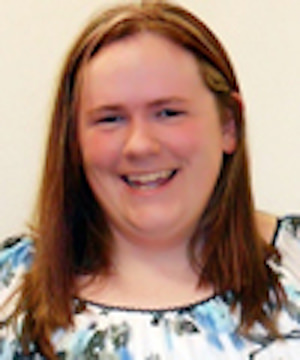 Harmony Wheeler has worked for theatres including Sierra Repertory Theatre, Modesto Performing Arts, and The Hanover Theatre. Her byline has appeared with the Sierra Lodestar, The Modesto Bee, The Chimes at Biola University (where she served as News Editor), StaticMultiMedia.com, and more. She holds a degree in Journalism, Public Relations.
MOST POPULAR ARTICLES
LAST 30 DAYS
LAST 365 DAYS
BWW Review: BAKER STREET at 42nd Street Moon

November 8, 2016

Sherlock Holmes relocates his flat on 'Baker Street' to 42nd Street Moon and the Eureka Theatre for an elementary musical adventure, now through November 20.
---
BWW Review: THE SOUND OF MUSIC and Our Favorite Things

October 29, 2016

Let's start at the very beginning with a few of our favorite things from the new touring production of "The Sound of Music." An outstanding orchestra, striking scenic design and magnificent nun's chorus make an immediate impression in Jack O'Brien's adaptation of the Rodgers and Hammerstein musical. Purists will be glad to see a script close to that of the original, and O'Brien has found a Maria that will delight all.
---
BWW Review: THE ADDAMS FAMILY at Playhouse Merced

October 12, 2016

Playhouse Merced has always been a little Kooky. And if their last few seasons have shown anything, it's that the company does not mind an occasional move toward the darkness in its fall-time programming. For Halloween 2016, Merced welcomes "The Addams Family" (snap snap), an altogether ooky cast of characters.
---
BWW Review: PHANTOM Continues to Mesmerize in Reimagined Tour

October 11, 2016

It's unlikely any current touring show can match this "Phantom" in ornate detail, with its cast's flawless enunciation and its glistening chandelier and proscenium, covered in haunting, golden faces. Anyone familiar with Andrew Lloyd Webber's "Phantom of the Opera" will know what to expect from the familiar characters and promising production values, but this tour delivers that and much more.
---
BWW Review: Sacramento is 'On Top of the World' with New HUNCHBACK OF NOTRE DAME

August 25, 2016

Disney musicals generate a lot of hype. The Lion King transformed the art of puppetry. Beauty and the Beast told a tale as old as time. And the upcoming Frozen… well, it's Frozen. But the company's stage adaptation of The Hunchback of Notre Dame took a slight step to the side, never making the move to Broadway. Instead, after successful runs at La Jolla and Paper Mill playhouses, the musical was licensed to three regional theatres for 2016, including Sacramento's Music Circus. The announcement of Sacramento's engagement met much excitement, making Tuesday's less than full house opening a shocking surprise. But the excellent cast did receive a well-deserved standing ovation.
---
BWW Review: Lamplighters' NEW MIKADO is Excellence Itself

August 16, 2016

There has been plenty of talk about the "lack of sensitivity" in Gilbert and Sullivan's British farce, "The Mikado," set in a Japan most often comprised of a white ensemble. But - as ready as this critic may be to defend the "great and virtuous man" - this review must sing the praises of a "new," albeit familiar Mikado, or rather, Ducato. Lamplighters Music Theatre has reset the operetta to Tiramisu, Milan, and what an excellent production it is. The music and story are as enjoyable as ever, but half the fun comes from discovery of reinvented names and slight references to the original. Not to mention Ellen Brook's fresh direction of a show that Lamplights has produced - with equal excellence - multiple times.
---
BWW Review: NICE WORK IF YOU CAN GET IT Has a Fascinating Rhythm

August 11, 2016

It's wonderful. It's marvelous. And if Tuesday's immediate standing ovation was any indication, you will more than care for the new Gershwin musical, "Nice Work If You Can Get It," playing through Sunday at Sacramento's Music Circus. But watch out for that demon rum. You may just end up swinging by a chandelier.
---
BWW Review: Music Circus CABARET Somber and Relevant

July 28, 2016

Music Circus welcomed a "perfectly marvelous" Cabaret Tuesday evening, with sparkling costumes and a glittered stage. After an excited and pulsing opening, the suggestive Kit Kat Girls took a back seat. Subdued direction and lackluster choreography made the famous Kit Kat club more of an afterthought next to the subtle rise of Nazi Germany.
---
BWW Review: Cat in the Hat Visits Sacramento in Bright and Colorful SEUSSICAL

July 14, 2016

Oh the things you can think when you think about Seuss! Imagination runs wild in California Musical Theatre's latest Music Circus production, Seussical the musical, which makes excellent use of the company's mechanized stage and brings classic Dr. Seuss drawings to outstanding scenic, lighting and costume designs.
---
BWW Review: HELLO, DOLLY! Dolly Levi Makes a Match for Sacramento

June 30, 2016

It only takes a moment to fall in love with the feel-good melodies and delightful characters of "Hello, Dolly!," the musical that gave film and Broadway star Carol Channing her signature role. Matchmaker Dolly Levi can be played a number of ways, which ensures every production remain refreshing and different. Barbara Streisand, Ethel Merman, Mary Martin and Sally Struthers have all taken on the title character. Sacramento's Music Circus brings in the lesser known, but amiable Lynne Wintersteller, now through Sunday in its second show of the summer.
---
BWW Review: LEGALLY BLONDE is a Totally Awesome Season Opener at Music Circus

June 15, 2016

Snaps for Music Circus! Even with some sound balance and microphone issues opening night, "the "endorphin-happy" score of "Legally Blonde" built a momentum ripe for excitement.
---
SUMMER STAGES: Northern California's Top Picks for Summer Entertainment

June 13, 2016

Sacramento Music Circus opens its 2016 season this week, and that means summer theatre is officially here! Check out our top picks for the Sacramento and San Francisco, Northern California regions.
---
BWW Review: LAST FIVE YEARS at ACT

May 20, 2016

Relationships are complicated because people are complicated. Take Jason Robert Brown's 'Last Five Years,' which opened Wednesday evening at American Conservatory Theater. The 85-minute, two-person musical is simple. A couple recounts the rise and fall of their love. But just when you think you know to whom fault really belongs, Brown gives his audience another heart wrenching song to balance the scales. That Cathy and Jamie play out their stories with close to no interaction at all, and in opposite chronological order, only makes it all the more curious. And then there's the fact that the show is somewhat autobiographical and you have to wonder if Brown is living proof that we are our own worst critics. Simple, but complicated.
---
BWW Review: BIG FISH is a Big Catch at Playhouse Merced

May 9, 2016

Andrew Burkum's enthusiastic Edward leads a glistening Playhouse Merced production with his determined "Alabama stomp" (the glistening much due to a fantastic lighting design). Robert Hypes' direction and casting anchor the show to bottom of the sea, where, perhaps, a rather big fish awaits.
---
BWW Interview: Marc Ciemiewicz, JOSEPH's Potiphar and Jacob

May 4, 2016

BroadwayWorld spoke with Marc Ciemiewicz about color, character and special effects in the national tour of 'Joseph and the Amazing Technicolor Dreamcoat.' Marc plays both Jacob and Potiphar in the Andrew Lloyd Webber musical, which uses everything from Elvis-style to calypso and western in its telling of Joseph's rise to power in Bible-times Egypt.
---
BWW Interview: Michael Berresse on ACT's THE LAST FIVE YEARS

April 29, 2016

BroadwayWorld San Francisco spoke with Michael Berresse, who directs of American Conservatory Theatre's upcoming production of 'The Last Five Years.' Read the full interview to learn about Michael's work with the show's composer, his methods for rehearsals, and what audiences can expect from his fully staged production.
---
BWW Review: Marin Theatre Presents a Regal ANNE BOLEYN

April 29, 2016

Like its title queen, Howard Brenton's 'Anne Boleyn' knocks at curiosity's door, difficult to grasp, but fascinating nonetheless. Henry VIII nearly erased the historical figure from the books, with religious leaders and historians labeling Anne a martyr or a harlot over the years. In his revised history, Brenton offers a strong, clever Boleyn, the effective and vibrant Liz Sklar in Marin Theatre Company's West Coast Premiere. This Anne loves a tender Henry and considers herself an Esther positioned for 'such a time as this.' But Brenton also bookends his play with a mocking Anne who concludes her lengthy tale in an abrupt, contrived message disconnected from preceding material. Where 'Boleyn' works best, however, is in its politics and religion, and it's a shame its final scene only briefly references that which an overall smart script has built.
---
BWW Review: NEWSIES are the Kings of Sacramento

April 14, 2016

'Newsies' made the headlines as a flop Disney film back in 1992, but the musical garnered a cult following that led to its 2012 revamp on Broadway. The national tour of that production, now on its final leg, carries the banner to Sacramento this week with its own outstanding effects worthy of above-the-fold, front page attention.
---
BWW Interview: Ron S. McCan Talks SOTA's 2016 Spring Musical

March 2, 2016

BroadwayWorld interviews Ron S. McCan, director of The Ruth Asawa San Francisco School of the Arts' spring musical, CABARET. Ron is the Assistant Director of the Theatre Program at Asawa SOTA and an alum of SOTA?s Technical Theatre Department (Class of 1995).
---
BWW Review: Run and Tell That HAIRSPRAY is a Hit

February 9, 2016

Friday's opening night audience enjoyed the Playhouse Merced production of 'Hairspray' - perhaps a little too much. The promise of community favorite Jim Kocher in drag and of soulful tunes to show off fantastic vocal talents were more than enough to match the audience energy with that of the cast. And the ensemble did prove itself with consistent, strong harmonies in an exciting and colorful show.
---
...
2