BWW Interviews: Evan Rees of INTO THE WOODS, Coming to SHN Broadway San Francisco
BroadwayWorld San Francisco spoke with Evan Rees about the national tour of Sondheim's Into the Woods. Rees not only music directs the tour, but also plays the piano on stage with the actors. The new production takes an eclectic, minimal approach and recently played off-Broadway at Roundabout Theatre. Broadway San Francisco welcomes the musical March 7 through April 2 at the Golden Gate Theatre. Visit www.shnsf.com for tickets and information.
----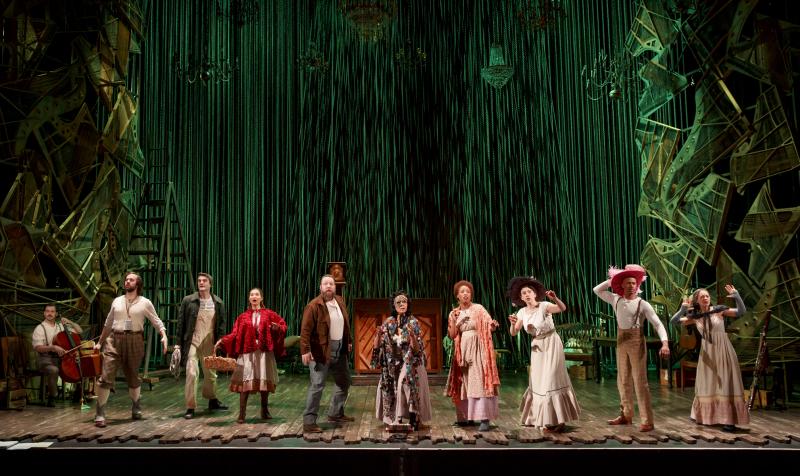 What is your background with Sondheim and Into the Woods?
I've been a huge Sondheim fan for a long time. I've done quite a number of his shows. I did Into the Woods in college. But this is the first professional production I've done of it. I've done Company and Little Night Music, Sweeney. All of those were as music director, except for Sweeney.
What was the thinking or reasoning behind creating a minimalist version of Into the Woods?
The original Fiasco Theatre Company, they are a Shakespeare troupe. This is the first musical they ever did. They really like the idea of an organic theatrical experience where everything that happens is happening in front of you. Nothing is hidden or masked. One of the things that appealed to them about doing this show is that this show is so often done with lots of spectacle, big costumes and lots of set pieces. If you take all of that away, you're still left with something that's poignant. They like the idea of trying to get at the core of what a show is about but stripping all the rest of that stuff away. You end up with this piece that really kind of feels like Shakespeare in the sense that it's all about the text and the characters and the journey that they're going through.
How do you adapt a fully orchestrated score to just one piano and a few background instruments?
The way Sondheim put it is that he thought that these arrangements actually allows you to really listen to the lyrics. That's one of the things that we work really hard toward. The orchestrations, which are really amusingly done by Matt Castle, actually come from Sondheim's piano score - what he writes before it gets sent to the orchestrator. So, they're very pianistic. Matt Castle, who was the original music director, is an amazing player. The arrangements came organically out of what he felt himself playing and what felt full and interesting for him to play. They're really rich, but there's a lot of beautiful textures and colors. Because it's really me and the actors making the music - we're all on stage together - sometimes it's a more organic process. We can sort of mind meld and take the music wherever it wants to go that night in that moment in a way that you are often restricted from doing when you have a full orchestra. It keeps the material breathing in a way that you don't often get to do. The pairing down of the orchestrations has allowed the music to form into something that to us feels much more full.
What other instruments do you use?
There's eleven of us total. There's piano, bassoon, guitar, various percussion, glockenspiel, cymbals and drums, an auto harp, a toy piano, a trumpet and horn. The Mysterious Man plays the cello. It usually goes with when the characters are talking about the things that they want or wishing they knew what they want. Jack's Mom plays the bassoon, which usually goes with the Witch. The guitar is mostly the Baker. The guitar and the banjo are usually associated with Jack and his mother. They're a little more down home. You get these different colors that paint the different characters. What's amazing about this group is that these actors, who are talented as actors and singers, also are such beautiful players.
Given that Sondheim's music is already challenging, does working with a simplified score and staging help or complicate the process for you as the music director?
The music is still just as complex. In fact, because the orchestrations are simplified, it means that the piano has to shoulder a lot more of the content. I am the orchestra. At any given point I might have four or five different scenes going on, and when I'm playing, I have to make them all have their identities the way they would with a full orchestra. But having a great cast in any show makes the music director's job easy. When they're this intelligent and eager to discover what makes the characters tick, it becomes a really fun adventure, to figure out together what makes things work they way they do and how we can bring things out and make sense of it all. It's a challenging, very different type of playing. We all have Jonathan Tunick's original orchestrations in our head to some extent. It becomes my job to make sure that those colors remain distinct and vibrant when I'm playing.
Being front and center with the actors, do you move around a lot with the piano?
The piano is on a platform with wheels. I get pushed around quite a bit. The piano is a set piece at times. People climb over it and sit on it and stand on it. Usually I'm just there sitting, sometimes in the middle of playing. That can be a bit distracting, but it's really so much fun to get to be up there with them, feeling like a member of the cast, feeling like just as much of a storyteller. It helps me understand why the music is written the way it is, why do I enter here, why is the song at this point and not earlier or later. I do love being on stage. It helps me to feel like I'm providing an impetus to bolster the drama that's happening.
The piano has been incorporated into the set design. Where did the idea for that come from and how does it fit into this production as a whole?
Basically, the aesthetic for this was the "memory attic." You're in your great grandparent's attic. They're people who have left things behind and are somewhat within your grasp. You've got all these different objects and you imbue them with importance and tell a story with them. They knew that they wanted an old piano to be one of the central elements. But they didn't want trees, so the ropes upstage are sort of designed to look like piano strings and have the double meaning of invoking the forest. Stage left and right you have the big wall of piano harps that are patch worked together, and the proscenium is a bunch of broken piano keyboards and stuff. It kind of looks like a big exploded piano.
Do you have a favorite "moment in the woods"?
It changes every night. I think probably the very song you just referenced: "Moment in the Woods." The Baker's wife song in the second act when - spoiler alert - she's just cheated on her husband with the prince and is having all these feelings and emotions, and realizes that what she has is all she needs. That's really a remarkable piece of theatre and a remarkable snapshot of the human thought process and how we negotiate our rational side with our emotional side. It always speaks to me.
----
Follow all the latest Bay Area Theatre and Arts news on our San Francisco Facebook Page. Click here to visit the page today!
Follow Harmony Wheeler's theatre and opera adventures on Instagram and Twitter @HarmonyWheeler.