Cary Ginell

Cary Ginell has been writing theater reviews in Ventura County since 1996. He joined the staff of the Ventura County Acorn in 2007 and since then, has written over 500 reviews. In 2013, he started his own theater arts blog, VC On Stage (www.vconstage.com), which includes reviews of musicals and plays from Calabasas to Ojai. From 2005 to 2010, Cary was Broadway project manager for Alfred Publishing, producing all of the publisher's piano/vocal songbooks. He is the author of 9 books on music, including "Broadway Musicals: Show By Show," published by Applause Books.
MOST POPULAR ARTICLES
LAST 30 DAYS
LAST 365 DAYS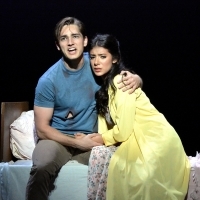 BWW Review: WEST SIDE STORY at 5-Star Theatricals
Posted: Jul. 27, 2019



BWW Review: 1776 at La Mirada Theatre For The Performing Arts
Posted: Jan. 31, 2019



BWW Review: RAGTIME at Pasadena Playhouse
Posted: Feb. 20, 2019



BWW Interview: Jonathan Sharp, Jack Stewart, Luna Montana Hoetzel of CAMELOT at Pacific Festival Ballet
Posted: May. 14, 2019



BWW Review: THE KING AND I at Fred Kavli Theatre
Posted: Dec. 28, 2018



BWW Review: SOUTH PACIFIC at Rubicon Theatre Company
Posted: Dec. 21, 2018



BWW Feature: THE KING AND I at Fred Kavli Theatre, Thousand Oaks
Posted: Dec. 23, 2018


BWW Review: BLACK COMEDY at Ojai Art Center Theater

February 1, 2016

For the first ten minutes of Peter Shaffer's knockabout farce, Black Comedy, the stage is dark, as engaged Londoneers Brindsley Miller and Carol Melkett get ready to receive wealthy German art collector Georg Bamberger, who they hope will purchase Brindlsey's latest modern sculpture. But a blown fuse plunges their home into darkness, and that's when the lights on the stage finally go up. Confused? Well, the story of the anticipated sale of Brindsley's work is merely the MacGuffin in Black Comedy, something only the characters care about. What's important to the audience is the show's topsy-turvy lighting gimmick, one that gives Black Comedy its name: a riotous jumble of mistaken identities, complex blocking, and side-splitting slapstick. If everyone in the cast stays healthy, the show will run through February 14 at the Ojai Art Center Theater.
---
BWW Reviews: A FUNNY THING HAPPENED ON THE WAY TO THE FORUM at Cabrillo Music Theatre

February 1, 2016

Laurel and Hardy must be smiling in the comedy Valhalla. Cabrillo Music Theatre's near-perfect production of A Funny Thing Happened on the Way to the Forum, which opened last night at the Thousand Oaks Civic Arts Plaza's Scherr Forum, brings back the classic, broad humor from vaudeville, performed by an inspired cast of crazies who not only aren't afraid of anything going wrong, but are probably HOPING for mishaps that would destroy any other show. This is, of course, because Forum is one of those shows where spontaneity and the unexpected is almost as obligatory as Burt Shevelove and Larry Gelbart's uproarious script and Stephen Sondheim's witty lyrics.
---
BWW Interview: Scott Dreier of DORIS AND ME at Simi Valley Cultural Arts Center

January 21, 2016

It's not often when a person is able to develop their own stage show about their idol, but for the past four years, actor/singer Scott Dreier has done that very thing, when, in 2011, he started paying tribute to former actress/singer Doris Day. Dreier has toured all over the U.S. with Doris and Me, playing on the West Coast, where he makes his home, to venues on the East Coast. For many years before Doris and Me, the Southern California native was a performer in voiceovers, in theater, and on television, focusing mainly on family shows on the Disney Channel and Nickelodeon. Scott has also been a featured vocalist with the Pasadena Pops Orchestra, has accompanied Barbra Streisand in concert, and has numerous television appearances to his credit. Devoted to charitable causes, Dreier designated the proceeds from his first CD, Scott Dreier, to support the Susan G. Komen Breast Cancer Foundation. On the album, he sang a duet on 'Suddenly, Seymour' from Little Shop of Horrors with actress Katy Sagal (Married With Children). Dreier has performed in twelve productions of that show. One of his latest efforts, whose proceeds benefit the Doris Day Animal Foundation, is a duet with jazz singer Jane Monheit on Doris Day's hit, 'Everybody Loves a Lover.' Dreier is appearing in Doris and Me at the Simi Valley Cultural Arts Center this weekend, and we got a chance to visit with him and talk about his idol, who at 91, is living in comfortable retirement in Carmel-By-the-Sea near Monterey, California.
---
BWW Interview: Michael Fischer of THE 25TH ANNUAL PUTNAM COUNTY SPELLING BEE at Hillcrest Center For The Arts

January 11, 2016

I haven't posted a story yet this year because I've been busy. For the past two weeks, I've been immersed in learning the flute part to the score of The 25th Annual Putnam County Spelling Bee, which concludes a brief four-day, five-show run this afternoon at the Hillcrest Center for the Arts. Spelling Bee is a great show for improv artists, and being in the pit for rehearsals and every show, I am able to see how the actors handle the show's free structure, which allows for improvisation. If you've seen the show, you know what I'm talking about. Spelling Bee is being staged by YA4Ever, the alumni group of Young Artists Ensemble. To help out on this show, writer/director Michael Fischer agreed to play the part of Vice Principal Douglas Panch, the contest's 'word pronouncer.' We talked to Michael after a particularly riotous Saturday matinee performance.
---
BWW Review: THAT LOVIN' FEELIN' at Lonny Chapman Theatre

December 30, 2015

The prospect of a new stage musical about the Righteous Brothers is an enticing idea, and with the premiere of That Lovin' Feelin', James A. Zimmerman's new production about the lives and careers of Bobby Hatfield and Bill Medley, we ventured into the Valley to take in a performance. The show is being staged through January 24 at the Lonny Chapman Theatre in North Hollywood. As with all of our 'road trips,' there is a local Ventura County angle, in this case, Brenden MacDonald, a graduate of California Lutheran University's drama program who also attended Moorpark College, where he studied under John Loprieno. MacDonald fares well in his Group Rep Theatre debut but the production suffers from obvious miscasting and an overall unsatisfactory book, which fails to effectively portray the lives and tumultuous partnership of Hatfield and Medley.
---
BWW Interview: Brittany Danyel of THE 39 STEPS at OYES Theatre

December 18, 2015

Putting on a play or musical is a daunting enough task, but to do it with only a handful of people and no budget, is something only the most passionate (or crazy) individuals can attempt. Brittany Danyel is a little of both - along with her partners-in-crime, the eminently talented Hanna Mitchell and Ezra Eels, Danyel, using the production name 'The 3 Maskateers,' has made an iconic, funny play even more uproarious. Their manic story of Hitchcockian espionage finishes its run this weekend at the OYES Theatre in Ojai and if you like knockabout, frenzied comedy, this is the show for you.
---
BWW Review: THE 39 STEPS at OYES Theatre

December 14, 2015

What do you get when you combine Alfred Hitchcock with Monty Python? The 39 Steps, a riotous adaptation of Hitchcock's memorable 1935 comic suspense film that features a cast of four actors and a minimum of everything else. The play made its debut last weekend at the OYES Theatre in Ojai and despite a shoestring budget, the creators manage to pull together the uproarious, fast-moving spy story into one of the more entertaining productions of the year.
---
BWW Interview: Brenden MacDonald of THAT LOVIN' FEELIN' at Lonny Chapman Theatre
December 11, 2015
---
BWW Interview: Sandy Hackett & Lisa Miller of SANDY HACKETT'S RAT PACK CHRISTMAS at Fred Kavli Theatre

December 2, 2015

December 12 marks the centennial of Frank Sinatra's birth, which makes the arrival of Sandy Hackett's Rat Pack Christmas, which plays for one performance this Saturday at the Thousand Oaks Civic Arts Plaza, all the more special. Since 2009, Hackett, son of the late comedian Buddy Hackett, and his wife, Lisa Miller, have been presenting their stage shows that celebrate the hip, swingin', ring-a-ding-ding aura of the original Las Vegas Rat Pack. During the late '50s and early '60s, the Rat Pack ruled the Copa Room at the Sands Hotel & Casino in Las Vegas, a freewheeling act that incorporated Great American Songbook tunes with a raucous, let's-throw-caution-to-the-wind attitude that became the definition of 'cool' in show business.
---
BWW Interview: Autumn Bodily of FOLLIES at Conejo Players Theatre

November 30, 2015

Like many Ventura County performers, Autumn Bodily has a long career in local theater. She started as a teenager in 1986 with Young Artists Ensemble in one of their earliest productions. Autumn made her Conejo Players debut in 1989 in Annie before getting married at 22 and moving around the state. She attended college and grad school, had children, and worked as a company member for the Sierra Repertory Theatre in Sonora. Her next move took her and her family from Northern California to San Diego where she worked for the La Jolla Playhouse doing page-to-stage productions. While there, she worked on many shows that would later progress to Broadway. In 2006, she performed in the musical version of Doctor Zhivago, working with composer Lucy Simon and director Des McAnuff. The show had a brief run this past spring on Broadway but only lasted for 23 performances. Since she returned to the Conejo Valley, she has performed in a variety of community theater productions, including Cabaret (Camarillo Skyway Playhouse) as Fraulein Kost and Damn Yankees (Conejo Players) as Gloria Thorpe. Autumn plays the role of Sally Durant Plummer in the Conejo Players Theatre's current production of Follies.
---
BWW Reviews: MY FAIR LADY at Rubicon Theatre Company

November 1, 2015

In the opening scene of the Rubicon Theatre Company's production of My Fair Lady, buskers in London's Covent Garden, where Cockney Eliza Doolittle works as a flower girl, are rewarded with tuppence given to them by members of the audience. It is this kind of intimacy, an initial breaking of the fourth wall, that helps make Rubicon's current production an enchanting, warm-hearted interpretation of one of Broadway's most beloved musicals.
---
BWW Review: SMALL ENGINE REPAIR at Flying H Theatre Group

October 20, 2015

When you walk into the plain storefront that serves as the home for The Flying H Group Theatre Company, you have to do a double-take to make sure you're in the right place. A narrow foyer gives way to a larger back room, which resembles an auto mechanic's workshop. Meticulously detailed right down to the hand tools, cans of motor oil, and ads for car batteries, the set perfectly resembles the average American do-it-yourselfer's garage. This is the setting for Small Engine Repair, a brilliantly written tale of vengeance penned by playwright John Pollono, which had a successful Off-Broadway debut two years ago. Flying H's sensational production puts you front-and-center in the garage as an alcohol-fueled reunion between three 30-something former high school chums turns dark...really dark.
---
BWW Interview: Cassie Nickols of DAMN YANKEES at Cabrillo Music Theatre

October 16, 2015

One of the most talented musicians to join the Ventura County musical theater scene in the past few years has been Cassie Nickols. Most audiences haven't seen Cassie before because she has spent most of her time behind the scenes, working first as a rehearsal pianist and then as assistant musical director. But in Cabrillo Music Theatre's current production of Damn Yankees, which begins this evening at the Thousand Oaks Civic Arts Plaza, Cassie will be up front, baton in hand, leading the orchestra and the performers on stage as a full-fledged music director. It's been a long road for Cassie, a gifted musician who spent years studying her craft in college before joining the local musical theatre scene. We talked to Cassie about her thoughts behind making this key transition from performer to leader.
---
BWW Review: H.M.S. PINAFORE at Hillcrest Theater For The Arts

October 15, 2015

Gilbert and Sullivan's comic operetta, 'H.M.S. Pinafore,' made its debut last weekend at the Hillcrest Center for the Arts, and for all intents and purposes, it was just another in a long line of highly entertaining shows staged by the venerable Ventura County Gilbert & Sullivan Repertoire Company. But for one of its performers, this 'Pinafore' was not just another production. It marked the satisfying of a lifelong dream for 68-year-old David Gilchrist, who plays the part of Sir Joseph Porter.
---
BWW Interview: Renee Marino of DAMN YANKEES at Cabrillo Music Theatre

October 14, 2015

For an actor, Renee Marino has lived a charmed life. This Friday, the 'Jersey Girl' will be appearing in Cabrillo Music Theatre's production of Damn Yankees, in the part of Lola, the Devil's vixen whose job is to charm baseball phenom Joe Hardy into cheating on his wife. Renee is a director's dream. Responsible, experienced, versatile, and with a can-do attitude that she has had since she was a little girl. Her acting has taken her all over the country in a variety of roles, highlighted by her appearance as Mary Delgado in the motion picture version of Jersey Boys, working with director Clint Eastwood. In Part 1 of our interview, Renee talked about her upbringing and the way she learned to motivate herself to survive as an actress on Broadway and in films.
---
BWW Review: WELCOME TO MY WORLD at Grove Theater Center

September 30, 2015

Sami Staitman is pretty much your typical 15-year-old teenaged girl. On Sunday afternoon, we journeyed into the Valley to see the Ventura County resident play the part of Molly, pretty much your typical 14-year-old teenaged girl, in a one-girl musical called Welcome to My World, which played at the Grove Theater Center in Burbank.
---
BWW Interview: Andy Mattick, Alexandra Lastort, Mary Zastrow, Sara Marie Calvey of NINE at Camarillo Skyway Playhouse

September 23, 2015

On October 2, Camarillo Skyway Playhouse debuts its production of Nine. Based on Federico Fellini's semi-autobiographical film, 8 1/2, the musical version, which features a score by Maury Yeston, tells the story of Guido Contini, a film director approaching his 40th birthday who undergoes a midlife crisis as he is surrounded by a bevy of women desiring his attentions. Nine won a Tony Award in 1982 for Best Musical. Recently, VC On Stage met with four of the show's stars for supper and a round-table discussion of their respective characters, the show's unusual storyline, and celebrated score. The quartet included Andy Mattick, playing Italian film director Guido Contini, Alexandra Lastort as his wife Luisa, Mary Zastrow as Claudia, his former protegee, and Sara Marie Calvey as Carla, his mistress.
---
BWW Review: COPENHAGEN at Rubicon Theatre Company

September 20, 2015

Attention: students slogging through boring classes of quantum mechanics - have I got a show for you. Go see Copenhagen, the Tony-Award winning play now being staged at the Rubicon Theatre Company in Ventura. Written in 1998 by Michael Frayn (Noises Off), Copenhagen is an imaginative 'what-if' story about a mysterious encounter between former friends and colleagues Werner Heisenberg and Niels Bohr. The meeting actually took place, in Copenhagen, Denmark in September 1941. Bohr, a Danish scientist who explored the principle of complementarity, was the mentor of Heisenberg, a German theoretical physicist working on quantum theory who had been recruited by the Nazi government to help develop an atomic weapon to be used against the Allies during World War II. What isn't known is what the two discussed, which brings about a fascinating cat-and-mouse game as the two explore the laws of classical mechanics.
---
BWW Reviews: ZERO HOUR at Elite Theatre Company
August 28, 2015
---
BWW Review: ASSASSINS at Pico Playhouse

August 25, 2015

As the topic of guns in society becomes more and more prominent during the upcoming election season, Stephen Sondheim's controversial 1990 Off-Broadway and off-beat musical Assassins has increased in its relevancy. Rarely staged today, Assassins is an event that commands attention, and last week, we traveled to the Pico Playhouse in Los Angeles to see their version of the show, which also featured several performers familiar to Ventura County audiences.
---
7