Review: MINNIE'S BOYS at Musical Theatre Guild
Musical Theatre Guild's latest staged reading, Minnie's Boys, was performed at Glendale's Alex Theatre on Sunday, February 10, and although it was great to finally get to see this rarely seen musical, the reasons why it is obscure and forgotten are readily apparent. The fact that it is never staged is, unfortunately understandable, despite valiant efforts by the cast to make the show as it was originally described: "A Rollicking New Marx Brothers Musical." Substitute the word "floundering" for "rollicking" and you get a better sense of it, and although there are some genuinely comedic moments and some good songs, the show mostly falls flat, unable to rise above a clunky book that never really finds its voice.
The book was to be originally written by Neil Simon and Burt Shevelove but Simon turned it down. It was then turned over to 28-year-old comedian David Steinberg, but his script was rejected by Groucho Marx, who had signed on as a "production consultant." Finally, Whitelaw settled on the team of Robert Fisher and Arthur Marx. Marx, Groucho's son, who was a successful television, film, and stage writer, was too close to the subject, and the plot ended up having no beginning, middle, or end. It appears to have been modeled after the sensational hit Gypsy, which traced the lives of vaudeville stage mother Rose Hovick and her two daughters, June and Louise, the latter becoming famed stripper Gypsy Rose Lee. Although Minnie Marx was never the monster that Rose was depicted to be in Gypsy, her character still showed promise as the well-intentioned but meddling mother who guided her five sons through the initial stages of their vaudeville career. But it was not to be.
The original production was in for trouble as soon as Groucho Marx, then 79 years old, became "production consultant." (The comedian quipped, "That means they give me money.") Although Arthur Whitelaw wanted Totie Fields to play Minnie Marx, Groucho insisted on Shelley Winters, who bore a greater resemblance to his late mother. Groucho became impossible, making suggestions that didn't make sense and insisting that the show focus on Minnie instead of her sons.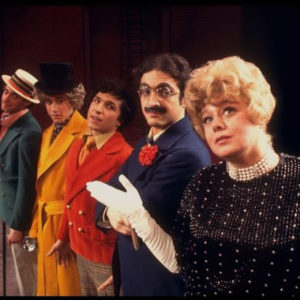 Shelley Winters and the original cast of "Minnie's Boys" (1970)[/caption]
Further trouble ensued when it was discovered that Winters not only couldn't sing, she had trouble memorizing her lines, which she insisted on stuttering. The constant problems with Winters resulted in the original director and choreographer being replaced with no improvement in Winters' performance. Instead of going the usual route and taking the show out of town for tryouts, the inexperienced production team went right into the Imperial Theatre on Broadway, where the show went through constant rewrites, often replacing good material with bad. Groucho asked his friend, humorist S. J. Perelman, to look at the script, but Perelman said that the script was "a scalding descent into a tub of such merde as hasn't been seen outside a Catskills summer camp show" and declined the offer to help. After 64 previews, the show was finally launched on March 26, 1970. It garnered mediocre to negative reviews and closed on May 30 after staggering through only 80 performances.
Musical Theatre Guild's staged reading includes four songs that were not originally published in the score. The best of these, "You Remind Me of You," is a delectable comedic turn featuring the characters of Julie (Groucho), played by the excellent Matthew Patrick Davis, and his landlady, Mrs. McNish, played by the always hilarious Pamela Hamill. Given that Groucho was so closely involved with the dialog, it's no surprise that his character gets the bulk of the laugh lines, and Davis does a great job at this, duplicating Groucho's well-known snappy delivery. The six-foot-eight-inch Davis, however, is physically miscast, towering over his four brothers and making it difficult for one to believe that they are related. (In reality, all the Marxes were short; Groucho was five-foot-seven. The shortest of the actors portraying the brothers, Sean McLean Harrison, is five-foot-six, more than a foot shorter than Davis.)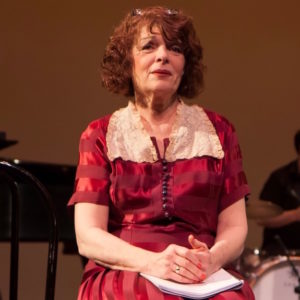 Susan Edwards Martin as Minnie Marx (photo by Stan Chandler)[/caption]
Playing Minnie Marx was Susan Edwards Martin, a fine singer who unfortunately had trouble being the focus of the show. Groucho wanted Minnie's Boys to be about his mother, who died at 63 in 1929 just as the Marx Brothers were getting started in their film career. The character of Minnie, however, is not as multi-layered as that of Rose Hovick, and although she loved her sons, there wasn't enough for Minnie to do in the show, which should have focused on the developing mayhem of the brothers' act.
Harrison has some nice moments as Adolph, who would become Harpo, but his character is wasted. In the play, Adolph speaks in the act until the Marxes create their first hit, I'll Say She Is, in Philadelphia in 1923. In reality, Harpo stopped talking on stage around 1907 or 1908, when it was realized that he had a poor singing voice. In addition, by 1911, he had already stopped being Adolph and had changed his name to Arthur.
As the gambling, skirt-chasing Leonard "Chico" Marx, Travis Leland never really gets the hang of Chico's faux Italian accent. We also miss the musical skills of Chico (piano) and Harpo (harp), which had been fully developed early in the brothers' performing career. Chad Doreck and Matt Braver play the blander fourth and fifth Marx Brothers, Herbie (Zeppo) and Miltie (Gummo) to little effect.
The character of the Marx Brothers' father Sam, who everyone called "Frenchie," was also incorrectly portrayed. Frenchie toiled throughout his life as a not very good tailor and was much more mild-mannered and quiet than as portrayed in the show. Bryan Chesters does a good job in the role, although it is reduced to not much more than a cameo after the initial scenes.
Glenn Rosenblum does well as Al Shean, Minnie's brother and half of the hit vaudeville team of Gallagher and Shean, who often gave moral support and the occasional handout to the constantly poverty-stricken Marx Brothers.
The show's eighty-year-old composer Larry Grossman, who attended Sunday's performance and was introduced from the stage, wrote a number of good songs along with lyricist Hal Hackady, the best of which being "Mama, A Rainbow," a lovely number sung by Adolph to Minnie, which reflects the affection all the Marxes had for their mother. Rosenblum does well on "Rich Is," sort of an "I wish" song akin to "If I Were a Rich Man" from Fiddler on the Roof. "Underneath It All," on the other hand, is a totally useless and unfunny number featuring a female impersonator (Eric B. Anthony) that never should have been in the show at all.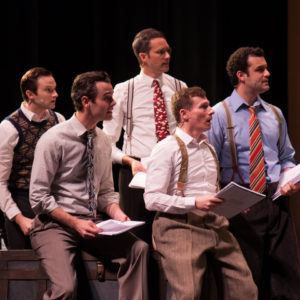 Matt Braver (Miltie), Chad Doreck (Herbie), Matthew Patrick Davis (Julie), Scott McLean Harrison (Adolph), and Travis Leland (Leonard) (photo by Stan Chandler)[/caption]
The best parts of the show occur when the four brothers (Milton/Gummo ceased being part of the act early in their career) are carousing and behaving in the anarchic manner that made them famous, but there isn't nearly enough of it. One can easily see how the stuffy, aristocratic authority figures played by Margaret Dumont got started in a scene where Julie/Groucho peppers landlord Hochmeister (John Massey) with one-liners while Adolph/Harpo steals dollar bills that Hochmeister is putting in his pocket.
As usual, MTG has done a great job in putting together a full musical stage reading, given only 25 hours of rehearsal time, but other than being an interesting experiment in giving a long-forgotten musical a second look, Minnie's Boys can't be elevated from what it was, a disappointing Broadway flop that could have been much better than it was.