Cary Ginell

Cary Ginell has been writing theater reviews in Ventura County since 1996. He joined the staff of the Ventura County Acorn in 2007 and since then, has written over 500 reviews. In 2013, he started his own theater arts blog, VC On Stage (www.vconstage.com), which includes reviews of musicals and plays from Calabasas to Ojai. From 2005 to 2010, Cary was Broadway project manager for Alfred Publishing, producing all of the publisher's piano/vocal songbooks. He is the author of 9 books on music, including "Broadway Musicals: Show By Show," published by Applause Books.
MOST POPULAR ARTICLES
LAST 30 DAYS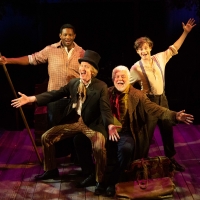 BWW Review: BIG RIVER at Rubicon Theatre Company
Posted: Nov. 1, 2019


BWW Interview: Trent Mills of THE MUSIC MAN at 5-Star Theatricals
Posted: Oct. 24, 2019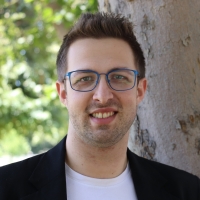 BWW Interview: Scott Bell of BANDSTAND at American Theatre Guild
Posted: Nov. 8, 2019


BWW Interview: Josey Montana McCoy & David Aron Damane of BIG RIVER at Rubicon Theatre Company
Posted: Nov. 6, 2019


BWW Interview: Beverly & Kirby Ward of BIG RIVER at Rubicon Theatre Company
Posted: Oct. 29, 2019


BWW Interview: Antonia Vivino & Adam Winer of THE MUSIC MAN at 5-Star Theatricals
Posted: Oct. 23, 2019


BWW Interview: Kirby & Beverly Ward of BIG RIVER at Rubicon Theatre Company
Posted: Nov. 4, 2019


LAST 365 DAYS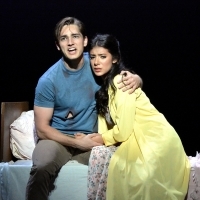 BWW Review: WEST SIDE STORY at 5-Star Theatricals
Posted: Jul. 27, 2019



BWW Review: 1776 at La Mirada Theatre For The Performing Arts
Posted: Jan. 31, 2019



BWW Review: RAGTIME at Pasadena Playhouse
Posted: Feb. 20, 2019



BWW Interview: Jonathan Sharp, Jack Stewart, Luna Montana Hoetzel of CAMELOT at Pacific Festival Ballet
Posted: May. 14, 2019



BWW Review: THE KING AND I at Fred Kavli Theatre
Posted: Dec. 28, 2018



BWW Review: SOUTH PACIFIC at Rubicon Theatre Company
Posted: Dec. 21, 2018



BWW Feature: THE KING AND I at Fred Kavli Theatre, Thousand Oaks
Posted: Dec. 23, 2018


BWW Interview: Harrison Meloeny & Michelle Lane of NEXT TO NORMAL at Pico Playhouse

August 15, 2016

Occasionally we venture out of the sanctity of Ventura County to see how some of our locally raised theatricians are faring in their acting careers. Today we visit with Harrison Meloeny and Michelle Lane, two performers familiar to Cabrillo Music Theatre audiences (both were in Mary Poppins last year) about a fabulous opportunity to appear in the Pico Playhouse's new production of the Tony Award-winning smash, Next to Normal, in which Michelle will play Diana and Harrison will play Gabe. The show opens August 19 and plays through September 25.
---
BWW Interview: Katherine Bottoms of PETER AND THE STARCATCHER at Actors' Repertory Theatre Of Simi

August 10, 2016

Today we meet Katherine Bottoms, a young actress who we hope you will be able to see on stage some day before fame and fortune takes her away from us. Katherine was born in Palm Springs but has lived in Santa Barbara most of her life. Her father and three uncles were actors so it was only natural that Katherine would become one as well. She performed in musical theater at Santa Barbara High School and was attending Santa Barbara City College when she decided acting was what she was going to do with her life. While in high school, she got a manager and was driving to auditions in Los Angeles so often, she was missing class, so she put off her career until later. Now, at 23, she feels she is ready, and has been making solid appearances in a number of local productions. Her life has been a procession of one show after another ('my longest break was maybe a month'), with her latest being the ARTS production of Peter and the Starcatcher (see our review in this week's Simi Valley Acorn). In the show, she plays Molly, a wide-eyed, independent 13-year-old girl who embarks on an adventure with her father to deliver a trunk of magic star dust to a far-off island. Katherine's bubbly personality and infectious giggle make it easy to accept her as a teenager, but this is only one aspect of her versatility as an actress.
---
BWW Preview: IN THE HEIGHTS at Rubicon Theatre Company

August 4, 2016

Last week we spoke with Fearless Shakespeare director Joseph Fuqua, dramaturg Jonathan Drahos, and Musical Theatre Intensive director Brian McDonald about their production of Shakespeare's Twelfth Night. Today we continue our interview with Brian and Joseph about the forthcoming production of In the Heights, which opens this Sunday, August 5 at the Rubicon Theatre Company in Ventura.
---
BWW Interview: Lyrissa Leininger & Michael Kennedy of THE LITTLE MERMAID at Cabrillo Music Theatre

July 13, 2016

One important and valuable aspect of Cabrillo Music Theatre's long tenure in Ventura County is its devotion to casting talented young local performers in as many of its productions as it can. Cabrillo's casts are usually laden with a mix of professional Equity lead performers, local and regional talent from Southern California (and sometimes elsewhere), but especially home-grown youngsters. We spoke with two of the latter during a rehearsal session recently, Lyrissa Leininger, 16, and Michael Kennedy, 19, who have already gotten their feet wet (an appropriate pre-requisite for The Little Mermaid!) in a number of Cabrillo productions.
---
BWW Interview: Larry Raben of THE LITTLE MERMAID at Cabrillo Music Theatre

July 5, 2016

Larry Raben is an accomplished actor and director who has added his prodigious abilities to a multitude of productions around the world. In addition to acting in a command performance before Queen Elizabeth II in London and producing Sweet Charity in Argentina, Raben has also graced Cabrillo Music Theatre's stages in productions of Singin' in the Rain, The Producers, and, most recently, A Funny Thing Happened on the Way to the Forum. Raben is directing Cabrillo's summer offering this year, Disney's The Little Mermaid, which will prove to be the final production overseen by Cabrillo's longtime artistic director, Lewis Wilkenfeld. We talked with Larry not only about his plans for the show, one of Cabrillo's most challenging and ambitious productions, but also about working with the indefatigable Wilkenfeld.
---
BWW Review: THE MOUSETRAP at Elite Theatre Company
June 17, 2016
---
BWW Review: CLARENCE DARROW at Rubicon Theatre Company

June 4, 2016

It's funny how many shows we've seen recently that bring to mind concepts evident in the current election season. In In the Heights, it was the plight of immigrants trying to make lives for themselves in America, in Amadeus, it was a lead character with an obsessive personality, and in Ragtime, it was a character who seeks justice for a racially-based assault. In David W. Rintels' one-man play, Clarence Darrow, which made its debut last weekend at the Rubicon Theatre Company, reexamines the life of a man whose philosophy of democratic socialism reflects the political philosophy of Democratic challenger, Senator Bernie Sanders.
---
BWW Review: AMADEUS at Conejo Players Theatre

May 12, 2016

The grand rivalry between Wolfgang Amadeus Mozart and his erstwhile mentor Antonio Salieri is mainly apocryphal, generated for dramatic effect by playwright Peter Shaffer in his 1979 play, 'Amadeus,' but the idea was, nevertheless, a brilliant one. Conejo Players Theatre has put on an opulent, emotionally charged production of Shaffer's poetically dramatic story, which was famously adapted for the Oscar-winning 1984 film starring F. Murray Abraham and Tom Hulce.
---
BWW Review: DISNEY'S CAMP ROCK, THE MUSICAL at NoHo Arts Center

May 9, 2016

If you ever wondered what the kids on Glee did during their summer vacation, the answer might be Disney's Camp Rock, The Musical. With space unavailable at the Hillcrest Center for the Arts, Panic! Productions booked a road trip featuring its cast of chiefly Ventura County teens, staging the show at the NoHo Arts Center in North Hollywood. Camp Rock, which is directed by Barry Pearl, opened last weekend and continues through May 22.
---
BWW Interview: Juan Carlos, Tatiana, & Sandra Cantu of IN THE HEIGHTS at Simi Valley Cultural Arts Center

May 6, 2016

In the Heights, Lin-Manuel Miranda's musical about community and family in a Dominican-American neighborhood in New York City, has a multi-layered meaning for its talented cast. The production, which is currently being presented at the Simi Valley Cultural Arts Center, features veteran television actor Juan Carlos Cantu, returning to the stage after more than 30 years, to act besides his two daughters, Tatiana and Sandra. All three play major roles in the show, bringing the three together on stage for the first time. (Our review is in this week's Moorpark Acorn. http://www.mpacorn.com/news/2016-05-06/On_The_Town/Cast_takes_musical_to_the_highest_level.html) We visited with the girls and their proud father before a Sunday matinee performance.
---
BWW Interview: Kevin Repich, Malissa Marlow, Leah Dalrymple of THE DROWSY CHAPERONE at California Lutheran University

April 26, 2016

Playing a character is hard enough for many actors and actresses who are starting out in musical theater, but The Drowsy Chaperone throws its performers a curve because of the complicated nature of the show. A cloistered record collector, the character known only as Man in Chair, shares his favorite musical, The Drowsy Chaperone, with the audience, and as he talks about it, the characters come alive in front of them. But Man in Chair is also talking about the actors who play the characters in the faux musical. This causes a triple-layered dilemma for anyone who plays in the show because they have to fold two characters into their own personalities. We talked with three of the show's stars, who are all theater arts students at California Lutheran University. Kevin Repich is a third year Communications and Theater Arts major who is also in the college's Improv Troupe. Malissa Marlow, also a junior, is a Thousand Oaks High School graduate who has already appeared in productions of Spring Awakening (as Martha), Night of the Living Dead (as Corpse on the Stairs - really!), and Songs for a New World (Woman 1). Leah Dalrymple, also from Thousand Oaks High, is making her musical debut at CLU, but has received a Vee-Cee award for her performance as Fran Kubelik in Promises, Promises at Moorpark College. We talked with all three this week about this very funny show, which is packing in audiences at the CLU Black Box Theater.
---
BWW Review: A GENTLEMAN'S GUIDE TO LOVE AND MURDER - Farcical Felonious Fun at Ahmanson Theatre

April 22, 2016

Occasionally we venture beyond the borders of Ventura County to see what is going on in Los Angeles, and on this occasion, we couldn't resist taking in a performance of A Gentleman's Guide to Love and Murder, which is currently playing at the Ahmanson Theatre downtown. The 2013 show won Tonys for Best Musical and Best Book of a Musical after its initial Broadway run and is now currently on its first national tour.
---
BWW Review: MEN OF TORTUGA at Elite Theatre Company

April 19, 2016

'The very powerful are always fools,' intones Kit Maxwell, the one character with a conscience in Jason Wells' 2009 black comedy, Men of Tortuga, a taut and ironic thriller about corporate terrorists conspiring to plan a dastardly assassination. The show opened at the Elite Theatre Company in Oxnard last weekend and plays through May 15.
---
BWW Review: CHILDREN OF EDEN at Cabrillo Music Theatre

April 10, 2016

With the angst over the immediate future of Cabrillo Music Theatre finally receding into the background, it's time to focus once again on what is happening on the Cabrillo stage. Its current production of Children of Eden, which made its debut last night at the Fred Kavli Theatre, proves how indispensable Cabrillo continues to be to the arts in this community. The high production values, sensitive direction, superlative casting, and, yes, insistence on live musicians in the pit, have made Cabrillo a consistently professional theater company in Ventura County for more than two decades, a streak that, thanks to some Frank Merriwell heroics by anonymous donors, will continue on for the time being.
---
BWW Interviews: Natalia Vivino & Ryan Driscoll of CHILDREN OF EDEN at Cabrillo Music Theatre

April 10, 2016

Last night's opening of Cabrillo Music Theatre's Children of Eden was every bit as enchanting and magical as anticipated. After the debacle of Theater League's Ragtime, in which two synthesizer players were hidden back stage, out of sight of the audience, it was a pleasure to hear a sumptuous orchestra of musicians playing real instruments in the Kavli orchestra pit once again. My review of the show will be in this coming Thursday's Acorn, but today, we conclude our visit with Natalia Vivino, who plays the role of Yonah, and Ryan Driscoll, who plays Cain and Act I and Japheth in Act II. Natalia, Ryan, and the rest of the cast of Children of Eden had to conduct rehearsals for the show while Cabrillo was going through the turmoil of deciding its own future. The stress and emotional levels were high during this process, but there was a tremendous sigh of relief when the recent news that Cabrillo had once again been saved was announced to the cast. Opening night was an artistic triumph for Cabrillo, with the roller coaster of emotions regarding its viability hopefully receding into the past for the time being. As our interview continues, Natalia and Ryan talked about their characters and the motivations behind them.
---
BWW Review: NUNSENSE at Camarillo Skyway Playhosue

April 7, 2016

The idea for Nunsense, the whimsical musical about five wacky but lovable nuns from the Little Sisters of Hoboken, came to creator Dan Goggin from an unexpected quarter. A friend had presented Goggin with a mannequin dressed as a Dominican nun in traditional habit, with the idea that it would be fun to feature a photograph of the mannequin and Goggin as part of a greeting card. The cards were a success and so, having worked in theater since 1963, Goggin decided to emulate Pygmalion by bringing the mannequin to life. The first Nunsense production opened in 1983 with a cast featuring three nuns, a priest, and a brother. The show featured sketches written by a friend, Steve Hayes, but in order to move the show to Off-Broadway, they had to have an actual 'book' to replace the sketches. It was at this time that the priest and the brother became additional nuns and a story was written to tie all of Goggin's songs together. The expanded Nunsense won the Outer Critics Circle Award for Best Off-Broadway Musical and ten years and 3,672 performances later, it ended its original run, becoming second in longevity only to The Fantasticks for an Off-Broadway show. Since then, there have been over 8,000 productions of Nunsense around the world, with the show translated into twenty languages and a half-dozen sequels following in its wake. What makes Nunsense so universally loved? Simple. It's funny, the songs are cute and singable, and the good feelings inherent in the show's believable characters are infectious.
---
BWW Reviews: RAGTIME at Thousand Oaks Civic Arts Plaza

March 25, 2016

At the beginning of Act II of Ragtime, Terrence McNally's masterful musical adaptation of E. L. Doctorow's novel, journeyman pianist Coalhouse Walker Jr., decimated by the murder of his beloved Sarah, sings, 'Say goodbye to music / Say goodbye to light.' This sums up my feelings about Theater League's production of Ragtime, which arrived for a brief four-day stay at the Thousand Oaks Civic Arts Plaza on Thursday night. The original 1998 Broadway production won a Tony Award for Best Score, but many patrons who packed the Fred Kavli Theatre on opening night were dismayed to discover that Lynn Ahrens and Stephen Flaherty's sumptuous, moving songs were being played from pre-recorded synthesized music tracks. Despite superb performances from the entire cast, Theater League's Ragtime suffers greatly from this omission, which was apparently a decision of Phoenix Entertainment, the independent theatrical producing and management enterprise in charge of producing the show.
---
BWW Review: THE MAN WHO SHOT LIBERTY VALANCE at Rubicon Theatre Company

March 10, 2016

John Ford's 1962 film, The Man Who Shot Liberty Valance, is one of motion picture's all-time classic westerns. So when I heard that a play version was making its American premiere at the Rubicon Theatre Company in Ventura, I got more than just a little excited. Envisioning the tensions seen on the screen in epic portrayals by Jimmy Stewart, John Wayne, and Lee Marvin promised to be riveting theater. Unfortunately, the play version was taken not from the screenplay by James Warner Bellah and Willis Goldbeck (it was unavailable) but an adaptation by British playwright Joshua Compton from Dorothy M. Johnson's original short story, and although the Rubicon has created a fabulous setting, marvelous performances from all of the actors, and an atmospheric, on-stage musical tableau by Trevor Wheetman, the result is simply not as compelling as the movie.
---
BWW Interview: Jenny Sullivan of THE MAN WHO SHOT LIBERTY VALANCE at Rubicon Theatre Company

March 1, 2016

The Man Who Shot Liberty Valance was originally a short story penned in 1953 by Dorothy M. Johnson (1905 - 1984), who wrote numerous articles and stories with Western themes. In 1962, Valance was adapted for motion pictures in a blockbuster film directed by John Ford and starring John Wayne, James Stewart, and Lee Marvin, in the title role of the sadistic gunslinger who is taken on by Stewart, who portrayed a tenderfoot attorney new to the dusty town of Shinbone. Jethro Compton's new stage play is based on the short story instead of the movie, getting its start in England in 2014. The Rubicon Theatre Company's new production marks the play's American debut, starring Gregory Harrison in the role of Bert Barricune, the equivalent of John Wayne's Tom Doniphon in the film. Reviews of the play have called it 'gripping drama' and 'consistently absorbing.' We spoke with Jenny Sullivan, who is directing Rubicon's production and she talked about the process of presenting a subject that has become much more famous through the film adaptation than for the original story.
---
BWW Review: SEE ROCK CITY at Rubicon Theatre Company

February 5, 2016

'A person's got to have something to do,' newlywed May Brummett says to her husband Raleigh, in a scene from the Rubicon Theatre Company's evocative drama, See Rock City. That statement sums up the theme in this second installment in Arlene Hutton's trilogy dealing with a young Kentucky couple trying to make a life for themselves during the waning years of World War II. Last year, the Rubicon staged Last Train to Nibroc, the first in the series, in which we were introduced to May and Raleigh, who happen upon one another while retreating homeward after both suffered personal setbacks. In See Rock City, we find the couple returning to their Kentucky home after their honeymoon, which saw them make a forced detour from their original destination of Rock City, a local tourist destination in Chattanooga, Tennessee, and instead, coming by way of Cincinnati.
---
6