Cary Ginell

Cary Ginell has been writing theater reviews in Ventura County since 1996. He joined the staff of the Ventura County Acorn in 2007 and since then, has written over 500 reviews. In 2013, he started his own theater arts blog, VC On Stage (www.vconstage.com), which includes reviews of musicals and plays from Calabasas to Ojai. From 2005 to 2010, Cary was Broadway project manager for Alfred Publishing, producing all of the publisher's piano/vocal songbooks. He is the author of 9 books on music, including "Broadway Musicals: Show By Show," published by Applause Books.
MOST POPULAR ARTICLES
LAST 30 DAYS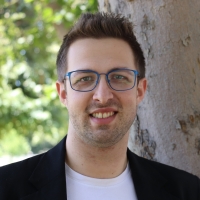 BWW Interview: Scott Bell of BANDSTAND at American Theatre Guild
Posted: Nov. 8, 2019


BWW Interview: Josey Montana McCoy & David Aron Damane of BIG RIVER at Rubicon Theatre Company
Posted: Nov. 6, 2019


LAST 365 DAYS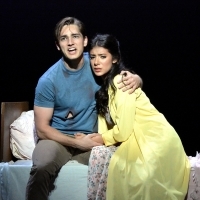 BWW Review: WEST SIDE STORY at 5-Star Theatricals
Posted: Jul. 27, 2019



BWW Review: 1776 at La Mirada Theatre For The Performing Arts
Posted: Jan. 31, 2019



BWW Review: RAGTIME at Pasadena Playhouse
Posted: Feb. 20, 2019



BWW Interview: Jonathan Sharp, Jack Stewart, Luna Montana Hoetzel of CAMELOT at Pacific Festival Ballet
Posted: May. 14, 2019



BWW Review: THE KING AND I at Fred Kavli Theatre
Posted: Dec. 28, 2018



BWW Review: SOUTH PACIFIC at Rubicon Theatre Company
Posted: Dec. 21, 2018



BWW Feature: THE KING AND I at Fred Kavli Theatre, Thousand Oaks
Posted: Dec. 23, 2018


BWW Interview: John Medeiros of ZERO HOUR at Elite Theatre Company

August 20, 2015

Beginning this Saturday, the Elite Theatre Company's South Stage will be presenting Zero Hour, a one-man play about legendary actor Zero Mostel. The project is near and dear to the heart of actor John Medeiros, who has tried to get it produced for almost 5 years. Medeiros has performed in two roles made famous by Mostel, Pseudolus (A Funny Thing Happened on the Way to the Forum) and Tevye (Fiddler on the Roof). He won the Four Star Alliance Award in 2013 for Outstanding Lead Actor for his portrayal of Tevye.
---
BWW Review: WEST SIDE STORY at Rubicon Theatre Company
August 13, 2015
---
BWW Review: FLOWERS FOR ALGERNON at Camarillo Skyway Playhouse
August 13, 2015
---
BWW Reviews: THE MUSICAL OF MUSICALS (THE MUSICAL!) at West Valley Playhouse
August 10, 2015
---
BWW Reviews: GREEN GROW THE LILACS at Will Geer's Botanicum Theatricum

August 5, 2015

In Scene Two of Lynn Riggs' play, Green Grow the Lilacs, farm girl Laurey Williams speaks passionately to her Aunt Eller about the ranch where she grew up:
---
BWW Reviews: VANYA & SONIA & MASHA & SPIKE at Santa Paula Theater Center

August 2, 2015

Although I am not as familiar with the plays of Anton Chekhov as some, Christopher Durang's play, Vanya & Sonia & Masha & Spike, doesn't require a pop quiz of Chekhovian references in order for one to enjoy the show. This character study into the lives of three squabbling, middle-aged siblings has enough humor and poignancy in it so you don't have to have your SparkNotes handy to enjoy it. The play, produced by Leslie Nichols and directed by Fred Helsel, plays at the Santa Paula Theater Center through August 16.
---
BWW Reviews: MAME at Ojai Art Center Theater
July 27, 2015
---
BWW Interviews: John Charron of OKLAHOMA! at Cabrillo Music Theatre

July 14, 2015

An interview with choreographer John Charron, who is working on the upcoming Cabrillo Music Theatre production of 'Oklahoma!'
---
BWW Reviews: PACK OF LIES at Hillcrest Center For The Arts

June 21, 2015

In their 1962 Cold War song, 'The John Birch Society,' the Chad Mitchell Trio sings, 'You cannot trust your neighbor or even next of kin / If Mommy is a Commie then you gotta turn her in.' This suggests the dilemma faced by a suburban English family in Pack of Lies, Hugh Whitemore's 1983 drama of deceit and betrayal, which closes this weekend at the Hillcrest Center for the Arts. Panic! Productions has assembled a first rate cast in presenting the tension-filled story concerning the members of the Jackson family, who reluctantly allow their home to be taken over as a stakeout by an investigator from Scotland Yard, who is suspicious of the activities of the Krogers, their best friends who live across the street.
---
BWW Reviews: FROST/NIXON at High Street Arts Center - Moorpark

April 15, 2015

Frost/Nixon is Peter Morgan's award-winning play about the televised 1977 interviews between British talk show host David Frost and deposed president Richard M. Nixon. The interviews were divided into four segments, each focusing on a different topic. The original broadcast of the first segment drew 45 million viewers. What most people were looking for, including Frost, was an admission of guilt, a show of remorse, and some sign of contrition from the former president for the Watergate scandal that brought down his administration in 1974.
---
BWW Reviews: 13 at Hillcrest Center For The Arts

April 13, 2015

An all-teen cast highlights Panic! Productions' staging of Jason Robert Brown's '13,' now playing through April 19 at the Hillcrest Center for the Arts in Thousand Oaks.
---
BWW Interviews: Terra C. MacLeod of CHICAGO National Tour

April 8, 2015

Terra C. MacLeod was born and raised in Montreal, Quebec. Her experience in the performing arts started when she was four years old, when she began taking ballet lessons. She got her theater arts degree at AMDA (American Musical and Dramatic Academy), after which started getting roles such as Cassie in A Chorus Line. Terra has traveled around the world as a performer; today, she calls Vancouver, British Columbia home, and has performed in such shows as Damn Yankees, My Fair Lady, and She Loves Me. This weekend, Terra comes to Thousand Oaks performing one of her favorite roles, the sultry murderess Velma in Theater League's production of Chicago. We talked to her from the road and she gave us some fascinating insights into her character.
---
BWW Reviews: SWEENEY TODD: THE DEMON BARBER OF FLEET STREET at Ventura College

March 27, 2015

CSUCI Senior Andrew Metzger is proving to be a formidable force on the Ventura County stage scene. A combination of Zero Mostel and John Belushi, Metzger commands attention from his very first words. He is simply magnificent in this role.
---
BWW Interviews: Chris Lemmon of JACK LEMMON RETURNS (Part One)

March 25, 2015

After last Sunday's matinee performance of Jack Lemmon Returns, we met his son Chris Lemmon in the green room at the Rubicon Theatre Company to talk about the show, his father, and his memories of growing up with a legend. This is the first of a two-part article.
---
BWW Reviews: JACK LEMMON RETURNS is One Touch of Terrific!

March 18, 2015

In JACK LEMMON RETURNS, the legendary actor's son Chris takes the audience through highlights of his father's career. There is, of course, lots of laughter but also poignant moments about the elder Lemmon's total preoccupation with his career, to the detriment of his satellite family's relationship with him.
---
8