BWW Review: HEISENBERG at Rubicon Theatre Company
As Simon Stephens' 2015 play Heisenberg opens, a 75-year-old Irish butcher named Alex Priest is sitting in a London Underground station, listening to music on his iPhone. Without warning, Georgie Burns, a woman unknown to him, plants a kiss on the back of his neck, sending both of their lives bouncing wildly as if in a pinball machine. The Rubicon Theatre Company's production of the play reinforces and washes away our innate cynicism about human relationships all at the same time, making us laugh, cry, and experience a myriad of emotions in between.
The title of the play, which refers to German physicist Werner Heisenberg, is never mentioned in the dialog, but the implication is that Heisenberg's Uncertainty Principle forms a framework for the May/December romance between Alex and Georgie that plays out on stage. The two-person show features Joe Spano and Faline England, respectively, as Alex and Georgie, and the electricity between the two is palpable with their first encounter. After the unexpected kiss, Georgie engages in a non-stop one-sided dialog while Alex stares suspiciously, wondering what brought on this unprovoked interruption of his musical solitude.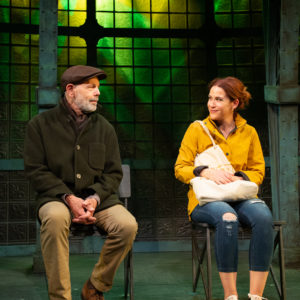 Both Alex and Georgie are at crossroads in their lives. Alex's butcher shop is failing and he is thinking of selling it, while Georgie, an American living in London, is pining to see her estranged 19-year-old son, who, at last report, lives in New Jersey. Georgie tracks Alex to his shop, seduces him, and they begin an odd relationship that is surprisingly tender and funny, but like Alex, we wonder when the shoe is going to drop to reveal Georgie's true intentions.
The formula of a young free spirit bringing a lonely old man out of seclusion is not new in the theater. The black comedy Harold and Maude, which reverses the roles of young woman-older man, takes things to greater and more bizarre extremes, but it is considerably darker than Heisenberg. Director Katharine Farmer chose to accentuate the sweetness of Alex and Georgie's relationship and give hope to those who feel isolated from society that there is indeed someone out there for everyone. You just have to sometimes let it happen and not resist out of suspicion.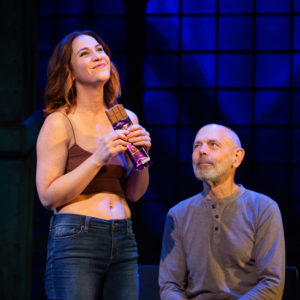 Spano is wonderful as Alex, adopting a believable Irish accent and using his eyes as a barrier to his self-imposed solitude. England's Georgie is outrageous, profane, sexy, and girlish, playing a woman of 42 who acts like a smitten teenager, folding herself up provocatively on one of the two chairs that serve as the production's only set pieces. Georgie has no inhibitions while Alex seems to be on guard with his emotions at all times. When she brazenly asks if he would like to sleep with her, we identify with his wary but eager reaction. Their relationship is much more than carnal, however, as they revel in their post-coital coziness. The intimacy that we are allowed to witness is meant to draw us in emotionally, and like Alex, we fall for Georgie's considerable charms and hope that her intentions are honest. When this turns out to be not entirely accurate, our cynicism, along with Alex's, begins to creep back. It's how this is resolved that results in the satisfying charmer Farmer has created, but a great part of this is the superb job turned in by England, who puts her entire heart and soul into her performance. This is borne out by the real tears she sheds when she and Spano were taking their bows after the end of the play. It's clear she goes through an emotional wringer with every performance and we can't ask more of an actor than that.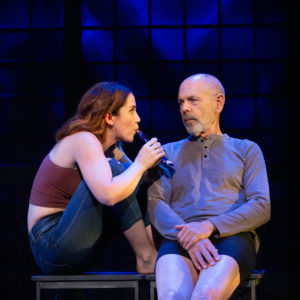 Heisenberg showcases two remarkable actors at their best. It will inspire you, give you hope, and make you think about humanity and how none of us is an island, so long as we make sure not to build walls between us. Whether that shows a parallel to current political controversies about walls is up to you, but it certainly will give anyone who sees this tender, quirky, and terrific show a lot to think about.
******************
HEISENBERG will begin previews on Wednesday, March 27; will open on Sunday, March 31 at 5:30pm and perform through Sunday, April 14, 2019 at the Laguna Playhouse, 606 Laguna Canyon Drive in Laguna Beach.
Performances will be Wednesdays through Fridays at 7:30pm; Saturdays at 2pm & 7:30pm; Sundays at 1:00pm. There will be added performances on Thursday, March 28 at 2pm; Tuesday, April 2 at 7:30pm; Sunday, April 7 at 5:30pm and Thursday, April 11 at 2pm.
Tickets range from $56 - $86 and can be purchased online at www.lagunaplayhouse.com or by calling (949) 497-ARTS (2787). Group discounts are available by calling 949-497-2787 ext. 229. Prices subject to change.