RHETT & LINK Announce First Australian Live Shows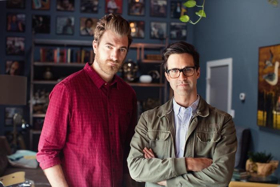 Award-winning US comedians and YouTube sensations (21million+ subscribers), RHETT & LINK will be here in July for their very first Australian live shows, touring to celebrate the release of their debut book and #1 New York Times best seller, Rhett & Link's Book of Mythicality: a Field Guide to Curiosity, Creativity, and Tomfoolery.
Self-described "Internetainers" - and best friends since the first grade - Rhett & Link have been fixtures in the YouTube entertainment community since 2006 and have gained a dedicated following through their daily variety series, Good Mythical Morning. With an average of 100 million views per month and more than 13 million subscribers, the Good Mythical Morning channel features a wide range of informative discussion topics in the areas of science, technology, lifestyle and pop culture with quirky, entertaining twists.
The duo's loyal fan base now exceeds an incredible 28 million social media followers across all platforms and five billion YouTube views combined, as well as being regulars on American TV screens including multiple appearances on The Tonight Show Starring Jimmy Fallon.
Taking their show to live audiences for the very first time last year, Rhett & Link's North American tour sold out immediately, selling more than 35,000 tickets across 23 shows. The Tour of Mythicality - featuring a blend of comedic yet personal storytelling, performances of their hit songs, offbeat life advice and fan Q&A - will head to Australia for three East Coast shows commencing at Melbourne's Palais Theatre on Friday July 27, before heading to Sydney's Luna Park on Sunday July 29, and concluding in Brisbane at QPAC on Monday July 30.
"We're so excited to have the opportunity to embark on this tour and bring the entire Mythical world to life for Aussie fans," said Rhett. "Fans can expect a fun, heartfelt and completely original experience, imbued with the same spirit of curiosity, creativity, and tomfoolery, that is captured in our new book," said Link.
PALAIS THEATRE, MELBOURNE FRIDAY JULY 27, 7:30PM
BIG TOP AT LUNA PARK, SYDNEY SUNDAY JULY 29, 7:00PM
QPAC CONCERT HALL, BRISBANE MONDAY JULY 30, 7:00PM
TICKETS NOW ON SALE
Complete tour, ticketing and VIP Experience information, visit: livenation.com.au
ABOUT MYTHICAL ENTERTAINMENT
Mythical Entertainment, an LA-based digital Production Company, produces the most-watched online daily show, Good Mythical Morning , one of the top YouTube Red Original scripted series, Rhett & Link's Buddy System , and a wildly popular weekly podcast, Ear Biscuits, amongst a plethora of other Internet content. Their newest endeavor, This Is Mythical, is a YouTube channel that presents a variety of surreal and ridiculously funny videos for your enjoyment.
ABOUT RHETT & LINK
Rhett & Link, best friends since the first grade, are a comedic duo known for hosting the most-watched daily talk show on the Internet, Good Mythical Morning , their narrative series Rhett & Link's Buddy System , their award-winning weekly podcast Ear Biscuits , as well as their wildly popular comedic songs, sketches, and viral low-budget local commercials. Rhett & Link's YouTube channels have a combined social following of over 20 million people with over 4 billion total views.
They have been fundamental in the YouTube entertainment community since 2006, and have been featured in and on The Tonight Show with Jimmy Fallon , Variety, Mashable, Conan, NPR, USA Today, and AdWeek, among other media outlets. Rhett & Link have also received various awards honoring their content over the years, including Webby, Streamy, and Shorty Awards.
ABOUT RHETT & LINK'S BOOK OF MYTHICALITY
Featuring stories and photos from their lifelong friendship, as well as awesomely illustrated tips for laughing more, learning more, and never taking yourself too seriously, RHETT & LINK'S BOOK OF MYTHICALITY (Crown Archetype, on sale now) is the ultimate guide to living a "Mythical" life. An entertaining blend of autobiography, trivia, and advice, it is the perfect book for anyone looking for a fresh dose of humor and fun.
Rhett & Link Official Website: rhettandlink.com
Facebook: facebook.com/RhettAndLink/
Twitter: twitter.com/rhettandlink
Instagram: instagram.com/rhettandlink/
YouTube: youtube.com/user/RhettandLink
tourofmythicality.com