Cast and Creatives Announced for Regional Premiere of ROE at ZACH Theatre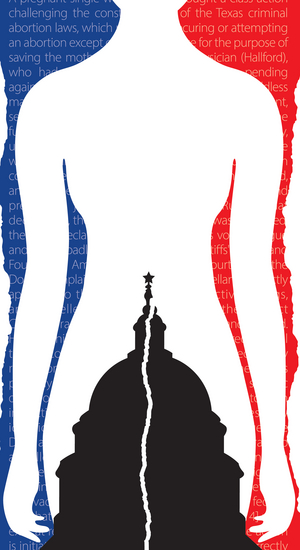 ZACH Theatre has announced cast and creatives for the regional premiere of Roe written by Lisa Loomer. Tackling the politics of abortion through humor and humanity, Roe tells the story of the two women's lives behind the 1973 Roe v Wade decision. Directed by Theatre en Bloc's award-winning founder and Producing Artistic Director, Jenny Lavery, Roe will play The Topfer at ZACH, April 8-May 3, 2020.
"Many people know the outcome of Roe v Wade, but how many know the details of the case or the women behind this landmark decision? Sarah Weddington and Norma McCorvey might not be household names, but their actions have affected all of us. I'm passionate about women's rights and access to healthcare and I'm interested in art that goes beyond the headlines and asks us to reflect on this divisive issue and its effect on democracy, " said director Jenny Lavery. "In Texas and at ZACH, we will have the gift of audiences filled with patrons who stand on both sides of this issue. My hope is that our production will jumpstart conversations around abortion and women's rights. Our fractured world needs more conversation. Specifically, more 'across the aisle' conversation. More listening. And more understanding."
Casting for Roe includes Hanna Cheek as Woman One; Amber Quick as Woman Two; Sandra Valls as Woman Three; Amy Downing as Woman Four; Lara Wright as Woman Five; Michelle Alexander as Woman Six; Elise Ogden as Woman Seven; Whitney Abraham as Woman Eight; Andrew Carlson as Man One; Cliff Miller as Man Two; David Kroll as Man Three; Emme Orchid as Student Actress; and Sadie Schaeffer as Student Actress.
Roe is directed by Jenny Lavery with Michelle Ney as scenic designer; Stephanie Busing as projection designer; Jenny Hanna-Chambers as costume designer; Emily Gilardi as costume design assistant; and Serret Jensen as hair and makeup designer. Sarah EC Maines is the lighting designer with Craig Brock as the sound designer; Scott Groh as the properties designer; Kate Glasheen as dialect coach; Catherine Anne Tucker as stage manager; Shannon Richey as takeover stage manager; and Davvi Solomon and Catie Tijerina as assistant stage managers.
Special Events in celebration of Roe:
Pride Night - Thursday, April 9, 2020
ASL Interpreted, Open Captioned, and Audio Described - Wednesday, April 15, 2020
Post-Show Discussion - Wednesday, April 15, 2020
Champagne Opening and Press Night - Friday, April 16, 2020
Roe Information
When: April 8-May 3, 2020
Where: The Topfer at ZACH | 202 South Lamar | Austin, TX | 78704
Tickets: Start at $30 available at ZACH's box office - 512-476-0541 x1, zachtheatre.org
Summary: At age 27, Austin attorney Sarah Weddington won the landmark 1973 case Roe v Wade that legalized abortion, making her the youngest person to ever successfully argue a case before the Supreme Court. A national debate ensued, and a divide in America endures over this controversial issue. What most people don't know is that after the case, Ms. Weddington and Norma McCorvey, "Jane Roe" the plaintiff, took divergent life paths that reflect the complicated polarization in our culture. Poignant, surprising, and with unexpected humor, Roe illuminated the difficult choices women make and the passion each side has for its cause.
Age Recommendation: 13 and up

TICKETING AND SUBSCRIPTIONS:
Tickets are available online at zachtheatre.org, by phone at 512-476-0541, or in person at the ZACH Theatre Box Office, in the Topfer Theatre, 202 South Lamar Boulevard (corner of Riverside Drive and South Lamar) Monday through Friday, 12-5 p.m. Free, short term and convenient parking available at the front entrance. ZACH Theatre is wheelchair accessible. Student Rush Tickets are $18 one hour before show time (with valid ID). A limited amount of 10 Pay-What-You-Will tickets are available the day of for Mainstage preview performances only. Groups of 8 or more may request reservations by calling 512-476-0594 x245 or by emailing groupsales@zachtheatre.org.
Maxx Judd and Donn Gauger are Executive Producers Plus of Roe with Kathleen and Harvey Guion as Executive Producer; and Lisa Hannusch and Lisa Richardson as Producers.
CAST
Hanna Cheek - Woman One
Amber Quick - Woman Two
Sandra Valls - Woman Three
Amy Downing - Woman Four
Lara Wright - Woman Five
Michelle Alexander - Woman Six
Elise Ogden - Woman Seven
Whitney Abraham - Woman Eight
Andrew Carlson - Man One
Cliff Miller - Man Two
David Kroll - Man Three
Emme Orchid - Student Actress
Sadie Schaeffer - Student Actress
PRODUCTION TEAM
Jenny Lavery - Director
Michelle Ney - Scenic Designer
Stephanie Busing - Projection Designer
Jenny Hanna-Chambers - Costume Designer
Emily Gilardi - Costume Design Assistant
Serret Jensen - Hair and Makeup Designer
Sarah EC Maines - Lighting Designer
Craig Brock - Sound Designer
Scott Groh - Properties Designer
Kate Glasheen - Dialect Coach
Catherine Anne Tucker - Stage Manager
Shannon Richey - Takeover Stage Manager
Davvi Solomon - Assistant Stage Manager
Catie Tijerina - Assistant Stage Manager
Sydney Quanz - Assistant Student Director
Related Articles View More Austin

Stories

Shows
More Hot Stories For You