BWW Review: THE WORLD GOES 'ROUND Celebrates the Songs of Kander and Ebb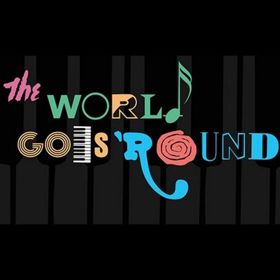 THE WORLD GOES 'ROUND is an award winning musical revue showcasing the songs of John Kander and Fred Ebb. It won the Lucille Lortel Award for Outstanding Musical and the Drama Desk Award for Outstanding Musical Revue. The revue takes its title from a tune the songwriting team wrote for Liza Minnelli to sing in the film New York, New York. The revue features a combination of upbeat, unfamiliar songs from the team's lesser known musicals: The Happy Time, The Rink, The Act, Flora the Red Menace, Kiss of the Spider Woman, 70 Girls 70, and others as well as their two blockbuster hits Cabaret and Chicago. The show is an eclectic collection of love songs, ballads, and witty comedic numbers.
Unlike many revues, THE WORLD GOES 'ROUND has no book. It is simply a collection of thirty plus songs with no patter to connect or comment on the songs. Director David Blackburn has wisely created an environment for the songs to exist in of The Paradise Cafe that, in a very minimal and unobtrusive way, links the songs together. Blackburn's staging works well and, combined with Chris Ehresman's clever choreography, makes for a snappy song drenched evening's entertainment. Also to be commended is Music Director Audrey Barrett, who gets some lovely harmonies out of this young cast of five. This is especially noticeable in the lovely vocalese arrangement of "Cabaret", performed by the entire company. There are many cases in the evening where the more familiar songs have been given entirely new arrangements. The cast, which includes Noah Cantrell, Nicole Briggs Cates,
Nathan Daniel Ford
, Megan Hudson and Kathryn Lane, all get their moments to shine during the evening. However, special notice must be made of Megan Hudson, who is a mere 17 years old with a beautiful voice that has a maturity far beyond her actual age. Among her highlights are the show's title song and the classic tune " My Coloring Book", which she gives an achingly beautiful delivery. Nicole Briggs Cates also had some terrific moments with the show's more burlesque numbers like "Arthur in the Afternoon" and her very funny turn in the comedic duet with Hudson in "The Grass is Always Greener". There were some minor miking and choreography issues on opening night, but these should work themselves out quickly.
James Jennings
lighting design is quite effective, but some of the cast seemed to have trouble determining where their light was and sang in the dark. This seemed to be a real reoccurring problem for Mr. Ford, especially. Veronica Prior's costumes struck all the right notes with subtle changes to support each number. THE WORLD GOES 'ROUND is a lovely celebration of the body of work of Kander & Ebb that dispenses with patter to focus solely on the musical treats to be found in their body of work. If you're a fan, this is is a wonderful musical treat. THE WORLD GOES 'ROUND Conceived by
Scott Ellis
,
Susan Stroman
and
David Thompson
. Music by
John Kander
. Lyrics by
Fred Ebb
. Running Time: Approximately Two Hours plus intermission THE WORLD GOES ROUND, Produced by Austin Theatre Project at The Trinity Street Theatre (901 Trinity Street, Austin, TX, 78700) located on the fourth floor of Austin's First Baptist Church. November 17 - December 02, 2017
Performances are Fridays and Saturdays at 7:30 p.m., Sundays at 5:30 p.m., and Wednesday and Thursday, November 29 & 30, at 7:30 p.m.
Tickets are $18 - $30 plus service fees.