BWW Review: THE WOLVES A Powerful Tale of Female Camaraderie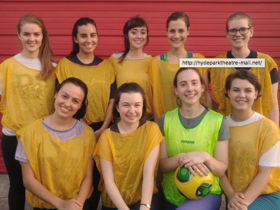 THE WOLVES is a 2016 play by Sarah DeLappe that looks at the experiences of nine high school girls during their soccer warmups. All of the play takes place during these successive warmups, where they navigate big questions and wage tiny battles like a pack of adolescent warriors. This portrait of life for this group of girls who just want to be winners at soccer is wise, witty and ultimately, heartbreaking. This is DeLappe's first play and it received the American Playwriting Foundation's inaugural Relentless Award and was a finalist for the 2017 Pulitzer Prize for Drama.
Director Ken Webster has done his usual stellar job with this young cast, who are all making their debut performance at Hyde
Park Theatre
. He keeps the energy high and helps every cast member make the most of the script. He's done a great job with focus and the proper weight for the alternating comedic and dramatic moments in the script to create a truly touching and memorable evening of theatre. The tech for THE WOLVES is excellent, from Mark Pickell's sports dome set (complete with AstroTurf) to Don Day's lighting design and Cheryl Painter's spot on costumes. The cast for this production is exceptional. The girls are Kelsey Buckley, Adrian Collins, Sydney Huddleston,
Maria Latiolais
, Anikka Lekven, Estrella Saldaña,
Bridget Sievers
, Shonagh Smith, and Kenzie Stewart.
Rebecca Robinson
is the Soccer Mom, the sole character who is not a team member. Every member of this company functions as a true and tight ensemble and every character has been carefully thought out to present real people, they are all different and distinct personalities. I was especially charmed by the performance of Shonagh Smith as #46, the home schooled girl who works to fit in with the group. The crowning achievement, however, goes to
Rebecca Robinson
who appears in the final scene delivering a heartbreaking performance that you won't soon forget. It's hard to give much in the way of details without them becoming spoilers and I certainly don't want to spoil even a moment of this rich and touching piece of theatre. I give my highest recommendation to THE WOLVES. Don't miss this one. I look forward to DeLappe's second play. Few playwrights hit this kind of home run their first time up to bat. THE WOLVES by
Sarah DeLappe
Running Time: Approximately 90 minutes with no intermissio THE WOLVES, produced by Hyde
Park Theatre
(511 West 43rd Street, Austin, TX, 78751) Thursdays-Saturdays, September 21 - October 21, 2017, 8 PM
Thursdays are Pay What You Can Nights at the door. For the first four weeks (September 21 - October 14), Friday tickets are $22 and Saturday tickets are $24. For the final weekend (October 19 - 21), Friday tickets are $24 and Saturday tickets are $26. Tickets are $2 off for students, seniors, military, and Austin Creative Alliance members).
Tickets:
https://secure.buyplaytix.com/hpt/reserve/the_wolves.html
A Kansas native, Frank Benge has been involved in the Austin area theatre scene as a Director, Designer, Writer and Performer for the past 20 (read more...)