BWW Review: THE IMMIGRANT is a Touching and Timely Piece of Theatre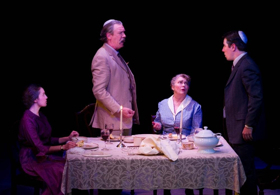 Director Don Toner first directed Mark Harelik's THE IMMIGRANT 28 years ago. Happily for Austin, he and Austin Playhouse have decided to restage this charming, inspiring and touching tale for a new generation. THE IMMIGRANT is based on the true story of Harelik's grandfather, a young Russian-Jewish man who entered America through the port of Galveston. Set in Hamilton, Texas (a tiny town with a population of 1,203, no Jews) Haskell Harelik (Joseph Garlock) begins life in America with only a hand pushed fruit cart and a mere smattering of English words at his disposal. It is his gentle spirit and hard work that touches the heart of the local banker and his wife to win him a helping hand. Milton (Huck Huckaby) and Ima Perry (Cyndi Williams) offer him a place to live and eventually, financial help from Milton. With their help, Haskell finally saves up enough money to open a store and send for his wife, Leah (Estrella Saldana). Since the original World Premiere production, directed here in Austin by Toner, Harelik has also adapted the show into a chamber musical.
Harelik's 1985 play is a celebration of how we are all far more alike than we are dissimilar. Over the roughly eighty year time span of the play, as the immigrant couple plants their roots in this Texas town, Harelik compares and contrasts religion, culture, fears, and love in this Texas playwright's tender tribute. Toner has approached this work with a deft hand so that his direction is almost invisible. He gets lovely performances from this cast of four and the end result is an evening that shines a light on the beauty of humanity. The tech here is perfection, from Mike Toner's smart minimalistic set that changes locales swiftly and seamlessly to the stunning video and audio design of Joel Mercado-See, which uses an astonishing number of photos of the actual persons the actors are portraying and of the town during the eighty years. The end result is one of the finest uses of video and imagery to support a piece of theatre that you are likely to see. In essence, the audio and video here serves as an additional character: time.
The Family
has obviously been extremely supportive of this production and their care and support enhance the finished product greatly. Diana Huckaby's costumes are period perfect as are
Stephen Mercantel
's intricate period properties. Don Day has done a lovely job of lighting the proceedings. This is a remarkable cast starting with
Joseph Garlock
's loving portrayal of Haskell. He presents the character as a gentle soul that the audience immediately warms to. He has also not only mastered the Jewish dialect, but also the cadence of an immigrant Russian. I was especially impressed by how, in very subtle ways, it changed as Haskell got more at ease with English.
Cyndi Williams
is utterly charming as the big hearted small town banker's wife, Ima. She is a study in the type of small town woman now unfortunately long gone. She wears her heart on her sleeve in the best of all possible ways.
Huck Huckaby
is marvelous as Milton, the banker with a heart, a man who wants to help Haskell get on his feet. In his final scenes, he is absolutely heartbreaking in a truly moving performance. Rounding out the cast is Estrella Saldana as Leah. She gives a delightful performance that starts with the unease of a stranger in a strange land and ends as a loving wife and neighbor to the Perry's, who, over the years of the play, have become family. There isn't a false note in the entire evening. THE IMMIGRANT is an important play right now, what with all of the anti-immigrant rhetoric that comes out of our nation's capital on an almost daily basis. It is a loving reminder that this country was built on immigrants. We need to remember it is their diversity, work ethic, and love of not only their traditions but the new ones that they so openly adopt that are what has always made America, the great cultural melting pot, great. I highly recommend THE IMMIGRANTS as an evening that will warm your soul and defrost your heart. Don't miss this one. THE IMMIGRANT by
Mark Harelik
Running Time: Two Hours and Fifteen minutes, including intermission THE IMMIGRANT produced by Austin Playhouse (6001 Airport Boulevard, Austin, TX, 78752). Austin Playhouse is located on ACC's Highland Campus, Performances are January 5 - 28, 2018, Thursdays - Saturdays at 8 p.m. and Sundays at 5 p.m.
TICKETS: $32 Thursday/Friday, $34 Saturday/Sunday. Note the price changes to $36 for the final Friday, Saturday and Sunday. Website:
www.austinplayhouse.com
BOX OFFICE: Call
512.476.0084
or email
boxoffice@austinplayhouse.com
DISCOUNTS: All student tickets are half-price. $3 discount for Seniors 65 and up. Group rates are available.
PHOTO CREDIT: Jess Hughes