BWW Review: STELLA AND LOU A Sweet Tale That Speaks To Those With Life Experience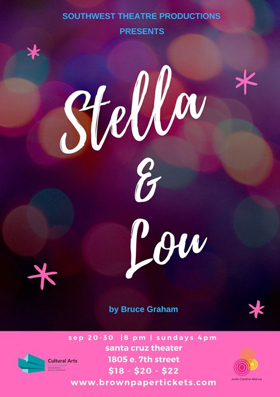 STELLA AND LOU is a 2015 play by Bruce Graham. It's set in Lou's Bar, the kind of joint where daylight is about as welcome as a penniless alcoholic who wants to run a tab. On one quiet night, two long time friends navigate small talk that begins with how things change with time and soon deepens as the topic comes around to past relationships. STELLA AND LOU is an intimate look at how friendships and the longing for companionship changes with the passage of time. It is also about how time affects the need for forgiveness.

Stella (Jan Wallace Philips) has decided to move away. In essence, she has arrived at that point in life where, if a change is going to be made, she needs to start making it. Her lifelong friend, Lou (Garry Peters) has a reaction to the news of her impending move that surprises Stella. Donnie (Kyle Houston Moore), a bar patron...and sort of a substitute son for Lou...is finding that dealing with a mutual friend's funeral has oddly created doubts about his upcoming wedding. Life, as he is discovering, comes at you quick. Stella, as she approaches retirement, puts before Lou the choice she is considering: Florida, where they eat before 5 p.m., or Lou, who still hasn't fully dealt with the death of his wife. The big question here is whether Lou will emerge from his self imposed darkness and rejoin the human race with Stella.

Granted, the script has formulaic aspects: lonely people, a barroom, the plot device of the third character who fills the role of surrogate son. But, to be honest, all our lives have their own formulaic aspects. In some ways this is a play about senior loneliness. Mostly, this is a quiet and gentle piece that speaks to those with life experience.

Director Brandi Andrade keeps the action moving with only a few times where things got static due to the bar setting. The scenic design by Elisa Stencil is wonderful, with several touches that make this that corner big city neighborhood bar where the customers form a kind of second family. The look is nicely authentic. No credit in the program was given for lighting, but the lighting worked in aid to the story and was especially effective in the funeral scenes.

The cast features two of Austin's finest doing some really great work. Garry Peters is totally believable as Lou, the likable, genial soul, whose inability to move forward feels so very familiar. Jan Wallace Phillips is charming as Stella. She presents a gentle soul on a mission with style and finesse. While I would have liked to see her get a little more excited and passionate at the climax, it was still a lovely character that she created. Kyle Houston Moore does a nice job with a character that is basically a plot device and adds much needed energy to the proceedings. By plot device, I mean the character is there mostly to offer a youthful perspective which allows Stella and Lou to comment from the been there, done that vantage point.

In summary, STELLA AND LOU is a sweet and gentle play driven by excellent performances. While it has something for all audiences, it has the deepest message for the more mature audience members.


STELLA AND LOU by Bruce Graham
Running Time: Approximately 75 minutes, no intermission

STELLA AND LOU, produced by Southwest Theatre Productions at Santa Cruz Center for Culture (1805 E. 7th Street, Austin, TX, 78702).


Thursdays-Sundays at 8 PM and Sun at 4 PM through September 30, 2018
Tickets can be purchased at their website: (https://www.swtproductions.com/tickets) and on Brown Paper Tickets.
Related Articles View More Austin

Stories

Shows
A Kansas native, Frank Benge has been involved in the Austin area theatre scene as a Director, Designer, Writer and Performer for the past 20 (read more...)