BWW Review: SEVEN at Last Act Theatre Company: Powerful, Uncompromising, and Necessary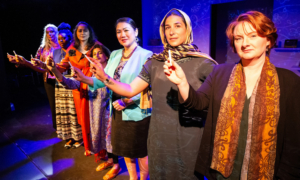 Seven women. Seven unflinching stories. Last Act Theatre Company powerfully stages SEVEN, a documentary play. Seven actresses command the stage representing real-life woman who, after enduring unspeakable hardships, devoted their entire lives to empowering fellow women and enacting positive change in their communities. As I experienced it, I realized this isn't a play to entertain but to inspire and bring awareness to these women and their causes; what they've done and what they continue to do.
SEVEN takes the audience around the globe and there, in their home countries, the women tell us their stories of unbelievable heartbreak, resilience, and bravery: "in Russia, protecting women from domestic violence; in Cambodia, rescuing girls from human trafficking; in Guatemala, giving voice to the poor; in Afghanistan, empowering rural women; in Nigeria and Pakistan, fighting for women's education and rights; and in Northern Ireland, promoting peace and equality." (https://seventheplay.com/about-seven/)
Playwright Carol Mack first developed SEVEN back in 2006. To bring her vision to life, she rallied together seven award-winning playwrights to interview international women leaders within the network of Vital Voices Global Partnership. The playwrights included Paula Cizmar, Catherine Filloux, Gail Kriegel, Carol K. Mack, Ruth Margraff, Anna Deavere Smith, and Susan Yankowitz. Armed with their monologues based on the interviews, the playwrights met in 2007 and created one comprehensive script which became SEVEN. After the first performance in January of 2008 at the 92nd Street Y in New York City, the show is now regularly staged and seen by audiences all over the world. The simplistic structure allows for many different casts to read the monologues, such as Washington Supreme Court Justice Mary Yu or, in an inspired staging, seven male military generals.
There is no overarching plot or traditional narrative; the play is simply a vehicle for these stories to be told one by one through 15 minute monologues. Last Act Theatre Company begins their version of SEVEN with the women standing together on stage, reciting small excerpts from their monologues before they circle together in solidarity. Then Marina Pisklakova, played by actress Kate Meehan, breaks off and begins her core-shaking monologue about the domestic abuse hotline in Russia. Each actress wonderfully embodies the leader she's portraying and gives her a distinct voice and personality. Minuscule repetitiveness in some choices made by many of the actresses is noticeable, from the furrowed brow expression to the cadence of monologue delivery, but it never negatively impacts the play as a whole.
Actress Nikki Zook as Irish activist Inez McCormack stands out with her pitch-perfect accent and the stage presence of a seasoned thespian confidently executing another knockout performance with ease. If Inez's riveting story ever gains traction as its own play or adaptation (let's get this going!), I vote Zook for the lead.
With the intensity of each of the stories, director Chelsea Manasseri wisely takes a simplistic approach to staging and sets. A simple white wall with shelves lined with props serves as the only set piece. The monologues effectively draw us in to the worlds, and at specific moments, haunting images projected on the wall behind the actresses make their monologues richer and more immersive.
Each time it is performed, SEVEN takes on a new life more powerful than the last and continues affecting each audience and cast member. With beautiful staging, Last Act Theatre's production emphasizes solidarity and understanding between the women along with their strength in the face of adversity and unquenchable thirst for justice. I think it's safe to say SEVEN goes beyond just a documentary play, it's a movement of knowledge and education about seven women making a difference. SEVEN is essential viewing, and your horizons will not only be broadened but the landscape forever changed.
https://seventheplay.com/about-seven/
http://archive.kuow.org/post/one-night-washington-supreme-court-justice-will-step-afghan-womans-shoes
Photo Credit: Steve Rogers
SEVEN
by Carol Mack and seven female playwrights
Last Act Theater Company
August 01 - August 18, 2019 Thursdays - Saturdays at 8 p.m., Sundays at 5 p.m.
Trinity Street Players
Black Box Theatre, 4th floor, First Baptist Church
901 Trinity Street
Austin, TX, 78701
Tickets $15, VIP $25, Students $10 plus service fee; click HERE to purchase.