BWW Review: RUTHLESS! Unfortunately Misses The Mark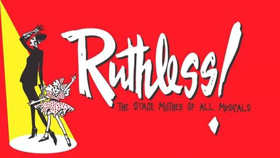 RUTHLESS! is a musical spoof of show business with music by Marvin Laird and book and lyrics by Joel Paley that not only spoofs Broadway musicals, but is also a satire of non-musical movies about showbiz such as All About Eve. The musical premiered Off-Broadway in 1992. The show won the 1993 New York Outer Critics Circle Award for Best Off-Broadway Musical.
The chief parody here is of
The Bad Seed
, a play about a child who kills without conscience. It puts forth the theory that evil is inherited.
The Bad Seed
has, itself, become camp over the years and RUTHLESS! is a camp fest. Its theme is the murderous obsessiveness it supposedly takes to get to the top. In RUTHLESS!, young Tina Denmark uses a jump rope to do away with the child who got the lead in her school musical about Pippi Longstocking in Tahiti. Along the way, the show drops a ton of allusions to such classic musicals as
Gypsy, Grease,
and the work of
Bob Fosse
. Spoof and satire are two of the hardest things to sell to an audience. A deft hand that understands camp is an absolute necessity. The jokes have to be tossed off and the audience either gets it or doesn't, but it all comes so fast and furious that if the audience misses one joke there's another one coming right up. In RUTHLESS! these references come at just the right pace. While the audience won't get every reference, there are enough there that something will land. While this production starts off with promise, it soon loses steam when the pacing slows causing the actors to claw and mug for every last laugh. There is a sense that some of the performers here don't even know the things they are parodying. This whole production suffers from the tendency of the actors rushing their lines and, on opening weekend, still felt a bit under-rehearsed. There's great stuff in this burlesque-tinged script, and a lot of talent on this stage. Since it was opening weekend, one hopes that over time, the proper pace will fall into place and diction issues will improve.
Jim Lindsay
's direction is unfortunately repetitive and unimaginative. The plodding pace he has created allows the audience far too much time to think, which is deadly when you are dealing with camp and spoof, because you lose the element of surprise. Laura Louise Lund has created some clever burlesque choreography and tap routines, and her Fosse style chair dance for the mother is deliciously clever.
Austin Kimble
does a good job with the score but I had so much difficulty with diction that the clever lyrics were muddled and often meaning was lost. This was one of the most frustrating parts of the evening when songs were wasted knowing that, if we could just understand what was being said, they could have stopped the show from wit alone. The lighting by Lemon Kehl was mostly effective but was extremely problematic when it came to spotlighting. Most of the time, when the actors were pinspotted, their faces were in complete darkness while below the waist was perfectly lit. In a couple places there was a downstage spot that was empty as the performer sang in darkness. I don't understand why the actors couldn't find their light with a simple single step down stage. Costumes by Scout Gutzmerson were quite good, especially the period costumes for Sylvia St. Croix. The sound design by
Tyler Parks
was crystal clear and worked perfectly. Three performances are the highlight of this production. Robert Josef Cross is an absolute delight as Sylvia St. Croix, the overbearing agent, and he carries the weight of the show with style and ease. He fully inhabits the character, right down to his hands. As a matter of fact, watch his hands because his character gestures are flawless. Kelsey Kimble is terrific in a dual role as Tina's victim and as Eve, the secretary, in Act Two. Kimble has wonderful comedic timing and lands every joke she has with class.
Jessica Cohen
does a good job as the murderous little Tina Denmark, and is a gifted young dancer. RUTHLESS! is a funny script with some really clever songs that provides all the right stuff to make for a great camp evening. Hopes are that the company relaxes into the material because there is a lot of fun to be had if it stops being labored over and just trusted.
RUTHLESS! Music by
Marvin Laird
, Lyrics by
Joel Paley
, Book by
Joel Paley
Running Time: Two Hours and Twenty minutes including intermission RUTHLESS! produced by
City Theatre Company
(3823 Airport Boulevard, Austin, TX, 78722).
Jun. 15 - Jul. 08, Thursdays - Saturdays at 8 p.m.; Sundays at 3 p.m.
Tickets $25. Two for $40. Center Reserved $30-$35.
Seniors $18. Students $15. Thursday all general seats $15. Group discounts available.
Ticket 512-524-2870 or
info@citytheatreaustin.org
.
www.citytheatreaustin.org
| | | |
| --- | --- | --- |
| | Donations | Arts Orgs |
Related Articles View More Austin

Stories

Shows
A Kansas native, Frank Benge has been involved in the Austin area theatre scene as a Director, Designer, Writer and Performer for the past 20 (read more...)