BWW Review: RICHARD III - Last Act Theatre's All Female Version Inspiring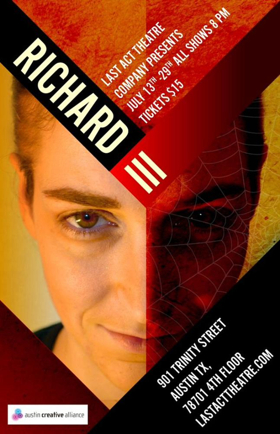 Shakespeare's RICHARD III, is one of his best in terms of sheer drama, but Last Act Theatre takes it a step further by filling the traditionally male dominated world with an all female cast; the result is dazzling and inspiring.
RICHARD III, the real king, has been in the news recently due to the discovery of his remains and subsequent reinterment in Leicester Cathedral. He's the king who was found buried under a parking lot. Shakespeare's play, likely written around 1592, was originally grouped with his history plays, but is often also included with his tragedies. Richard (Amelia Turner), is the Bard's super villain; he gleefully plots and executes the murders of his brother, his nephews, his former friends, and anyone else who stands between himself and the English throne (a grand total of 13 murders). While most modern historians agree that the play is a work of propaganda aimed at glorifying Elizabeth I's ancestors and vilifying the preceding Plantagenet regime, Shakespeare took rumors, half truths and outright fabrication to weave his tale; he did it so well that for hundreds of years, people take the work as the gospel on the 'hunchbacked king'. It's partly because of this play that The Richard III Society was formed, an international group of academics and passionate medieval enthusiasts whose sole purpose is trying to separate fact from fiction. They call themselves Ricardians, and were part of the force that lead to the search and recovery off the maligned king's body. They have recently opposed a planned performance of RICHARD III at Leicester Cathedral, where Richard's tomb lies, because they believe it to be disrespectful. I admit that I'm in my element discussing the War of the Roses, I find it fascinating both dramatically and historically. Apparently Shakespeare shared my interest as he wrote a total of eight plays about the conflict beginning with RICHARD II and ending with RICHARD III. It has also been noted recently that the iconic historical war that gave birth to the Tudor dynasty was an inspiration for George R.R.Martin's acclaimed book and television series GAME OF THRONES. This production takes Shakespeare's male dominated world and turns it on its ear. In Last Act Theatre's production every role, from king to servant, dukes and princes are all played by women.
The choice to cast women in every role is bold and takes the risk of failing on every level, however, in the hands of director, Deb Streusand, failure was never an option. Her deep understanding of the material and her masterful way of getting the most from her actors is nothing short of triumphant. After the first few moments, the casting choice felt natural and the result, inspirational. Streusand is has a well earned reputation for bringing obscure Shakespearean works to the stage as she did so well with TROILUS AND CRESSIDA just this past June. Overall the cast was outstanding, most actors playing multiple roles. Standouts include, Chelsea Manasseri as Richmond, the future King Henry VII is commanding, unafraid in the face of almost certain death on the battlefield at Bosworth. Emily Rankin as Buckingham enjoys plotting evil deeds with the Richard and is heartbreaking when the tables turn. As Margaret of Anjou, one of only three female roles in the show, Regan Goins is magnetic as the former queen who wants nothing more than revenge, laying curses on her enemies. As the titular king, Amelia Turner has it all, one moment gleefully plotting murder and the next dissembling pleasingly before her enemies, all ease and smiling charm. My favorite performance of the evening is Corinna Browning, in the dual roles of the dying Edward IV and Richard's henchman Catesby. Her grasp of Shakespearean language is unmatched, her phrasing and flow are perfection as is her characterization in both roles. The lighting and projections designed by Courtney DeGinder are beautiful, using color to great effect. Corinna Browning's set design is outstanding, using a scrim as a web effect layering DeGinder's projections on top. If there was a flaw in the performance I attended, it was that several lighting cues were late and a projected home screen for the computer running the projections made an appearance, causing minor distractions. The entire performance is well worth the chance to see these talented women take on traditionally male roles and pour every ounce of their skill into them. What's more inspiring is to see a company of women, with female designers and female actors make one of history's most iconic plays their own in every way. RICHARD III should be seen by every actress who has felt marginalized by her sex in the meager choice available to them versus meaty roles dominated by men. I certainly hope to see more of this in the future.
I give my highest recommendation to RICHARD III, as a bold and wonderful telling of the tragedy in a different voice.
RICHARD III
by William Shakespeare
Directed by Deb Streusand
Last Act Theatre at Trinity Street Theatre, Austin
July 13 - 29 @ 8:00PM
Running Time: Two hours and one half, with one 15 minute intermission
Tickets: $15 lastacttheatre.com