BWW Review: LITTLE SHOP OF HORRORS at Wimberley Playhouse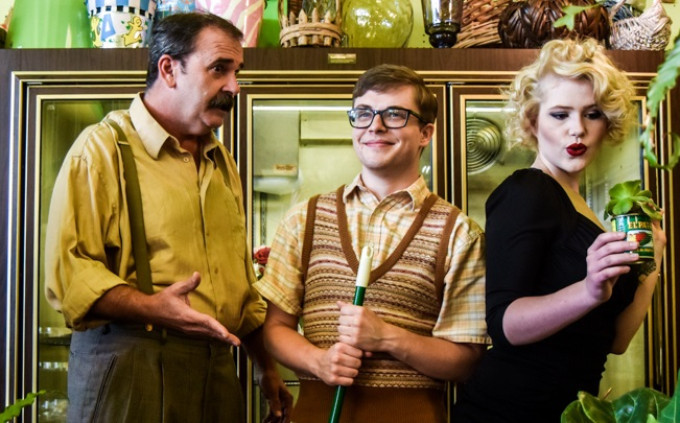 The tiny town of Wimberley, Texas is home to dozens of little shops where can be found countless treasures. Among them are Aunt Jenny's Attic, Wall Street Western, Gallery on the Square, and The Old Mill Store. And then there's LITTLE SHOP OF HORRORS, where remarkable talent, creativity, humor, and technical expertise are on display until July 22nd. Director Jason Kruger brings this fun musical comedy to the stage of Wimberley Playhouse.
LITTLE SHOP the stage play, based on a 1960 schlock-horror sci-fi film which featured a very young Jack Nicholson, began Off-Off-Broadway in 1982, moved to Off-Broadway, and eventually to Broadway, and inspired a 1986 cinematic remake by muppeteer Frank Oz starring Rick Moranis and featuring Steve Martin. The final result openly mocks the original genre of post-war hysteria in film with delicious musical farce.
The central character is young Seymour Krelborn, a clean-cut milquetoast who finds himself with a serious ethical dilemma that places his professional and personal success in reliance upon a horrible secret and unconscionable deeds. Tyler Livingston is very likeable as Seymour and especially shines in the tango, "Mushnik and Son," as does cast-mate Danny Mosier as Mr. Mushnik, owner of the failing florist emporium where Seymour works. Amanda Blake, student of Musical Theatre at Texas State University, shines as Audrey (a.k.a "Audrey One"), Seymour's seemingly unattainable infatuation. The tender duet, "Suddenly, Seymour," displays her considerable vocal strength and tonal purity, with both Blake and Livingston singing in hilariously exaggerated Brooklyn-Jewish accents.
Even that is not the musical high point of the show, however. An early expositional scene, "Skid Row (Downtown)," has the entire cast joining voices in a chorale that is truly beautiful, culminating with a largo that expresses the pathos of the story's backdrop. Rob Huey brings down the house with a rockabilly number as Audrey's abusive motorcycle-riding dentist boyfriend.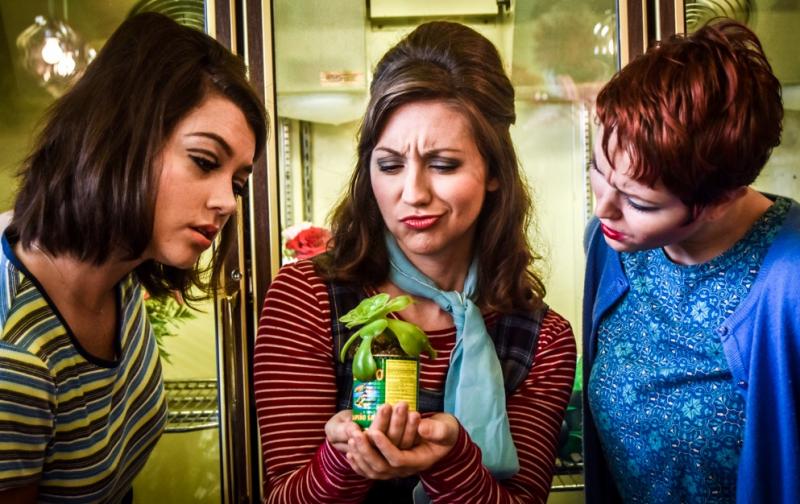 But for me, the musicality of this production is most highlighted throughout the program with each appearance of its trio of narrators. The voices of Katie Scott (Ronette), Sydney Simpson (Chiffon), and Charissa Memrick (Crystal), whose prior credits include Mozart's Don Giovanni and Strauss' Die Fledermaus blend in tight doo-wop harmony while performing Motown girl-group choreography by Taylor Rainbold. Such talent!
The "biggest" star of the show (literally) is Audrey Two, an impressive spectacle created by Scott Wade, operated by puppeteer Chris Young, and voiced by Jackson Pritchett. In fact, this show excels in all the technical categories. The set design (Scott Schumann) is both visually appealing and logistically strategic. Costumes (Deborah Wilson), lighting (Bill Peeler), musical direction (keyboardist Megan Pritchett), sound (Mason Bush), video projection (Rodger Marion), and the aforementioned choreography of Taylor Rainbold are all spot-on as they blend in a fully pleasurable presentation. I found no weak areas.
LITTLE SHOP OF HORRORS alone is well worth the drive from Austin or San Antonio. But since you're in Wimberley anyway, make a day of it with the whole group and enjoy all the other little shops and restaurants in the town square as well.