Review: LA TRAVIATA - Austin Opera's Glittering Tragedy Dazzles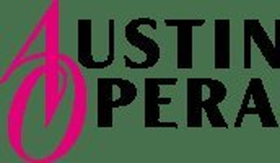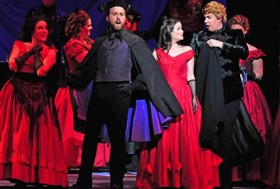 Austin Opera never fails to dazzle, but their current production of LA TRAVIATA is so incredibly stellar, superlatives fail to describe its glittering pageantry.

The literal translation of the title of LA TRAVIATA is "The Woman Who Strayed, or perhaps more figuratively, The Fallen One" according to Wikipedia. Verdi's 1853 opera is based on the autobiographical novel (and play) La Dame aux Camélias by Alexandre Dumas. Commonly known in English as Camille the story is a tragic morality tale of young love and the virtues of fidelity and marriage. Our tragic heroine, courtesan, Violetta (Marina Costa-Jackson), falls for the dashing young Alfredo (Scott Quinn), despite her misgivings that love is for fools. She already knows she is dying when his upright father, Germont (Michael Chioldi) tells Violetta that her affair with his son is putting the family reputation in jeopardy, she leaves her lover, sacrificing her own happiness. Verdi's elegant storytelling is timeless and still brings audiences to thundering applause as the final notes ring.
Austin Opera ends its 2017 - 2018 season with this final triumph and what a season it's been. Their stunning production of CARMEN is only outshined by the current production of LA TRAVIATA, where Bizet's masterpiece thrummed with a passionate gut-punch, Verdi's tragic heroine is grace, elegance and sorrow. Conductor Steven White and the orchestra are flawless, their every note is perfection. Stage Director, David Lefkowich captures the very soul of beauty with his staging. Costa-Jackson's Violetta is not only ethereal in her exquisite vocals, she has true mastery of the role, holding us in the palm of her hand. As Alfredo, Scott Quinn is outstanding, he is playful and heartbroken in turns, exhibiting true depth in what can be a shallow role. My personal favorite of the evening is Michael Chioldi as Germont, Alfredo's father. Chioldi wrings every ounce of feeling from every note he sings and brought tears to my eyes with his forgiveness and grace.
If you have an opportunity, Austin Opera's LA TRAVIATA is not to be missed. It doesn't take an opera lover to be moved by the absolute beauty on stage in this stellar production.
LA TRAVIATA
by Giuseppe Verdi
Austin Opera at The Long Center
April 28, May 3 at 7:30 PM & May 6 at 2:30 PM
Running Time: Approximately 3 hours, with two 20 minute intermissions
Tickets: $29.00 to $250.00 austinopera.org