BWW Review: JANE EYRE, THE MUSICAL Strains to Hit Emotional Beats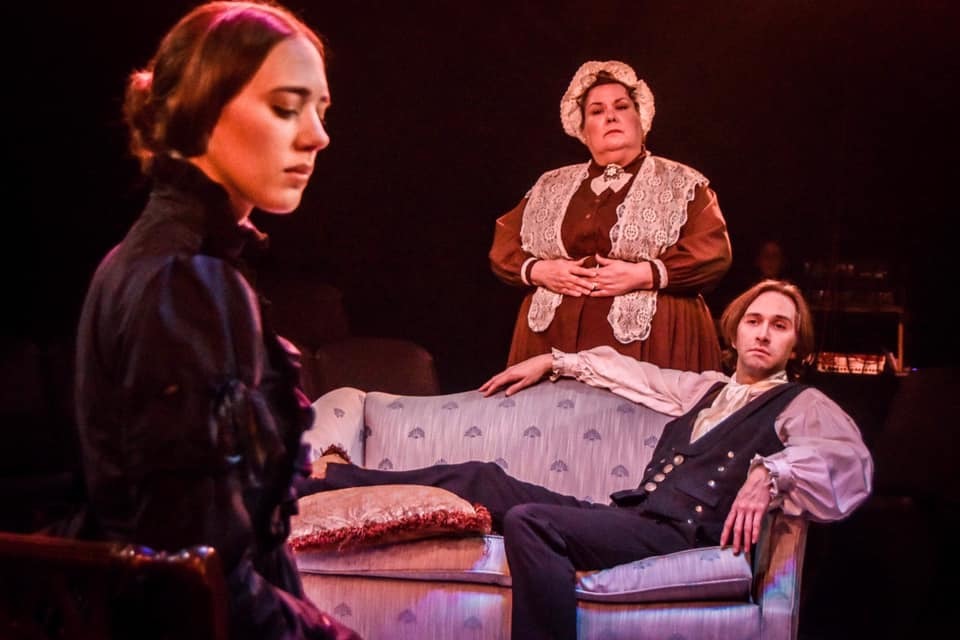 JANE EYRE, THE MUSICAL began workshops in 1995 before moving to the La Jolla Playhouse in 1999 for pre-Broadway try-out performances. The musical premiered on Broadway in December of 2000 and closed in June of 2001, scoring 5 Tony Award nominations along the way. And deservedly so. Paul Gordon's elegant music and moving lyrics reveal the simmering passions and inner struggles the main characters face.
In a quaint round theatre in Wimberley, Texas, patrons waited for an intimate staging of JANE EYRE, THE MUSICAL to begin. They listen as the sound booth clicks on a backing track and a voice quietly calls the heroine's name into the darkness. Though boasting a haunting start and a luminous Jane, the EmilyAnn Theatre and Garden's production of JANE EYRE, THE MUSICAL doesn't quite achieve the sweeping emotional catharsis it reaches for.
This paired down production opens on young Jane's tortured life at Gateshead, an estate owned by her cruel aunt and cousin. Dreams of freedom and independence sustain her spirit once she's sent away to a strict boarding school. Emerging a young woman, Jane takes a governess position at Thornfield Hall. Here she meets the mysterious Edward Rochester, who causes her to question her morals and recognize a deep well of strength and longing inside herself.
Director Bridget Gates had an unquestionably tough task finding the right actress to embody a character whose show bears her name. But Ms. Gates made the right decision in Devyn Collie. The graceful Ms. Collie stands out as the highlight of this production as she imbues Jane with an equal sense of strength, morality, and vulnerability. Ms. Collie's aching gaze toward Rochester, even while in the background of scenes, understands the show's emotional center rests on the believable passion and yearning between Jane and her enigmatic paramour.
Unfortunately, Ms. Collie provides more than half the passion in this central coupling. Actor Derek Smootz delivers in his choices, but those choices resulted in a fairly open and affable Rochester. These characteristics conflict heavily with the mysterious and brooding master he's described as by the housekeeper. His Rochester's established demeanor had difficulty convincing the audience he might be caught ardently observing Jane without her knowledge. Mr. Smootz's voice also lacked the projection and gravitas necessary to sufficiently overpower yet compliment Ms. Collie's Jane.
Ms. Gates keeps the staging sparse but makes full use of the lighting to convey mood within a scene. A diverse supporting cast holds its own with minimal props to successfully create a world for the leads to explore and react to. Unfortunately, the theatre-in-the-round setting and reasonable choice to forego microphones hinder the production. As the performers move to evenly face all sides, audience members at their backs strain to hear what's being said or sung. In addition, all music is provided by pre-recorded tracks. Though this may have been an unavoidable decision, tracks don't provide the same emotional punch that a live orchestra throws.
Overall, the sweeping, romantic nature of the material is stifled by technical and spatial restrictions and no emotional payoff as a result of unbalanced chemistry between the leads. Ms. Collie shines as Jane, but not quite bright enough to make the entire EmilyAnn Theatre and Garden's production of JANE EYRE, THE MUSICAL worth a ticket and a trip to Wimberley.
Photo Credit: Mary Rath
Jane Eyre: An Epic Musical Love Story
by Paul Gordon, John Caird, based on Charlotte Brontë's novel
Emily Ann Theatre
Fridays-Sundays,
February 01 - February 24, 2019
Emily Ann Theatre
1101 Ranch Road 2325
Wimberley, TX, 78676
Fridays and Saturdays at 7:30, Sundays at 2:30 p.m.
in the Burdine Johnson indoor Studio Theatre
Tickets $18 general admission, $12 for children