BWW Review: CATALINA DE ERAUSO a Delightfully Wacky and Witty Feminist Adventure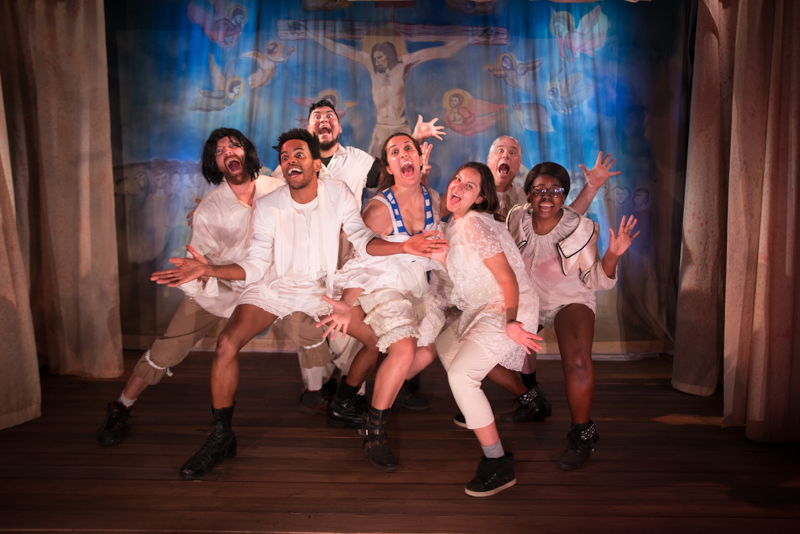 CATALINA DE ERAUSO, a new play by Austin playwright, Elizabeth Doss (Mast, Poor Herman), is a rollicking, comic adventure tale currently receiving its world premiere production. Doss's script crackles with wit and word play, with the occasionally recognizable contemporary phrase or saying thrown in. At heart, this is a grand satiric offering that reminds one of Voltaire's Candide, with its tongue firmly planted in its globe trotting cheek.
This highly entertaining new work is based on the true story of the 14 year old 17th Century nun who left the convent to make her way around the globe disguised as a man. She eventually becomes the New World's first and fiercest Conquistadora. In the scope of two hours, we see Catalina (Alexis Scott) make the transformation from confused and innocent child to self-made man. It is the brutality of colonization that eventually remakes her into a monster and forces her to examine her life path. Under the direction of
Dustin Wills
, this comic delight is a whirling dervish of frenetic energy. Part Commedia, part morality play and part burlesque, the presentation is highly theatrical and full of expertly timed physical comedic bits. Much credit must be given to Wills hand at the helm here for some truly inspired directorial moments. The tech here also deserves some high praise, particularly Lisa Laratta's stage, which has been built from scratch on the grounds of the Center for Maximum Potential Building Systems. From it's basic angular structure that hints at classic religious architecture to it's faux religious backdrop, the structure serves the multiple locales beautifully as it deconstructs itself as the evening progresses. Also worthy of praise is the lighting work of Rachel Atkinson which not only does a beautiful job of setting mood and tone, makes use of the natural surroundings to create a lovely storm effect using lights off the underside of the trees around the stage. The costumes by E.L. Hohn work perfectly in support of the piece. The acting here is that of a tight knit company. Anchoring the piece is a terrific, thoughtful and winsome performance from Alexis Scott as Catalina. Aside from Scott, the company includes
Michael Joplin
, Delante Keys,
Robert Pierson
, Cassandra Reveles, Alexandra Bassiakou Shaw, Jesus Valles and Oktavea Williams, all of which have their moments to shine throughout the piece. Some of the more memorable moments include Jesus Valles deranged nun and
Michael Joplin
's oversexed Don Juan de Ideaquez. One small issue was Oktavea Williams' Sheriff, where the accent got in the way of being able to understand what the character was saying. CATALINA DE ERAUSO is a terrific new work that I highly recommend. This is an evening full of laughs and a lovely surprise toward the end that will leave you with a lot to discuss on your drive home. Don't miss this one! CATALINA DE ERAUSO by Elizabeth Doss Running Time: Two Hours including intermission. CATALINA DE ERAUSO, presented by Paper Chairs at the Center for Maximum Potential Building Systems (8604 FM 969, Austin, Texas 78724). September 14-30, 2017
9 performances - Thurs, Fri, Sat, all at 8 pm?. Tickets: $15-25 sliding scale, all General Admission.
Tickets:
https://secure.buyplaytix.com/paperchairs/reserve/catalina_de_erauso.html
Photo Credit: Erica Nix
A Kansas native, Frank Benge has been involved in the Austin area theatre scene as a Director, Designer, Writer and Performer for the past 20 (read more...)