BWW Interview: Tarik Daniels of FIREFLIES at Whatsinthemirror?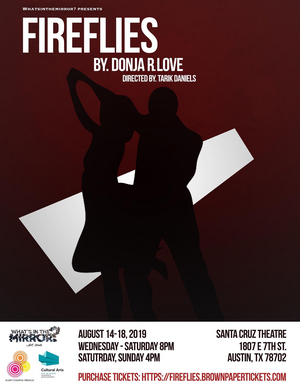 Tarik Daniels, recent winner of an Austin Under 40 Award for his mental health advocacy using his theatre company Whatsinthemirror? presents FIREFLIES by Donna R. Love opens August 14th at Santa Cruz Center For Culture. A quiet young man with an ever ready megawatt smile, Tarik's joy in life is infectious as we sat down with him recently for a chat.
Tarik, please tell our readers a bit about your theatre company Whatsinthemirror?
Whatsinthemirror? is a social movement that provides mental health awareness and suicide prevention to communities of color through art and advocacy. I founded the organization in late 2015 and we have created several art events and programming to bring awareness of mental health to the community. Every summer we produce a theater production funded by the City of Austin Cultural Arts Division and Austin Creative Alliance. THE COUNSELING SESSION, ROSE UNIVERSITY, SUKEY, THE MERMAID, AND A TALE FROM GULLAH ISLANDS are the shows we have produced over the years.
Why is suicide awareness and mental health so important to you as a central theme for your shows?
I dedicated my life to bringing mental health awareness and suicide prevention to marginalized communities after growing up with my grandmother for several years who has a diagnosed mental illness as well as my sister, who was hospitalized for a second suicide attempt. Stigmas in our communities are preventing people from seeking help and putting emphasis on being mentally healthy. It's okay to be not okay and it's important to find help that works based on your needs. Being culturally responsive to the needs of identities that intersect is crucial in doing the work. I produced shows that always have strong female characters or persons within the LGBTQIA spectrum so those who usually don't see themselves can connect to characters or story-lines that reflect similar experiences. Visibility and diversity is a must in theater.
Do you think the LGBQIA community is getting enough representation in the Austin arts community and what do you think could be done better?
In general, I think the LGBTQIA is getting some representation in Austin art community, but the real challenge for Austin is understanding intersectionality within our community. Its not enough to produce shows that represent white cisgender gay characters, but we must expand on representing everyone and every culture within the LGTQIA spectrum. We need more shows with transgender persons, or queer Muslims, or bisexual black women. The identities are infinite as well as the stories and experiences.
Tell our readers about your upcoming show FIREFLIES by Donna R. Love.
FIREFLIES is a period drama set in the 1960's south with two characters Charles, a civil rights leader and his wife Olivia. In this explosive play, we explore behind the scenes to look at a crumbling marriage between a revered civil rights preacher and his wife while yearning for change. Many themes of mental health, infidelity, sexuality, abortion rights, and the mistreatment of black people are all explored in this play and are still relevant themes in today's America. FIREFLIES is a story of a woman trying to find her voice and her happiness while living in a world that is hard for her to exist.
What can you tell us about your cast?
Charles is played by Ryan Smith, who I had the pleasure of working side by side on stage with in Southwest Theater's production of SWEAT earlier this year. Olivia is played by Tenee Goff, president of Whatsinthemirror? who recently starred in our children's show, SUKEY, THE MERMAID, AND A TALE FROM GULLAH ISLANDS .
What's Up next for Whatsinthemirror?
Whatsinthemirror? will be presenting our 4th Annual A Night of Love: Art Heals in honor of Suicide Prevention Month on September 27, 2019. This event will bring people together with all various forms of art to express love to one another no matter race, gender, and sexuality with the focus of having people who have been affected by suicide in anyway perform, speak, or come to honor those lives lost from suicide. Our event this year will focus on the queer and trans community as there are very few events in Austin around suicide prevention and awareness within LGBTQIA communities.
One last question, because I'm a fan of your podcast What Works For Us! Can you tell our readers a bit about it and where they can find it?
What Works For Us is a black queer conversational podcast show hosted by Mental Health Advocate and Black Queer Activist/Author Tarik Daniels and Fashion Blogger and Lifestyle Enthusiast Eric Edmonson. We bring our personal passions to each episode as best friends discussing all things black and queer. Each episode is an open and candid conversation about the hosts' life experiences with a focus on mental health, lifestyle, fashion, relationships, and social injustices. You can find us on all major podcast platforms including Apple, Spotify, Stitcher, etc or follow us on social media for more information on Season 2.
---
I, for one, am looking forward to FIREFLIES with great anticipation. I hope our readers will join Whatsinthemirror? at Santa Cruz Center For Culture and support a great Austin theatre company with a vital mission so important in all of our lives today. My thanks to Tarik Daniels for this interview and my best wishes for a great show to the cast and crew of FIREFLIES.
FIREFLIES
by Donja R. Love
Directed by Tarik Daniels
Whatsinthemirror? at Santa Cruz Center For Culture, 1805 E 7th Street, Austin
August 14 - 19, Wednesday - Sunday
Tickets: $15, whatsinthemirror.org
Related Articles View More Austin

Stories

Shows