BBW Review: STEEL MAGNOLIAS Familiar But Fresh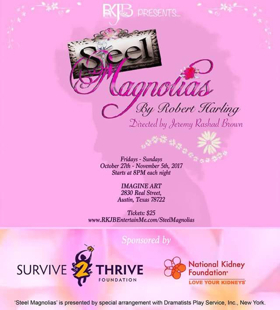 Robert Harling's STEEL MAGNOLIAS is a 1987 comedy-drama about the bond amongst a group of Southern women in northwest Louisiana and is based on his experience with his sister's death. The title suggests that while women may be as delicate as magnolias they are also as tough as steel. The magnolia also specifically refers to a magnolia tree they are arguing about as the play begins.
The play often gets produced in community and regional theatre and was even turned into a hit film in 1989. In this current production by RKJB Entertainment, fresh life has been given the familiar piece with an African American cast breathing new life into these now iconic characters. The play opens on preparations for Shelby's (Tyra Williams) wedding day in the fictional northwestern Louisiana parish of Chinquapin at Truvy's (Gina Houston) garage car port beauty parlour where the women regularly gather. It covers events over the next three years centered around Shelby's Type 1 diabetes. While the women at times have conflicts they always remain devoted and supportive friends. Among the major events covered: Shelby's decision to have a child despite the medical advice to not attempt having children; Clairee's (Vonda Wilson-Williams) friendship with the curmudgeon Ouiser (Wanda Rochelle Holland); Annelle's (Ashley Hazzard) transformation from a shy, anxious newcomer in town to a good-time girl then repentant revival-tent Christian; and Truvy's relationships with the men in her family. Although the main storyline involves Shelby, her mother M'Lynn (Miechelle Virginia), and Shelby's medical struggles, the underlying group-friendship among all six women remains the prominent focus of the drama. Director Jeremy Rashad Brown has done a good job with the core relationships of the six women, achieving a believable breezy comraderie and a genuine sense of love. The humor lands naturally and never feels forced. Where there are problems, they are a result of the limitations of the venue, which isn't primarily set up to be a theatrical space. Chief among the limitations is the fact that the lighting in the space can't be turned off to achieve a blackout, or even dimmed. This leaves the actresses stranded without a graceful way to exit the stage at the ends of scenes and acts. While Brown has attempted to construct an exit pattern, it doesn't completely work and feels unfortunately awkward, which is a shame as it detracts from the quality of the work. Veronica Prior's 1980's costumes are a delightful shoulder padded blast from the past.
Robert King
, Jr. has done a nice job with the set, although, again, limitations of the venue don't allow for any actual hair washing to take place during the action. Most effective is his use of an existing door for the front entrance of the salon. The actresses here all offer fresh takes on these iconic characters and manage to breathe new life into Harling's oft-seen characters. Tyra Williams as Shelby Eatenton - Latcherie gives a delightful performance full of equal parts charm and sass. Wanda Rochelle Holland is riotously funny as Ouiser Boudreaux giving the character a wonderful addled off-kilter quality. Vonda Wilson-Williams' Clairee Belcher is the picture of wealthy Southern businesswoman, with a nice slightly sardonic quality. Gina Houston presents a loving and supportive Truvy Jones, but never quite rises to the larger than life level required. Ashley Hazzard's Annelle Dupuy-Desoto is unfortunately one level and we don't get to see the characters wildly ranging changes from shy to wild and back to mild, which the script calls for. Miechelle Virginia's M'Lynn Eatenton comes off as oddly empirious and regal. It is clear she loves her child and her friends but this take makes her come off as detached and above it all. In short, RKJB Entertainment offers a fresh and engaging look at a classic of
Modern American Theatre
. While there are technical shortcomings that are no fault of the company, it is still worth the time to see these characters in a fresh light. It is exactly this fresh take that allows a clear picture of just why Harling's work has endured. STEEL MAGNOLIAS by
Robert Harling
Running Time: Approximately Two Hours, plus Intermission STEEL MAGNOLIAS produced by RKJB Entertainment at Imagine Art (2830 Real St, Austin, Texas 78722).
Performances Oct. 27 - Nov. 5 at 8 PM.
Tickets $25, available at:
https://www.rkjbentertainme.com/steelmagnolias/
Related Articles View More Austin

Stories

Shows
A Kansas native, Frank Benge has been involved in the Austin area theatre scene as a Director, Designer, Writer and Performer for the past 20 (read more...)