BWW Review: SHAKESPEARE IN LOVE at Alliance Theatre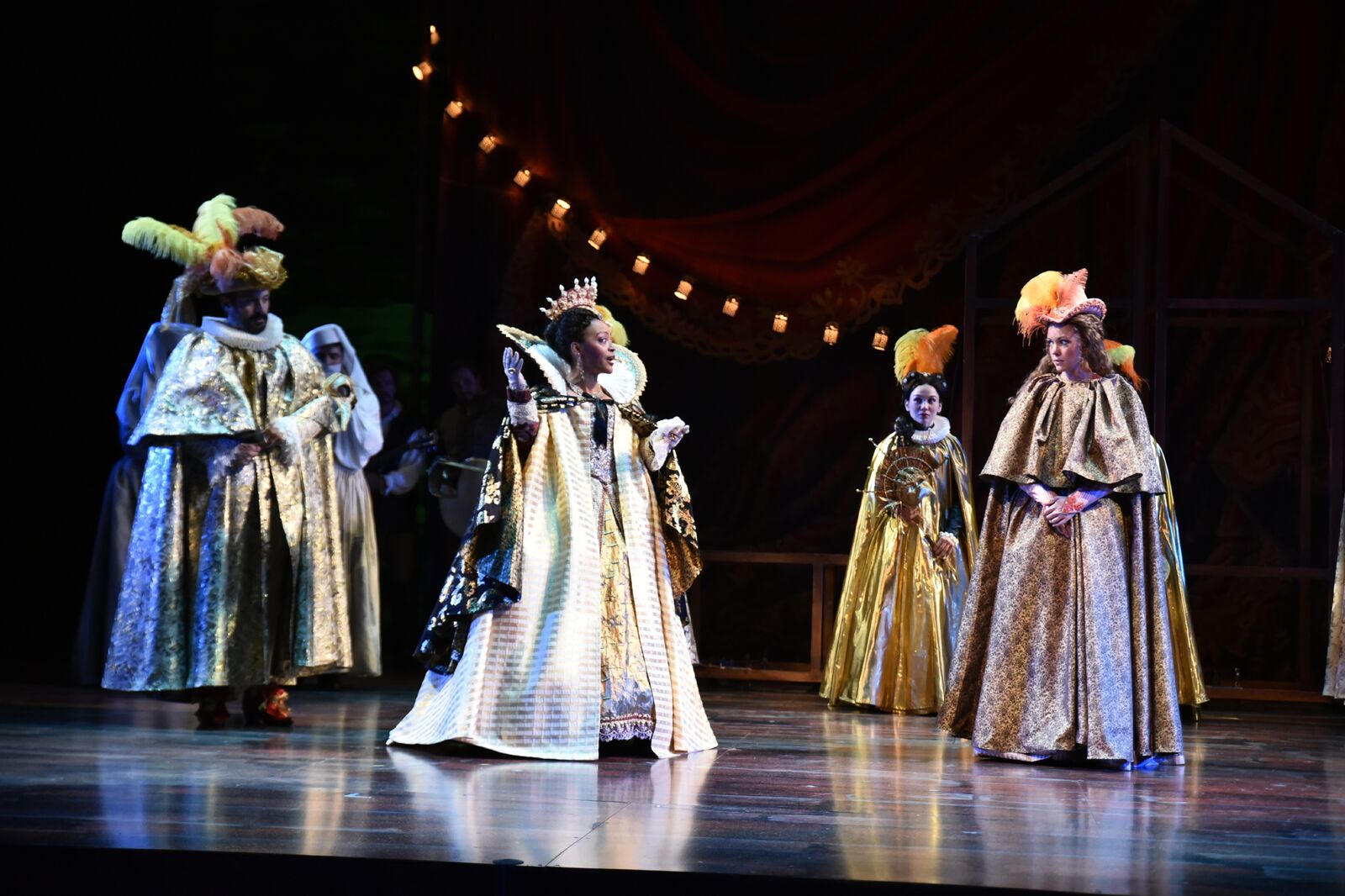 When the 1998 film Shakespeare in Love trotted away with seven Academy Awards, including one celebrating the original screenplay by Tom Stoppard and Marc Norman, nobody could have been particularly surprised. The nimble script and lavish period design made it a veritable shoe-in for Oscar gold. Now, under the capable pen of Lee Hall, the stage adaptation, which made its much-anticipated premiere on this side of the pond at the Stratford Festival in 2016, is poised to enjoy a long and lively life in regional theatre. And we need no ghost come from the grave to tell us this. The ALLIANCE THEATRE's charming and well-acted production, running through September 24 at the Conant Performing Arts Center at Oglethorpe University, tells the story of this play's prospects for an illustrious future as it adeptly showcases the play's delicious explorations of both the Elizabethan theatre and the craft of writing and previews the possibilities for inventive staging that the script welcomes.
Shakespeare in Love tells the story of young Will Shakespeare, an up-and-coming playwright with a bad case of writer's block. When he meets Viola, a beautiful woman with a penchant for theatre, he thinks he's found his muse who can crack open the play that's locked safe inside his head. Incidentally, she's probably his true love. But a few problems stand in the way: he's already married and she's promised to Lord Wessex. So how can they have a future together? Or even a satisfying evening at the theater?
Garner has assembled a cast that is up to the task of bringing Will Shakespeare's Elizabethan England to life. Both Thomas Azar as Will and Bethany Anne Lind as Viola are delightful, and the natural chemistry between the two creates an appealing sexiness that perfumes every scene. The supporting cast is also stellar, particularly Atlanta-favorites Travis Smith as Ned Alleyn and Chris Kayser as Fennyman. Both are funny and likable and right at home in Will's London. Tinashe Kajese-Bolden is an interesting choice in her turn as Queen Elizabeth, and she does an excellent job of presenting a dynamic monarch who is, at once, so above it all and completely in the thick of it.
Another noteworthy highpoint of this production is Angela Balogh Calin's costumes. They are nothing short of extraordinary. The color and texture palettes evoke a strong sense of place that complements the skilled acting, bringing us squarely into the world of the play. The strength of the costuming is particularly important in this production because the set, also designed by Calin, is mostly uninspired. With a few notable exceptions, including a flawless boating scene that sees a bolt of blue silk waved up and down to suggest the water surrounding an invented boat, the set is functional but unmemorable. The set is at its best when invention is allowed to take a front seat, which isn't often enough.
ALLIANCE THEATRE is on the road this season, stopping at twelve diverse venues to showcase their season offerings while their theatre home on Peachtree Street is renovated. This first mainstage stop at Oglethorpe University is an impressive one that should delight both discriminating Shakespeare enthusiasts and casual Bard users alike.
For tickets and info visit https://alliancetheatre.org/
Related Articles View More Atlanta

Stories

Shows