BWW Feature: The Best Atlanta Valentine's Day Theatre Dates
Thanks to the aggressive Aquaman marketing campaign, chances are good that your significant other has been immersed in images of hunky Jason Momoa over the past few weeks. That means you better up your Valentine's game. You've got a lot of romance novel wet-hair flips and chiseled mega-chest abs to drown out, and Bird Box on Netflix and delivery pizza aren't gonna cut it. Luckily, we've recognized the problem early, and we've compiled a list of upcoming Atlanta shows to help you to plan the perfect Valentine's Day theatre date. Because a date night spent at the theatre is always upping your game.
Ever After at Alliance Theatre
The must-see theatre event of the winter is happening at Alliance Theatre through February 17, and it's a happily-ever-after Cinderella story that begs a Valentine's audience. The 2015 musical, based on the 1998 hit film Ever After, tells the story of Danielle de Barbarac, the vivacious daughter of a 16th-century landowner who's forced into slavery by her stepmother after the unexpected death of her father. When a chance encounter with a prince stirs up considerable excitement for the scullery maid, Danielle finds that she might have the strength to take on her stepmother . . . and the world. This production boasts an all-star cast, including Broadway-great Sierra Boggess in the role of Danielle. That's a shoe that definitely fits.
Ever After plays January 15 - February 17 at the Coca-Cola Stage at Alliance Theatre.
For tickets and info, visit https://alliancetheatre.org/
Waitress at Fox Theatre
The Fox Theatre has all the ingredients for a great Valentine's date as they welcome the Broadway tour of Waitress, the 2015 Sara Bareilles movical that's enjoyed a sweet stay on Broadway. The delightful tuner, adapted from the quirky 2007 film of the same name, tells the story of Jenna, a small-town waitress stuck in a loveless marriage to an abusive man named Earl. Jenna spends most of her free time baking extraordinary pies with names like "Betrayed By My Eggs Pie" and "The Key (Lime) to Happiness Pie." She spends the rest of her free time dreaming of an escape from Earl. But when Jenna finds out she's pregnant, the stakes go way up as she realizes that she' s escaping for two. This one, which was nominated for a slew of Tony Awards in 2016, is too delicious to miss.
Waitress plays February 5-10 at the Fabulous Fox Theatre.
For tickets and info, visit https://www.foxtheatre.org
The Wedding Singer at Atlanta Lyric Theatre
Atlanta Lyric Theatre is offering up The Wedding Singer throughout the month of February. This musical comedy, adapted from the 1998 Adam Sandler film of the same name, tells the story of Robbie, a wedding singer bopping happily along in the 1985 world of big-hair bands and upturned collars, but when Robbie's girlfriend drops him at the altar because he's not accomplished enough, he falls into a deep depression. As he hits rock bottom, a sweet waitress named Julia tries to pull him out of the dumps (and the dumpster), and Robbie begins to see that the girl of his dreams might be right in front of him rather than in his rearview mirror. One catch: she's getting married to someone else.
The Wedding Singer plays February 8 - 24 at the Jennie T. Anderson Theatre.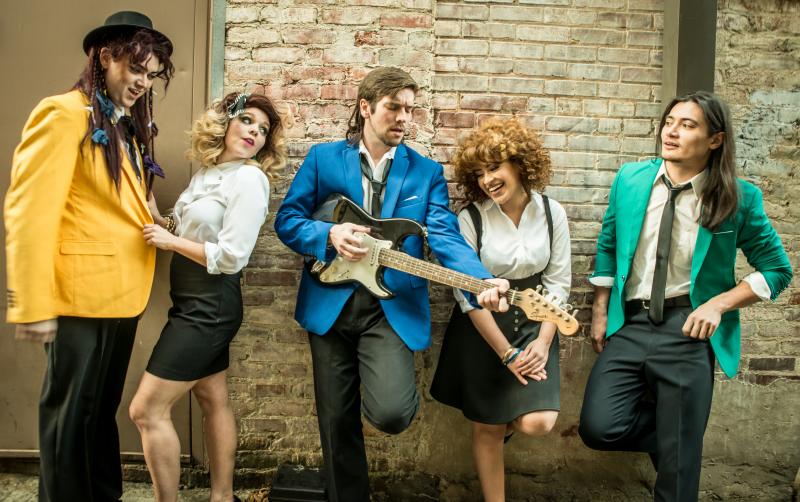 For tickets and info, visit https://atlantalyrictheatre.com
Fun Home at Out of Box Theatre
If you're looking for something a little more intimate than the splashy feel-good romantic comedy musicals mentioned above, Fun Home, the much-celebrated Tony-winning musical adapted from Alison Bechdel's graphic memoir, might be your perfect Valentine's ticket. Fun Home tells the story of graphic novelist Alison exploring her own journey from young girl to adult as she grapples with her sexuality and attempts to make sense of the elusive details of her father's tragic death. In the end, Fun Home examines the intricacies of the human heart, and that's definitely something to celebrate this Valentine's Day.
Fun Home plays February 8 - 23 at Out of Box Theatre.
For tickets and info, visit https://outofboxtheatre.com