Click Here for More Articles on NEW YORK CITY
Whippets to Take Over Madison Square Garden for 125th Anniversary of First Competition at Westminster Dog Show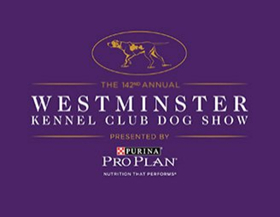 In advance of the 142nd Annual Westminster Kennel Club Dog Show, the Whippet, a very athletic sighthound breed originally from England, will take over Chase Square at Madison Square Garden to celebrate 125 years in the renowned competition.
On Tuesday, Sept. 26, 2017 at 11:00AM, more than a dozen Whippets will celebrate their milestone anniversary with a special oversized cake from Carlo's Bakery, the bakers behind Cake Boss. Whippets will compete for the 125th time at the World's Most Famous Arena during the annual competition, which will take place on Monday, Feb. 12 and Tuesday, Feb. 13, 2018. Tickets are on sale now!
Whippets were first introduced at the Westminster Kennel Club Dog Show in 1893 as a member of the sporting group. In 1930, the breed joined the newly formed hound group with much success. Since then, Whippets have won the hound group five times in 1958, 1964, 1965, 1981, and 2010. The first Whippet to win Best in Show at Westminster was Ch. Courtenay Fleetfoot of Pennyworth in 1964. At last year's show, 45 Whippets were entered to compete.
The Westminster Kennel Club is America's oldest organization dedicated to the sport of purebred dogs. Established in 1877, Westminster's influence has been felt for more than a century through its famous all breed, benched dog show held every year at New York's Madison Square Garden. For information regarding all event schedules for Westminster Week and tickets go to www.westminsterkennelclub.org.
On Monday and Tuesday, February 12-13, The Westminster Kennel Club Dog Show returns to Madison Square Garden for its 142nd consecutive year. Tickets are on sale now and will be available through Ticketmaster Charge By Phone (1-866-858-0008) and all Ticketmaster Outlets. Tickets will also be available in person at the MSG Box Office and by visiting www.thegarden.com/dogshow.
Related Articles
More Hot Stories For You
DVR Alert: Hollywood Bowl Concert Series Kicks Off Tonight With MUSICALS AND MOVIES, With Audra McDonald, Kristin Chenoweth, and Sutton Foster
As BroadwayWorld previously reported a new weekly concert series, IN CONCERT AT THE HOLLYWOOD BOWL, will air on PBS. The series kicks off today with t...

VIDEO: On This Day, January 16 - Happy Birthday, Lin-Manuel Miranda!
On this day we're celebrating the birthday of the great Lin-Manuel Miranda! ...

Philip J. Smith, Chairman Emeritus of The Shubert Organization, Has Passed Away at Age 89
The Shubert Organization has announced the passing of its beloved Chairman Emeritus, Philip J. Smith. Mr. Smith passed away peacefully on January 15, ...

Michael Ball Releases 'Leaning on a Rainbow' From BLITHE SPIRIT Film
Last year, Michael Ball recorded 'Leaning on a Rainbow' for the soundtrack to the new film 'Blithe Spirit'. The full track is now available on Spotify...

MARY POPPINS RETURNS is Now Streaming on Disney Plus
When and where can you find Mary Poppins Returns streaming? We have your answer here!...

Haley Swindal's TO NEW YORK, WITH LOVE to Stream for 30 More Days
By popular demand, Birdland's all new concert event from Broadway perennial Haley Swindal, To New York, With Love, filmed as part of the "Radio Free B...