Waxler Productions Presents ON THE TOWN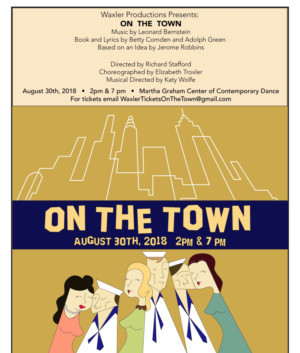 "New York, New York! It's a helluva town!" Waxler Productions presents On The Town, which coincides with the centennial birthdays of Leonard Bernstein and Jerome Robbins, for three performances only: August 29th, 7:00pm, August 30th, 2:00pm and 7:00pm. The Martha Graham Studio Theatre, 55 Bethune Street, 11th Floor, New York, NY 10014. On The Town is an Actors' Equity Association showcase.
The cast features Steve Geary* (Gabey), Eric Greengold* (Ozzie), Tommy Warren* (Chip), Eryn LeCroy* (Claire), Deanna Doyle* (Ivy Smith), Mara Jill Herman* (Hildy), Lauren Weinberg* (Lucy), Anita Hollander* (Madame P. Dilly), and Joe Joyce* (Pitkin). Rounding out the ensemble are Carly Hueston Amburn*, Adolpho Blaire*, Gino Bloomberg, Darrin French*, Jorge Guerra, Christopher Figaro Jackson*, Jesse Kramer, Sabrina Lobner, Sarah Kay Marchetti*, Garrett Marks, Corey Joseph Masklee*, Darren McArthur, Diane Meck, Sophie Lee Morris*, Corinne Munsch*, Kaylee Olson*, Mallory Pettee, Logan Pitts, Angela M. Sauers*, Michael Seltzer, Jennifer Seifter*, Ryan Skrocki*, Kristi Smith, and Sari Weinerman*.
(*denotes member of Actors' Equity Association)
For tickets email waxlerticketsonthetown@gmail.com. Please allow 24 hours for a reply with detailed instructions.
Waxler Productions is a new company based in New York City founded by Tommy Wallace and Elizabeth Troxler. On The Town's production team includes Richard Stafford* (Director), Elizabeth Troxler* (Choreographer, Co-Founder/Producer), Corinne Munsch* (Dance Captain), Katy Wolfe* (Music Director), Katie Bays (Stage Manager), Brad Fields (Lighting Designer), and Tommy Wallace (Co-Founder/Producer) with Leonard Bernstein (score), Betty Comden and Adolph Green (Book and Lyrics), and Jerome Robbins (original choreography and concept).