Tom Ligon Stars in Ray Leslee's A CHAMBER CHRISTMAS CAROL at St. Mark's Church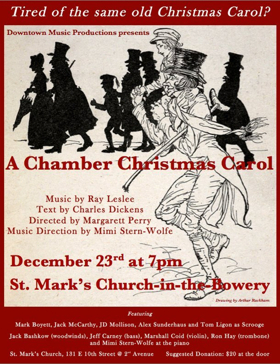 Tired of the same old Christmas Carol? Downtown Music Productions presents A Chamber Christmas Carol at the gorgeous St. Mark's Church-in-the-Bowery. Composer Ray Leslee (Avenue X, Standup Shakespeare) has created a brand-new take on the holiday season's most prolific tale. This ONE NIGHT ONLY event features a virtuoso company of five musicians and five actors who play 35 roles, telling the classic tale through Leslee's music and selections from Dickens' masterpiece. Tom Ligon (Bengal Tiger at the Baghdad Zoo) stars as Scrooge. The cast includes Mark Boyett, Jack McCarthy, JD Mollison and Alex Sunderhaus. The musicians are Broadway veterans Jack Bashkow (woodwinds), Jeff Carney (bass), Marshall Coid (violin), Ron Hay (trombone) and Mimi Stern-Wolfe at the piano. Margarett Perry directs.
According to Director Margarett Perry, "Ray Leslee's take on this classic tale is simply magical." The Morgan Library & Museum commissioned A Chamber Christmas Carol in 2011. According to Linden Chubin, the Morgan's Director of Public Programming, "This simple concert form is so unlike most overblown productions -- it challenges and stimulates the imagination like no other."
Sunday, December 23rd at 7 PM
St. Mark's Church
131 E 10th Street New York, NY 10003
Suggested Donation: $20 at the door
Since the early part of the 20th Century, St. Mark's Church-in-the-Bowery has been home to cutting-edge arts programming in the in the areas of dance, poetry, music, theatre, and the visual arts. Many successful artists - from Isadora Duncan and William Carlos Williams, to Sam Shepard and Patti Smith - found a welcome at St. Mark's.
Mimi Stern-Wolfe received the Laurel Leaf award for "fostering and encouraging American Music"; Two ASCAP/CMA awards for "Adventuresome programming"; Mayor's Very Special Arts Award in Music for "exceptional contributions to the arts and multicultural life of New York City" for presenting diversified and expressive chamber opera, orchestral & theatrical musical events and chamber/vocal concerts in the downtown area since 1977.
Ray Leslee composed Avenue X, the award-winning acappella musical about racial tensions in New York, produced at Playwrights Horizons and over 50 theatres around the world; Standup Shakespeare, directed by Mike Nichols on Broadway, with F. Murray Abraham and Alfred Molina Off-Broadway, and at Chicago's Steppenwolf Theatre in 2017 with Jeff Perry and Alice Ripley; A Steady Rain, national tour; Palestine at New York Theatre Workshop; The Three Musketeers national tour with the Acting Co.; Educating Rita with Laurie Metcalf and Little Egypt at Steppenwolf; Twelfth Night at Theatre For A New Audience; and A Good Man at the Vienna Chamber Opera, to name a few. He's currently writing The Learned Ladies, a comic opera based on the play by Moliere, with a libretto in verse by Brian Dykstra; and Maya Songs, the poems of Maya Angelou.
Tom Ligon played the Tiger in Rajiv Joseph's Bengal Tiger at the Baghdad Zoo in its original iteration, directed by Giovanna Sardelli. Recently Mr. Ligon appeared in the critically acclaimed New York production of Our Town, directed by Jack Cummings III. Also, for Transport Group, he played in Requiem For William, All the Way Home, and The Audience. A veteran of New York theatre, Tom created the role of Orson in the prize-winning Off-Broadway musical Your Own Thing (1968); starred on Broadway opposite Geraldine Page in Angela, by Sumner Arthur Long; and with Sandy Duncan in John Patrick's Love is a Time of Day. He appeared in the classic films, Paint Your Wagon and Bang the Drum Slowly.
Margarett Perry is an award-winning director of new plays. She has directed and developed new work Off-Broadway and in Regional Theatres across the US as well as in Scotland and London. She is a regular at The Human Race Theatre Company where she just directed the world premiere of Banned from Baseball a play about Pete Rose by Patricia O'Hara. She is also a regular at the Kitchen Theatre in Ithaca where she has directed over 20 productions including numerous world premieres and classics such as Private Lives and Old Times. She is an Artistic Fellow at The Lark Play Development Center where she has worked with a variety of writers developing new plays. Recent projects include world premieres of Theresa Rebeck's Seared (San Francisco Playhouse), Brian Dykstra's Education (59E59 Theaters) and Brian Parks' The House (Ithaca, Dayton, London & Scotland). www.margarettperry.com