The Secret Theatre To Present 28+2 By Youlim Nam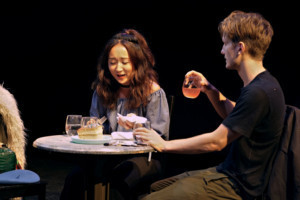 "28+2", a short play by Youlim Nam will be reprised on stage as part of LIC One Act Festival 2018 at the Secret Theatre this summer.
Nam's piece saw it's birth last month at Manhattan Repertory Theatre's Summer showcase 2018. Marion McCorry, a veteran New York actress, and revered teacher, calls "Youlim's insightful "28+2" a delightful snapshot of Millennial survival in New York - financial stresses, love's endless struggles, romantic longings, and the enduring gift of friendship - all are examined and revealed in this bright, multi-cultural gift. This diverse team of a playwright, director and actors - from Korea, Germany, America - capture and expose the life and heartbeat of today's New York."
Baran, a Kurd born and raised in Germany, and Nam hailing from Seoul, Korea are joined by Manhattan-bred Jack Wink to share the story. They are now ready to make a sensation in the New York theatre scene where their diversity can help them share the truths of this generation.
It's New Year's Day. April is joined by Dave, they are celebrating her 30th Korean birthday at a restaurant in Brooklyn near their apartment. April is looking forward to the New Year as an opportunity to grow into a responsible adult, however, her poor financial condition and resurgent ex-boyfriend prove to be difficult obstacles. Only time will tell if April and Dave's friendship can withstand the comedy of errors bound to ensue.
Starring Jack Wink and Youlim Nam(youlimnam.com) with direction by Delil Baran. Performing July 11 - August 2, 2018, as Program F (Finals: August 4) at the Secret Theatre (4402 23rd St, Long Island City, NY 11101) The ticket and the show details link https://secrettheatre.showare.com/eventperformances.asp?evt=34